7 staples but no concussion for Ciuffo
Rays catcher hit in head with bat on hitter's follow-through on Thursday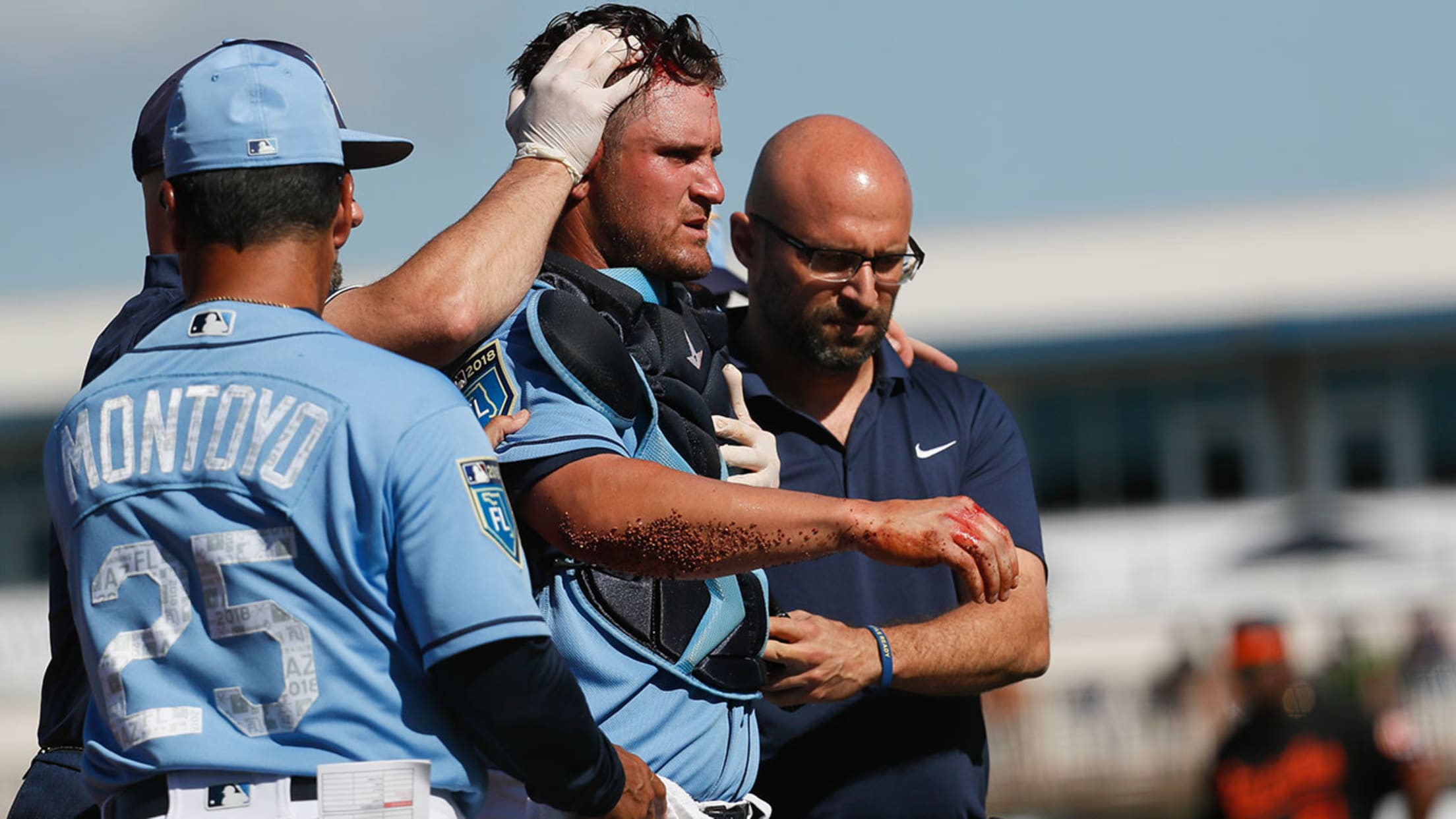 PORT CHARLOTTE, Fla. -- Seven staples were required to close the cut on the right side of Nick Ciuffo's head. But the Rays catcher does not have a concussion after getting hit by a bat Thursday afternoon on the follow-through by Orioles hitter DJ Stewart."Caught a pitch, and I didn't
PORT CHARLOTTE, Fla. -- Seven staples were required to close the cut on the right side of Nick Ciuffo's head. But the Rays catcher does not have a concussion after getting hit by a bat Thursday afternoon on the follow-through by Orioles hitter DJ Stewart.
"Caught a pitch, and I didn't really hear anything," Ciuffo said. "But I felt something hit my head. Then I kind of leaned over, and I was like, 'Oh, man, he hit me.' Because for a second I thought I was sweating a bunch. And I opened my eyes and saw blood on my arms. That's when [Major League medical coordinator Paul Harker] Hark and [Kevin] Cash, and [head athletic trainer] Joe [Benge] came out. ... They were like, 'Don't move, stay down.' They put some pressure on it.
"Went back to the training room where [doctors] took care of me. They put seven staples in and went through MLB protocol stuff for concussions. I don't have one. My girlfriend was actually saying this was just more confirmation I was hard-headed."
:: Spring Training coverage presented by Camping World ::
Ciuffo said the cut was approximately an inch long and required seven staples to close it.
"Whoever told you staples don't hurt going in, they're lying," Ciuffo said. "They don't tickle."
Snyder a hit
Kyle Snyder has been a hit in camp. The Rays' new pitching coach knew the bulk of the players from coming up through the team's farm system, and now he's getting to better know some of the veterans. Count Chris Archer among the impressed.
"Kyle and I spent a lot of time together this offseason talking about how I can be better and how the staff as a whole can be better," Archer said. "We have a great relationship. He communicates extremely well. And I think it's going to be huge for all these young guys we've been talking about. He was either their pitching coordinator or their pitching coach over the last five years in the Minors. I think the relatability there will be great."
Cash said of Snyder: "He's been tremendous."
"He's really worked the guys well," Cash said. "He knows them really well. It's a pretty big task what [third-base coach] Matt Quatraro and Kyle are doing, managing the spring and all the moving parts and the bodies. We have a lot of pitchers; we had to bring that many in because of split-squad [games]. And now he's trying to be fair and equal for everybody. I think he's done really well."
At the game
Blake Snell started for the Rays in Friday afternoon's 9-2 loss to the Phillies at Charlotte Sports Park. The left-hander continued to look good, allowing a run on one hit and a walk in two-plus innings, striking out two.
Alex Colome made his first appearance of the spring, allowing a run on two hits and a walk in an inning of work.
Christian Arroyo continues to impress. The versatile infielder who came over from the Giants in the Evan Longoria trade played shortstop and went 1-for-2 to raise his spring average to .455.
They've got talent
The Rays American Idol-style singing competition took place prior to their Friday morning workout. According to Cash, the duo of Willy Adames and Jake Bauers knocked it out of the park with their rendition of "Despacito."
When asked about his prowess as an entertainer, Adames smiled: "I'm not a loser."
Injury update
Third baseman Matt Duffy (back spasms) was not in the lineup again on Friday. He said he continues to improve and planned to take part in some light activity. He is listed as day-to-day.
Infielder Brad Miller (broken right pinky toe) and shortstop Adeiny Hechavarria (tightness behind his right knee) remain on the shelf as well. Both are expected to be out until after Monday's off-day.
Camp battles
Second base is up for grabs this spring, and Joey Wendle is in the mix. Wendle, who came to the Rays in a December trade with the A's, had two hits in three at-bats, including a standup triple in the first that turned into the Rays' first run.
Up next
The Rays travel to Lakeland, Fla., on Saturday afternoon to play the Tigers in a 1:05 p.m. ET contest at Publix Field at Joker Marchant Stadium. Archer will start for the Rays. Also expected to see action are Anthony Banda, Jose De Leon, Hunter Wood, Dustin McGowan, Jose Alvarado, Adam Kolarek, and Ryan Weber. Jordan Zimmermann is scheduled to start for the Tigers. Listen to the game live on Gameday Audio.
Bill Chastain has covered the Rays for MLB.com since 2004.