Colome stung by homers in first blown save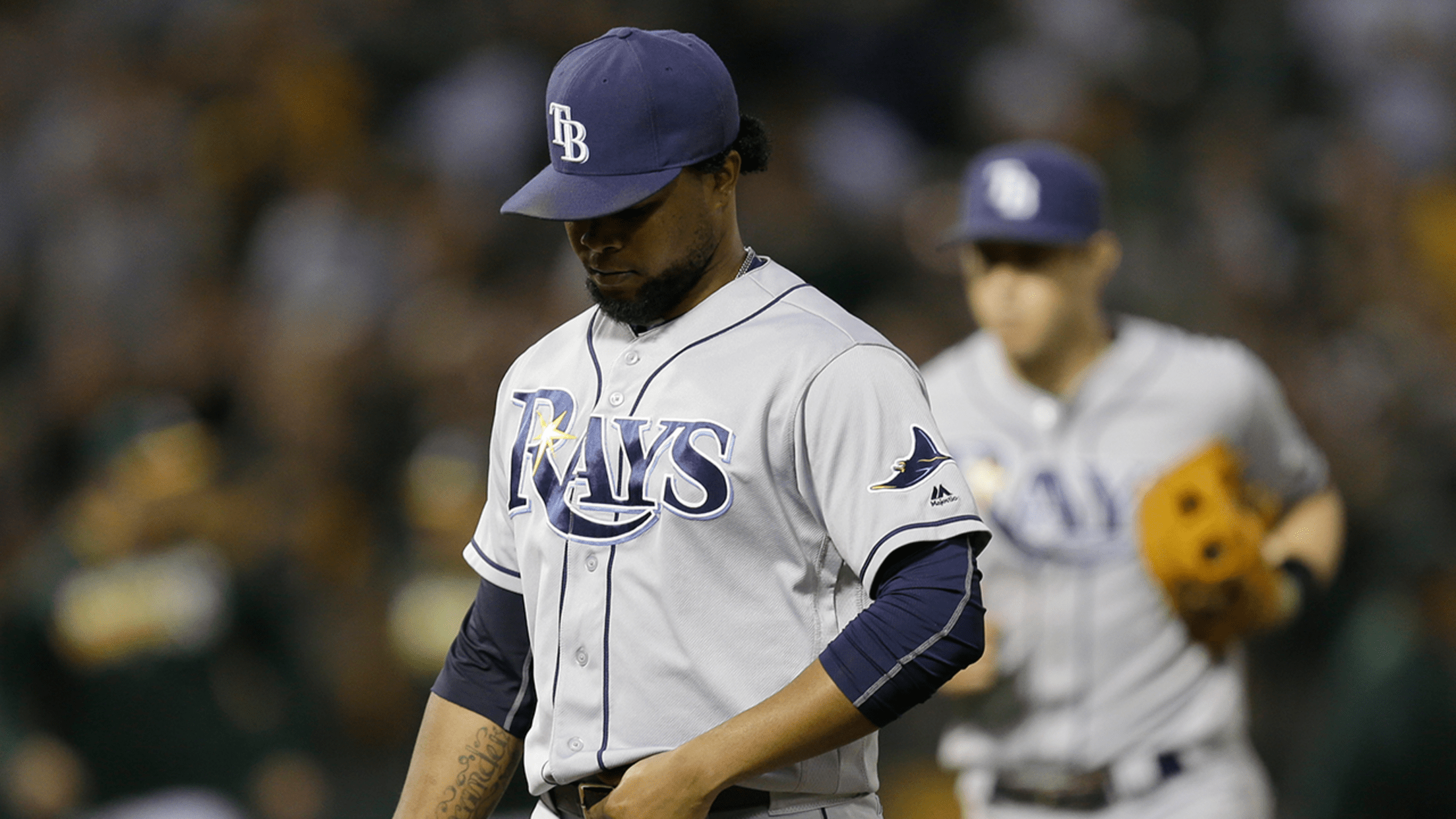 Rays closer Alex Colome walks off the field after allowing two home runs in the ninth inning of a 4-3 loss to the A's. (AP)
OAKLAND -- What wasn't supposed to happen did on Saturday night, as dependable closer Alex Colomé was handed his first blown save in the Rays' 4-3 loss to the A's at the Oakland Coliseum."Just one of those outings," Rays manager Kevin Cash said. "A little bit of a head-scratcher."Up to
OAKLAND -- What wasn't supposed to happen did on Saturday night, as dependable closer Alex Colomé was handed his first blown save in the Rays' 4-3 loss to the A's at the Oakland Coliseum.
"Just one of those outings," Rays manager Kevin Cash said. "A little bit of a head-scratcher."
Up to that point, everything appeared to be in working order for a textbook Rays win. Starter Drew Smyly limited the A's to one run in six innings, leaving the game with a 2-1 lead. Matt Andriese took over and added two scoreless innings while the Rays expanded the lead to 3-1.
Cash then handed the ball to Colome to pitch the ninth, ostensibly to slam the door on the A's and put a W in the scorebook.
Colome, who had converted his first 21 save opportunities, got off to a bad start by walking the leadoff man, Khris Davis. He recovered by striking out pinch-hitter Yonder Alonso to bring Jake Smolinski to the plate. Smolinski ambushed a first-pitch fastball, depositing the pitch into the left-field stands to tie the game at 3.
"Maybe I tried to be too perfect to the first hitter, like too down and I walk the first guy," Colome said. "The guy hit the home run [Smolinski], I missed the ball up. If I throw down, maybe I get the out, but I take it like a bad day."
Marcus Semien flew out for the second out of the inning before rookie Ryon Healy -- who was called up to the Major Leagues eight days ago -- homered to left-center field to give the A's the walk-off win while handing Colome his fourth loss of the season.
"You just don't see him get barreled up like that and he did," Cash said. "But Alex will bounce back fine and he'll be right back in there helping us win a ballgame tomorrow.
"Completely uncharacteristic of him, because he's been outstanding for us all year. I can't wait to get him back out there tomorrow when the same situation arrises. We'll have all the confidence in the world in him."
Colome's performance kept Smyly from recording his first win since May 16.
"I feel bad for him," Colome said. "We're up by two runs. But you know that happens. Tomorrow I make better pitches and throw strike [where he wants to]."
Bill Chastain has covered the Rays for MLB.com since 2005.