Eveland sharp in spot start, remains in bullpen mix
Non-roster invitee could fill multiple roles as long reliever or lefty specialist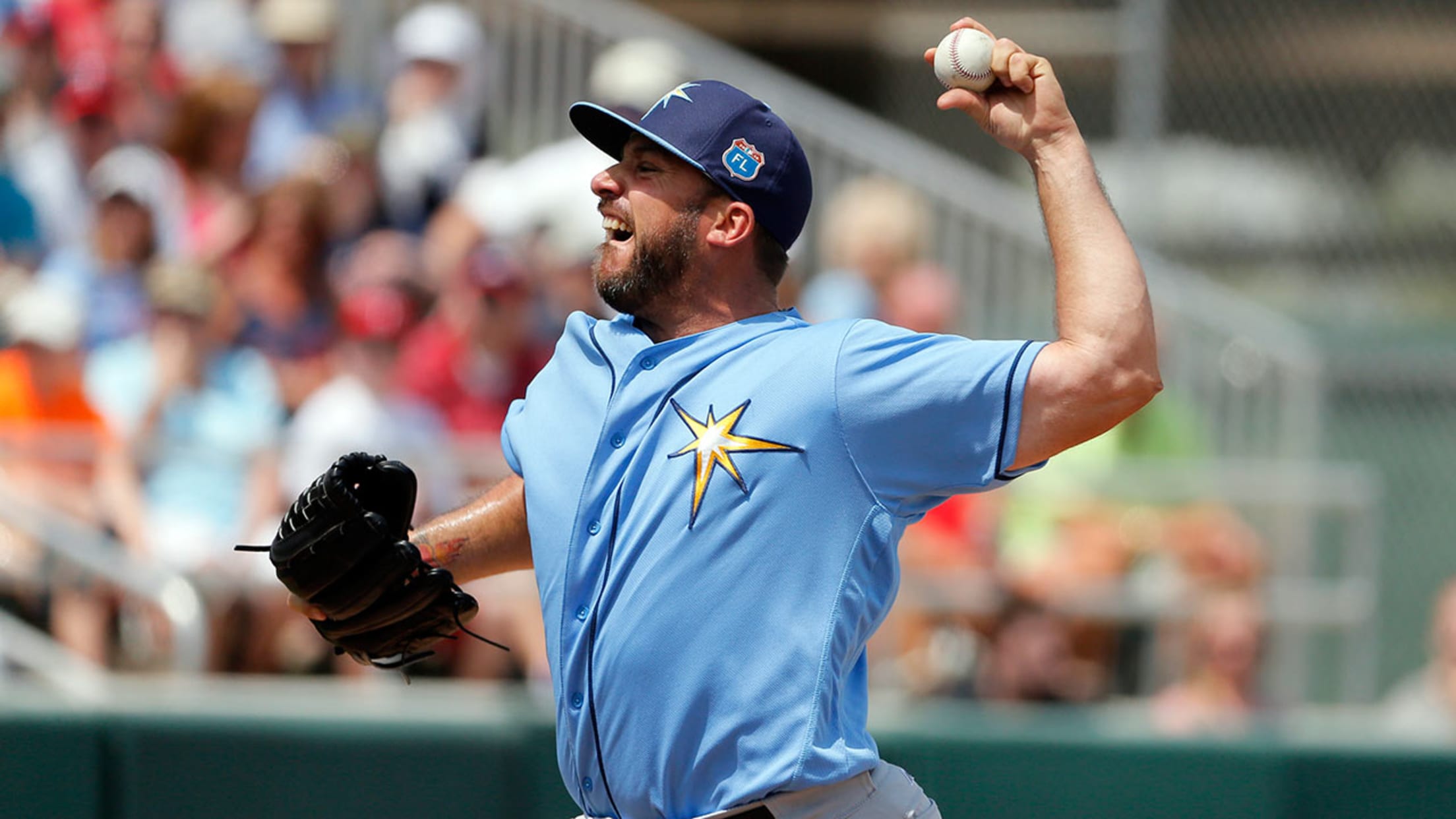 Dana Eveland has recorded a 5.27 ERA in 154 Major League games since 2005. (AP)
FORT MYERS, Fla. -- Kevin Cash went to his bullpen early on Wednesday, sending veteran lefty Dana Eveland to the mound to start in the Rays' 5-2 win over the Twins."They've obviously got some tough decisions to make," said Eveland, who got to face the Twins' starting lineup and allowed
FORT MYERS, Fla. -- Kevin Cash went to his bullpen early on Wednesday, sending veteran lefty Dana Eveland to the mound to start in the Rays' 5-2 win over the Twins.
"They've obviously got some tough decisions to make," said Eveland, who got to face the Twins' starting lineup and allowed no runs on a hit in two innings. "...To face some talent today was nice."
Eveland is in the mix to make the bullpen, but he's a non-roster invitee.
"I felt good, nothing too special, missed some spots, hit some spots," Eveland said. "It was an OK day on the mound in my mind. The results, obviously were good, but didn't quite feel as good as I'd quite like to at this point in camp. I want to be a little sharper than I was."
The composition of the Rays' bullpen remains to be seen, especially with last week's news that closer Brad Boxberger would be out of action for eight weeks after undergoing core muscle surgery.
"We're coming down to the end, and it still feels kind of early," Eveland said. "They have a lot of decisions to make. As long as I'm in their thoughts, that means I'm still doing my job right now. You know, I'm still here in Major League camp, so I'm happy about that.
"I'd love to figure out a way to find a spot on this team. But at the same time, [there are] no guarantees and I know that. I'm just going to keep doing my work, and we'll see what happens."
Eveland's two innings typified the theme of this year's Rays camp in which Cash and company have strived to get as many relievers as possible to pitch multiple innings. Going two didn't present Eveland with anything he couldn't handle.
"I'm comfortable with whatever," Eveland said. "I'm happy to have a uniform on. I'm happy to get to throw the ball. So whatever capacity they want to use me as they see me helping the team win, I'm ready for it."
Cash acknowledged that the Rays liked Eveland's game when they signed him.
"We liked his stuff, kind of his pitchability," Cash said. "He's been used as a starter, he's been used as just a lefty. We like him against both. As you can see, like what he does today, he gets ground balls. And that's what he's done all Spring Training. It's a good mix, and he's kind of versatile in the role that he could fit [for] us. He could be a short-inning guy or a provide some length out of the 'pen."
Bill Chastain is a reporter for MLB.com.