Rays' run has team eyeing postseason potential
Strong first half means club in holding pattern to determine best course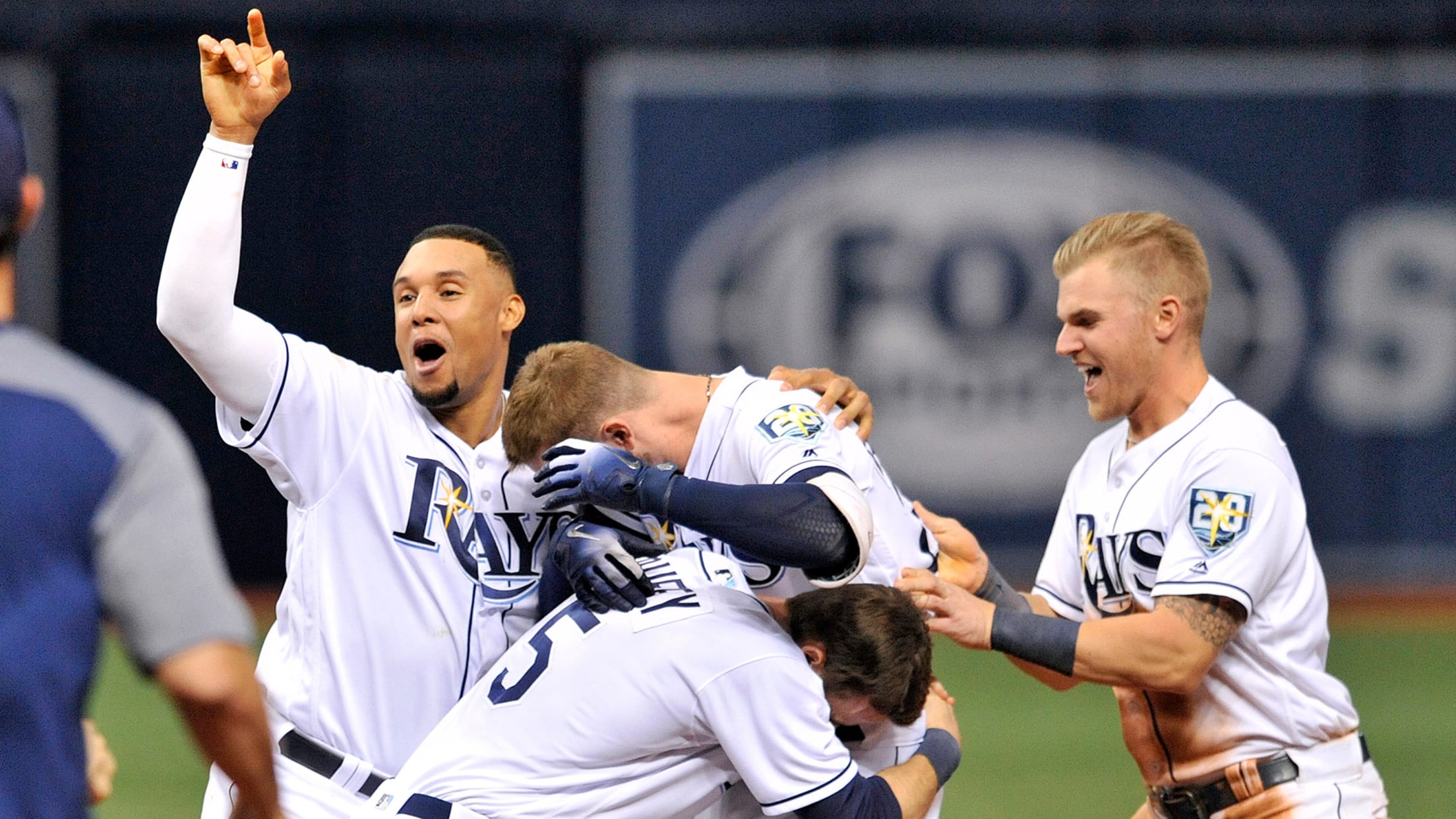 ST. PETERSBURG -- Tampa Bay arrives at the midterm break in a different place than most figured: Competitive.Finishing the first half at 49-47 is remarkable considering all the Rays have overcome in the way of offseason turnover, in-season trades and injuries. But the vitality of youth has appeared to inject
ST. PETERSBURG -- Tampa Bay arrives at the midterm break in a different place than most figured: Competitive.
Finishing the first half at 49-47 is remarkable considering all the Rays have overcome in the way of offseason turnover, in-season trades and injuries. But the vitality of youth has appeared to inject the team with life.
In addition, the pitching has embraced an innovative strategy that has seen relievers start, and scheduled bullpen days. Most of the baseball world snarled as if the sky were falling when Tampa Bay began the strategy -- and then the strategy worked.
Now, as the team heads into the second half, the question of whether it will be active at the non-waiver Trade Deadline is looming, as does the question of whether the Rays can actually get into postseason contention.
Current status: Hold
Tampa Bay will open the second half in a hold mode, since one good hot streak could propel this Rays' collection into contention. That could lead to buyer status. If the team's fortunes head the other direction, it could quickly become a seller.
If the Rays became buyers, the team's management will look for opportunities to enhance its postseason hopes, though don't expect a blockbuster deal. The most likely scenario is a turn toward seller since the Rays have several players of interest to other teams who are not locked up for next season, and they're still 8 1/2 games behind in the American League Wild Card race. A lot will depend on the market, and what they can receive in return.
What they are seeking
The Rays are known throughout the industry for being tough to deal with. In short, they drive a hard bargain. Having said that, they are always in the market for outstanding young players to stock their farm system.
What they have to offer
Potentially, they have plenty to offer. Wilson Ramos, Sergio Romo, Adeiny Hechavarria, Nathan Eovaldi, and Chris Archer are the headliners.
Possible scenario
Ramos has several possible suitors, the Nationals, Red Sox and Astros, which is a good thing since competition can drive up the price. The organization with the best prospects likely wins this one, however, the status of his hamstring injury could affect his trade value.
Bill Chastain has covered the Rays for MLB.com since 2004.