Ranking the Rays' Game 3 defensive gems
Jaw-dropping plays on repeat
If you watched the Rays' 5-2 victory over the Astros in ALCS Game 3, then you probably spent most of it with your jaw wide open in shock. Unless you were an Astros player, in which case you probably looked a little something like this:
If you watched the Rays' 5-2 victory over the Astros in ALCS Game 3, then you probably spent most of it with your jaw wide open in shock. Unless you were an Astros player, in which case you probably looked a little something like this:
Astros players watching the defense all night pic.twitter.com/zMrYlW93Rh

— Michael Clair (@michaelsclair) October 14, 2020
That's because Tampa Bay put on a defensive clinic. No, that's not quite right. They put on a full Cirque du Soleil of defensive highlights. They raced down balls in the gaps, leaped for them at the wall, and put so much mustard on their throws that first baseman Yandy Díaz's glove hand is probably still stinging.
Twitter was basically variations of this all night:
Rays defense be like pic.twitter.com/SFK2I3zQKv

— Danny Vietti (@DannyVietti) October 14, 2020
But there were so many great plays -- somehow all crammed into one single game -- that the best way to contextualize them is with a ranking.
So, without further adieu, let's go from least spectacular to most:
6. Kevin Kiermaier's catch at the wall, 1st inning
The Rays got the show started early, and from who else but Kevin Kiermaier? There's a good tip to follow if you're watching the Rays: Don't ever take your eyes off Kiermaier. The center fielder is one of the greatest defenders to ever play the game -- each of his three Gold Gloves was very much earned -- and this leaping grab on Alex Bregman's drive was just one more example.
Though impressive, the Rays had so much more up their sleeves.
5. Willy Adames' jump throw, 5th inning
In the bottom of the fifth inning, Jose Altuve hit a hard grounder deep into the third-base hole where Adames made a nifty backhand grab. Now, Altuve is a speedy dude -- his 256 career stolen bases rank fifth among active big leaguers -- so the Rays' shortstop would probably just have to pocket the ball, right?
Wrong. Adames leaped and threw across his body and somehow got the out. In most baseball games, this play would be the headline of the game. Instead, it just barely cracks our top five.
4. John Curtiss gets off the mound, 7th inning
Like a cat. pic.twitter.com/vjoKUPVVUD

— MLB (@MLB) October 14, 2020
Some people think that pitchers are at their best when they throw the ball as hard as possible and then get the heck out of the way.
Rays reliever John Curtiss apparently feels differently.
Curtiss came in to start the seventh inning and immediately had to get to work as Yuli Gurriel chopped a high grounder back up the middle to start the frame. Given its placement and speed, it would most likely have been an infield single had Adames been forced to field it. Instead, Curtiss seemed to defy the laws of physics as he leaped back across the mound to backhand Gurriel's ball. The reliever hit the grass and then fired a laser beam to first base.
3. Hunter Renfroe's bases-loaded sliding catch, 8th inning
This was not the hardest catch of the night, but it came in the biggest situation. In the bottom of the eighth inning, the Rays had a three-run lead, but the Astros were threatening. They had loaded the bases with only one out. The game quite literally hung in the balance.
Which makes it fitting that Kyler Tucker then hit a soft liner into right field that seemed to hang in the air before Hunter Renfroe made a sliding catch on the floater.
If you listen closely, you can probably hear the sound of the Astros' spirits deflating like a helium balloon.
2. Hunter Renfroe's diving play, 7th inning
It's not Hunter Renfrow, it's Hunter Renfroe pic.twitter.com/wK2uPsDgTj

— Tampa Bay Rays (@RaysBaseball) October 14, 2020
Another amazing catch from Mike Trout's doppelganger.
In the bottom of the seventh, George Springer came up with a runner on first and one out. He laced a liner into right field. If it dropped in, it would bring up the tying run. If it got past Renfroe in right field, it would be extra bases and Houston would be right back in it.
Instead, just as Manuel Margot had done the day before, Springer was robbed with a jaw-dropping catch. He seems to be getting pretty sick of it, and honestly, can you blame him?
George Springer is just sick of the Rays outfielders pic.twitter.com/blf9y2uCKG

— Michael Clair (@michaelsclair) October 14, 2020
1. Kevin Kiermaier's diving catch, 3rd inning
Quite simply, the Astros probably win the game if Kiermaier doesn't make this play.
Holding a slim 1-0 lead in the bottom of the third, Houston was threatening to add to it with runners on first and second when Carlos Correa smashed a liner to the gap in right-center. With two outs, the runners were moving, which made it all the more important that Kiermaier didn't let this ball get by him.
The outfielder -- who plays one of the deepest center fields in baseball -- raced 64 feet in just 3.8 seconds and went with a full Superman dive to make the grab.
Had he misjudged it ever-so-slightly, then this ball would have been rolling for minutes, days, weeks, maybe years. Two runs would have scored and Correa would have ended up on third base, if not with an inside-the-park home run.
Look: No outfielder is even in frame when he gloves the ball: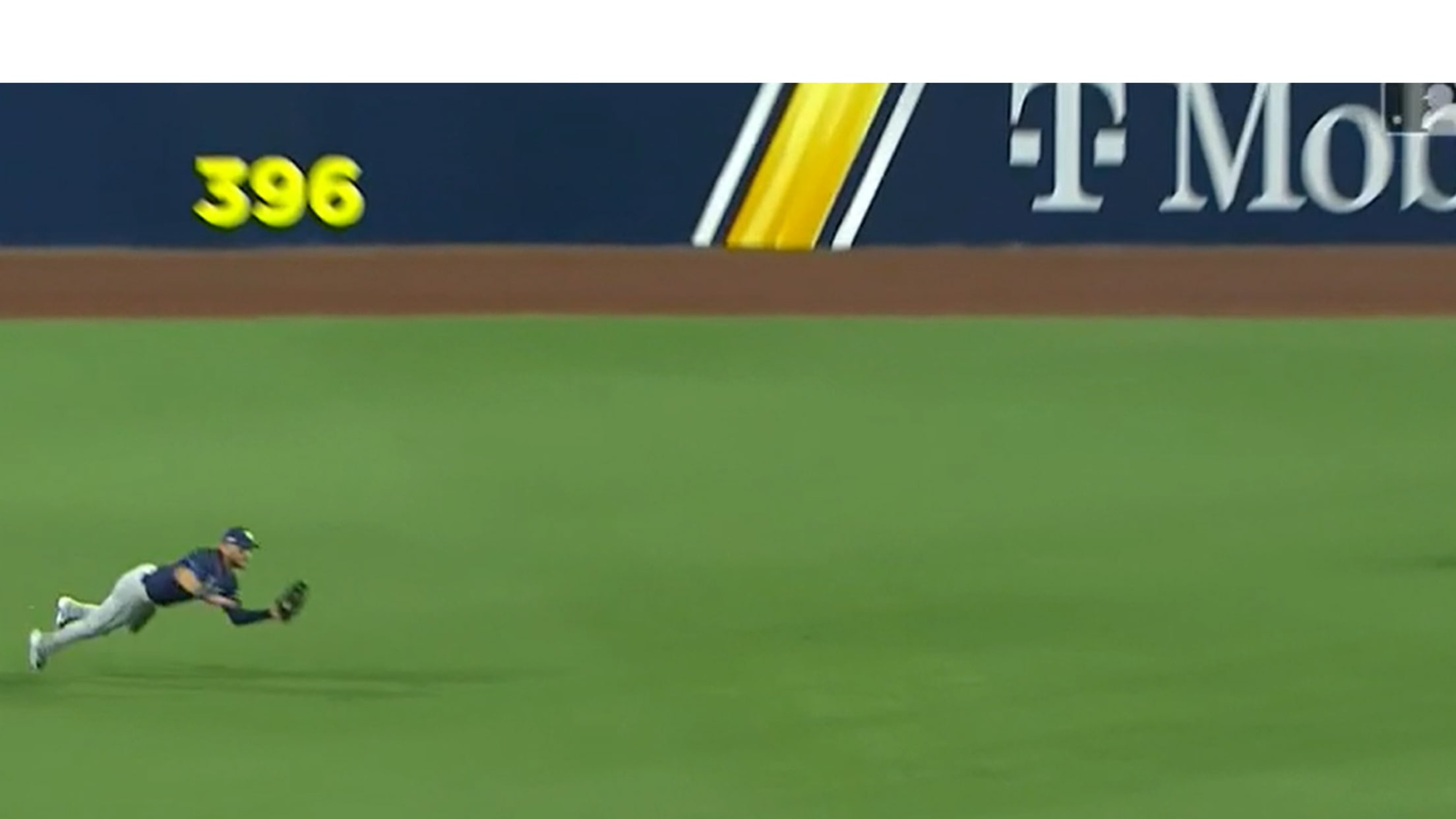 Fortunately for the Rays, Kiermaier doesn't miss -- even on balls that have only a 20 percent catch probability.
The Rays will look to put on another defensive show and sweep the series in Game 4 on Wednesday when Tyler Glasnow faces Zack Greinke. First pitch is at 8:40 p.m. ET on TBS.
Michael Clair writes for MLB.com. He spends a lot of time thinking about walk-up music and believes stirrup socks are an integral part of every formal outfit.