Font traded to Mets for PTBN or cash
Sadler, Velazquez recalled; Yarbrough optioned to Triple-A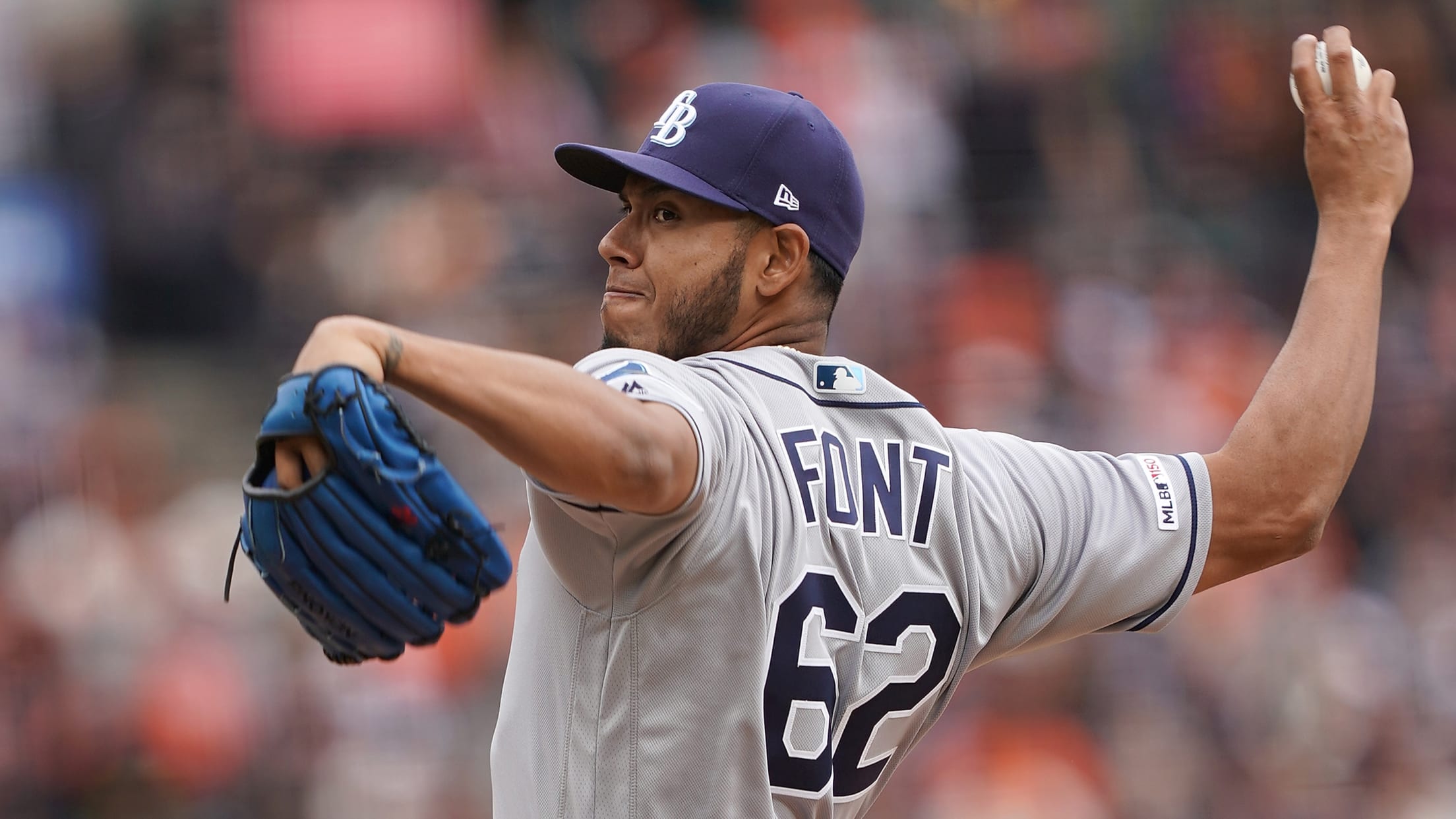 ST. PETERSBURG -- After a slow start to the season, the Rays traded Wilmer Font to the Mets on Monday for a player to be named later or cash considerations. Font, who was acquired by the Rays from the A's last May, was a pleasant surprise last season. In nine
ST. PETERSBURG -- After a slow start to the season, the Rays traded Wilmer Font to the Mets on Monday for a player to be named later or cash considerations.
Font, who was acquired by the Rays from the A's last May, was a pleasant surprise last season. In nine appearances with Tampa Bay, the 6-foot-4 right-hander posted a 2-1 record with a 1.67 ERA before a lat injury in June forced him to miss the remainder of the season.
This season, Font has struggled on the mound after having a shortened Spring Training. In 10 appearances, Font has a 5.79 ERA, but he has shown the ability to strike out hitters, recording 18 whiffs over 14 innings.
With the trade, the Rays recalled right-hander Casey Sadler to replace Font on the 25-man roster. The Rays' 40-man roster now stands at 39 players.
Yarbrough sent down, Velazquez recalled
Ryan Yarbrough, who was called up prior to Sunday's game, has been optioned again to Triple-A Durham in order to continue to get built up and stay on a more consistent routine.
After leading all rookies with 16 wins last season, Yarbrough struggled to start the 2019 season, posting an 8.10 ERA in five appearances as the team's bulk guy. With Jalen Beeks emerging as a quality option as the team's second long reliever and the team having multiple off-days over the next couple weeks, there weren't many pitching opportunities for Yarbrough at the big league level.
Adding Andrew Velazquez will give the Rays more versatility off the bench. The 24-year-old can play the outfield and multiple infield positions. Velazquez made his Major League debut last season and went 3-for-10 (.300) at the plate. This season, Velazquez is hitting .290 with three home runs in 23 games with Durham.
Juan Toribio covers the Rays for MLB.com. Follow him on Twitter @juanctoribio.