Why non-contenders have reasons to hope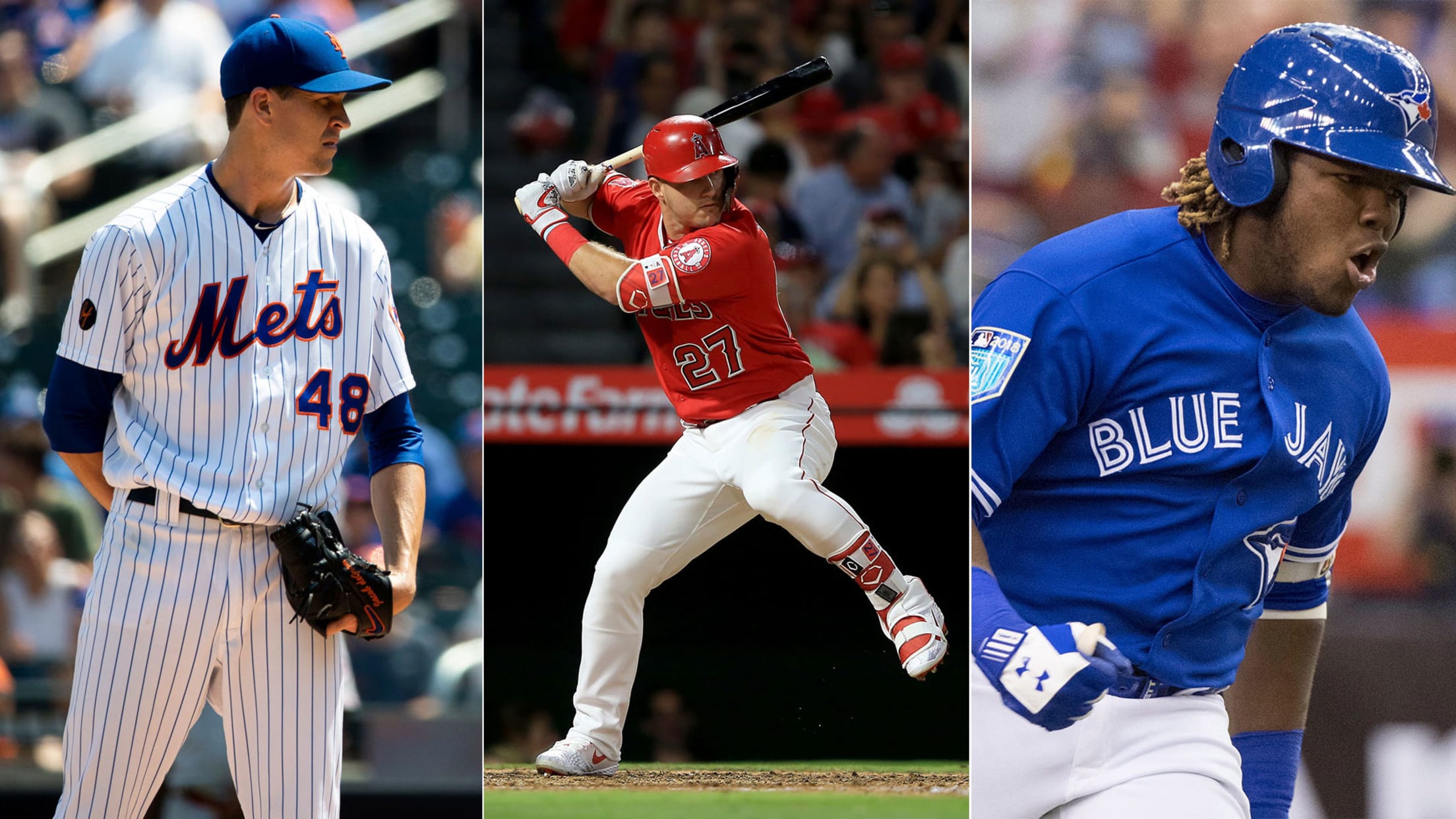 For a season that supposedly had six teams locked into division titles before the season even began, 2018 has turned out to have one of the wildest pennant chases in recent memory. The American League West is tied. The AL Wild Card chase is starting to get a little hinky.
For a season that supposedly had six teams locked into division titles before the season even began, 2018 has turned out to have one of the wildest pennant chases in recent memory. The American League West is tied. The AL Wild Card chase is starting to get a little hinky. All three National League divisions are within 2 1/2 games, and don't even get me started on the NL Wild Card chase. It's madness, and it's going to get even crazier. I can't wait.
But let us, in all the excitement of the chase, not forget about those poor souls whose teams are already out of it, teams who already have made their peace that there will be no chase this year. With a race like this, fans of eliminated or near-eliminated teams are the child at the window looking forlornly at toys all the other kids get to play with. So let's give them some hope today. One team (Baltimore) has already been eliminated from the playoffs; another (Kansas City) could be eliminated as early as Wednesday evening. And because we need some sort of arbitrary endpoint, let's establish the cutoff as "no reasonable playoff expectation" as "teams that are 10 games or more out." That leaves us 12 teams to cheer up. Congratulations, Washington and San Francisco. You have (very temporarily) escaped the hangman's noose.
Here's something for those 12 teams to have hope about.
Baltimore Orioles
The front office is finally changing. The Orioles have been notoriously resistant to changing the way they do business over the past 20 years, leading many O's fans to wonder if the Buck Showalter years were just a blip that would be surrounded by decades in the wilderness. But the Orioles' smart trades at the non-waiver Trade Deadline helped start rebuilding the farm system, and their embrace, finally, of the international market is exactly the thing you're looking for. It's going to be a long road back for Baltimore. But you can at least know there is a road now. And the O's will probably have the No. 1 pick in the 2019 Draft next June.
Chicago White Sox
The kids are coming. Michael Kopech and Yoan Moncada are already here. Eloy Jimenez could arrive next month. Luis Robert, Nick Madrigal, Blake Rutherford, Dylan Cease and Dane Dunning are on their way. The White Sox have a cadre of prospects that are the envy of baseball, and they're just about to make their way to the South Side. You want a team to bet on the AL Central over the next half-decade? Here's your pick. We won't be feeling sorry for the White Sox for long.
Cincinnati Reds
The Reds' lineup suddenly has youth and depth. Cincinnati's pitching obviously still needs a bit of work, but the its lineup is no longer just Joey Votto and a bunch of guys you walk Votto to pitch to. Eugenio Suarez, Scott Schebler, Scooter Gennett, Jesse Winker and, heck, Phillip Ervin all emerged this year … and they're all under the age of 30. And Nick Senzel will be ready by Opening Day next year.
Detroit Tigers
The seeds are being planted. The Tigers held off their rebuild far longer than they should have and, well, now they're finding out what happens when you do that. Next year should be as rough as this year was. But Detroit still has plenty of talent already in the system, including five pitchers in the MLB Pipeline Top 100 prospects. Next year is another year to marinate and see if any other talent emerges. This year, the Tigers sort of had to start from scratch. They won't be starting from scratch next year.
Kansas City Royals
They're not going to draw out this rebuild. Teams like the Tigers and the Orioles know they have a long, uphill climb in front of them until they are relevant again. The Royals are aiming for a shorter-term window than that, drafting college pitchers, gathering in defensive specialists, hanging on to Salvador Perez. According to Sam Mellinger of the Kansas City Star, they think they can contend again as quickly as 2020. That might be optimistic, but it certainly bucks the trend of teams bottoming out for a half-decade. The Royals don't plan on dragging this out, which means there could be some urgency here more quickly than you might have anticipated.
Los Angeles Angels
You still have Michael Trout. That certainly counts! Having the best player in baseball remains an awfully handy starting point. You have at least one more run up the mountaintop with Trout before Trout Trade Rumors start dominating every baseball conversation. Remember, Trout is a free agent after the 2020 season. The Angels made some smart moves to try to complement Trout this offseason; they just didn't work. They'll try it again this offseason. Maybe they'll catch more breaks this time.
Miami Marlins
They were a little better this year than you might have thought. Remember when everybody thought the Marlins were going to lose 120 games this year? They're not going to lose 100, which is faint praise, but still better than four or five other teams. Miami has also stumbled across some pearls this year, from Brian Anderson to Tayron Guerrero to an elevation to All-Star status from J.T. Realmuto, who suddenly looks like someone you build around rather than trade. The Marlins could have imploded this year, but they didn't. That gives you a little more faith moving forward than you might have had in March.
Minnesota Twins
The medium-water level isn't bad. The Twins were a lot better in 2017 than they should have been and a lot worse in '18 than they should have been. They didn't overreact either, not overspending into this season or selling everybody off heading into the next one. Most of the pieces traded at the Deadline were short-term players anyway. Minnesota still believes its core can be competitive, and it has 2017 as solid evidence of it. It'd be nice if Byron Buxton ever became that superstar he was supposed to be, but, failing that, there's still talent here, and the Twins are hanging onto it.
New York Mets
The pitching is still there! The Mets had another snake-bitten year, but, still, rolling Jacob deGrom, Noah Syndergaard and Zack Wheeler out there three times a week is a nice place to start, once again. Plus, Michael Conforto rebounded from his terrible start to be the solid player we all thought he was. The real question for the Mets: What are they moving forward? A perpetual contender? Or a team that needs to start over? No matter what happens, 2019 might definitely answer that question.
San Diego Padres
They're throwing enough at the wall that some of it is sticking. I've written about the Padres before, but they have shown this year that they're just innovative and goofy and fearless enough to try some weird things that may or may not work, but certainly show a creative streak that will serve them well. The Eric Hosmer gambit might not pan out, but San Diego is always trying something. The Friars will end up with a few gems from their panning for gold, which will mesh well with all the superior young talent they have in their system. The Padres are about to be extremely un-boring.
Texas Rangers
The new stadium is coming. The Rangers took another step back this year, and it might be until 2020, when the new Globe Life Field opens (assuming storm damage hasn't set them back), before they are ready to contend again. But this team will remain interesting in that time, with a smart front office and, of course, the possibility that Bartolo Colon and Adrian Beltre are back. Besides, it's always wistful to say goodbye to an old stadium.
Toronto Blue Jays
Vladimir Guerrero Jr. is coming. He might show up this year. He'll more likely be there next year. But your new favorite player is almost here. You don't have to be a Blue Jays fan to be excited about that.
Will Leitch is a columnist for MLB.com.