Ace setting Sale into historic waters
Lefty looking to eclipse record (23) set by Ryan, Big Unit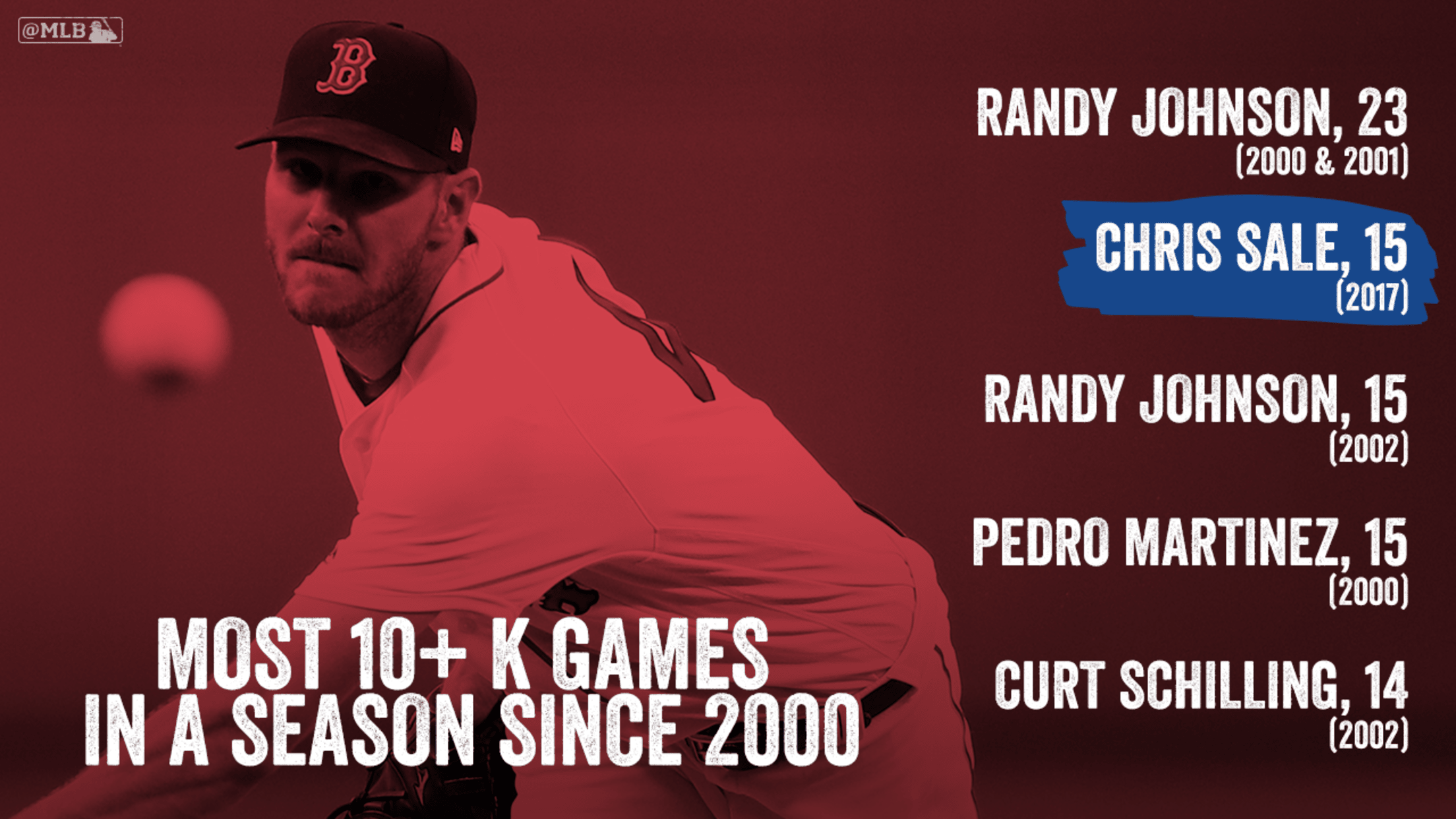 ST. PETERSBURG -- With friends and family looking on, Red Sox ace Chris Sale turned in one of his best performances of an already-stellar season.The left-hander tossed eight innings of two-hit ball in a 2-0 win against the Rays on Tuesday night at Tropicana Field. Sale tied his season high
ST. PETERSBURG -- With friends and family looking on, Red Sox ace Chris Sale turned in one of his best performances of an already-stellar season.
The left-hander tossed eight innings of two-hit ball in a 2-0 win against the Rays on Tuesday night at Tropicana Field. Sale tied his season high with 13 strikeouts and walked just one as the Red Sox (64-49) extended their American League East lead over to four games over the Yankees and 6 1/2 games over the Rays.
A little home cooking and a hug from his son proved -- along with an extra day of rest thanks to a rainout -- to be exactly what he needed to bounce back from one of his shakiest starts of the year.
"To be honest, I was flat-out embarrassed the last time I was on a baseball field," Sale said in regards to his five-inning, seven-run performance against Cleveland. "I wanted to come back and be good for this one."
Sale spent Boston's off-day on Monday visiting family and friends from nearby Lakeland, Fla., where he grew up. The trips back home have always had a positive effect on the former first-round pick out of Florida Gulf Coast University. In his seven career appearances at Tropicana Field, Sale has a 2.03 ERA with 71 strikeouts in just 46 1/3 innings.
"It was a nice little reboot for everybody," Sale said. "[FGCU baseball coach Dave Tollett] was here. Coach [Mike] Campbell, my high school coach, was here. Parents, in-laws, couple of buddies made it, so it was fun to catch up with everybody."
Then again, nearly every field has felt like home for Sale in 2017 as he continued to make his case for his first AL Cy Young Award.
Tuesday was the eighth time in Sale's past 10 starts that he allowed four or less hits to an opponent. He now leads the AL in wins (14), strikeouts (229), ERA (2.57), and opponents' batting average (.189).
Chris Sale has 15 starts this year with 10+ Ks. Only Big Unit (23), Pedro Martinez (15) have done that since 2000. https://t.co/skKxaJBv7F pic.twitter.com/Kq8dT4BlHM

— MLB (@MLB) August 9, 2017
The 28-year-old was just the fourth pitcher in history to reach 200 strikeouts in 20 or fewer starts in a season. This century, only Randy Johnson had more double-digit-strikeout games in a season, with 23, than Sale has this year.
"I don't want to say it's a historic year, but it certainly is a powerful year on his part," Red Sox manager John Farrell said. "Impressive is an understatement."
Johnson shares the all-time record of 23 games in a season with strikeout king Nolan Ryan, who achieved the feat with the Angels in 1973 -- the year he whiffed a modern-day record 383 batters.
Sale was especially dominant on Tuesday. He threw 80 of his 112 pitches for strikes.
"He had his best fastball right out of the gate and he was able to maintain it through 112 pitches and eight innings of work tonight," Farrell said. "He was dominant. A lot of strikes. A lot of swing and misses. I thought his slider was one of the more sharp ones he's had in quite some time. He was in command of this one."
Chris Sale the magician, making baseballs disappear since 2010! #RedSox pic.twitter.com/OSSy6f7dPQ

— Boston Red Sox (@RedSox) August 9, 2017
The Rays didn't manage a baserunner until Trevor Plouffe reached on a throwing error by Boston third baseman Rafael Devers to lead off the fourth inning. Sale still managed to get through the frame on just nine pitches. Rays catcher Wilson Ramos finally broke up the no-hitter with a soft liner into center with one out in the fifth, but he was left stranded after Sale retired Adeiny Hechavarria and Daniel Robertson in order to end the inning.
It wasn't until the bottom of the seventh that a Rays player even reached second base. Tampa Bay outfielder Steven Souza Jr. reached base on a fielder's choice and was able to advance to second on a wild pitch. Sale struck out Ramos and Hechavarria to end the threat.
"I felt confident," Sale said. "Those extra workdays in between helped and you have a little extra fuel when you don't do so well your last time out."
After retiring the side on nine pitches in the eighth, Sale walked back to the dugout to a standing ovation from the visitors' side of the ballpark.
"It's definitely a lot of fun playing behind a guy like him," Boston center fielder Jackie Bradley Jr. said. "What more can you say about him? It was huge to get that win tonight."
J. Scott Butherus is a contributor to MLB.com based in St. Petersburg and covered the Red Sox on Tuesday.