After shrewd moves, Dombrowski savors October
Architect of World Series teams in Florida, Detroit has Boston back in postseason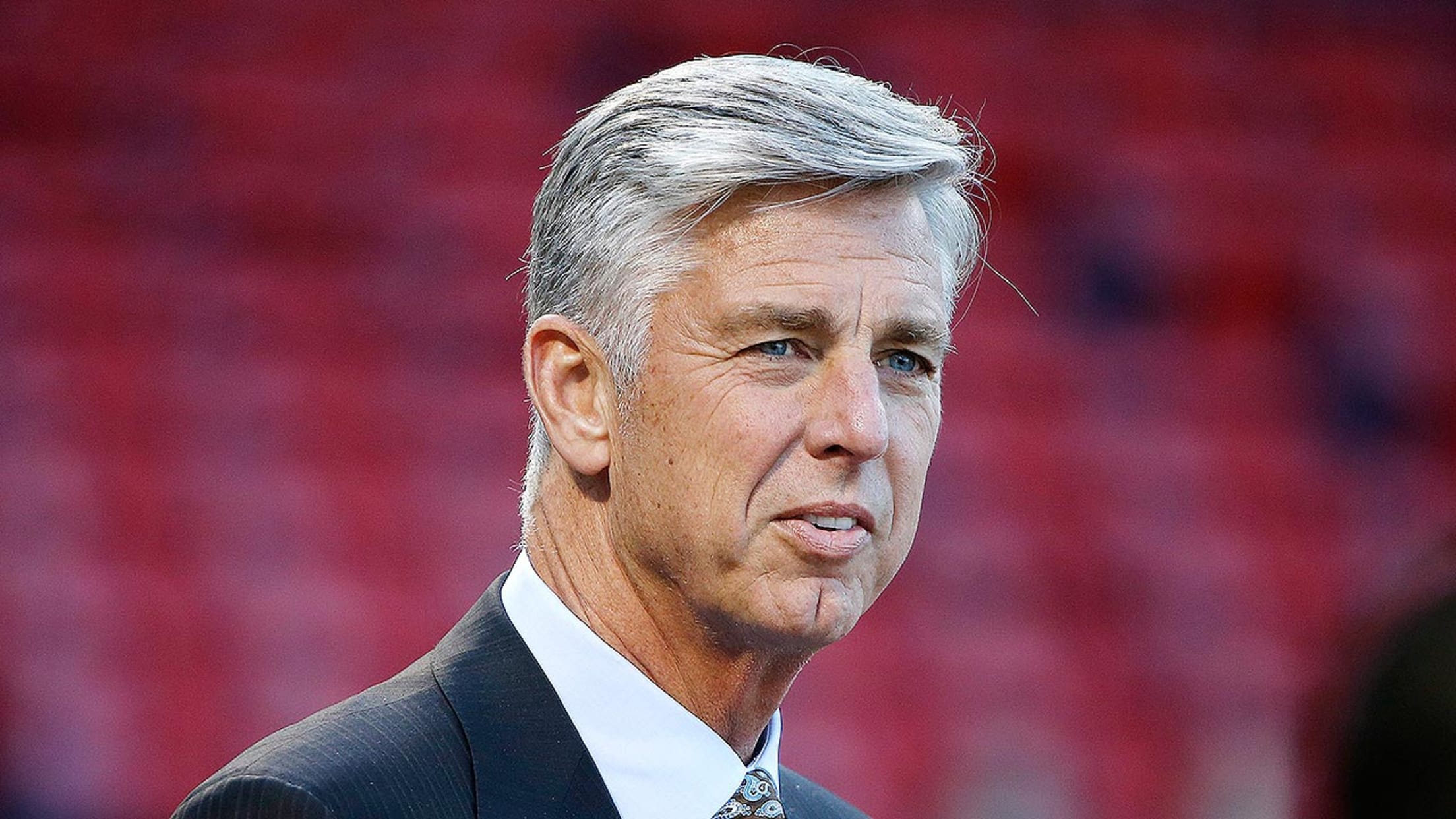 "I don't think there's a club out there that's a better club than ours," Dave Dombrowski said. (AP)
BOSTON -- It was a perfect autumn day in Boston, and Red Sox president of baseball operations Dave Dombrowski couldn't help but savor it as he sat in the empty grandstands at Fenway Park while his team worked out in preparation for Thursday's Game 1 of the American League Division
BOSTON -- It was a perfect autumn day in Boston, and Red Sox president of baseball operations Dave Dombrowski couldn't help but savor it as he sat in the empty grandstands at Fenway Park while his team worked out in preparation for Thursday's Game 1 of the American League Division Series at Cleveland (8 p.m. ET, TBS).
"When the sun shines at this time of year, it's great," Dombrowski said Tuesday.
• Gear up for postseason with Sox merchandise
And as the seasoned Dombrowski knows as well as any executive in the game, there is no better time of year than the postseason, when every pitch is magnified.
:: ALDS: Red Sox vs. Indians coverage ::
These were the days Dombrowski missed last October, when he was just a few weeks into his new job with the Red Sox after leaving the Tigers.
"It's a nice feeling any time you can make it to the postseason," Dombrowski said. "You never take that for granted. It's something that as an organization, when you achieve that, it's never easy to win, it's never easy to win a game, it's never easy to win a division. You hope to play good at the right time and have a couple of breaks go your way. But again, it's great to be sitting here."
Of course, it was at Fenway Park that Dombrowski's heart was broken three Octobers ago -- first by a David Ortiz grand slam in Game 2 of the AL Championship Series, and then by a Shane Victorino slam in the clinching Game 6.
This time, Dombrowski hopes to take part in a Boston party, rather than it happening at his team's expense.
Under Dombrowski's leadership in Florida, the Marlins won the 1997 World Series. During his time in Detroit, the Tigers went to the World Series in 2006 and '12, and won four straight division titles (2011-14).
He has a pretty good idea of what a legitimate championship contender looks like.
"I don't think there's a club out there that's a better club than ours, per se, at this time of year," said Dombrowski. "But again, I'm sure other clubs can say the same thing. You just have to go and do it. You can say all you want. You just have to go out there and perform."
While Dombrowski took on three rebuilding jobs earlier in his career in Montreal, Florida and Detroit, Boston was more of a reload. And already, Dombrowski has proven to be the right man to steer a club back to contention that had finished in last place in back-to-back seasons.
He acted decisively in his first offseason with the Red Sox, trading for Craig Kimbrel, signing David Price and Chris Young, and not pushing the panic button by jettisoning some underperformers from last season.
"Well, there's no doubt that the players he's brought in, the trades that have been made, have had a major impact on our roster today," said Red Sox manager John Farrell. "His style is unique to him. Dave is so present with us, he has a direct and current feel for what our team is going through. It allows our conversations to be free-flowing and without much catchup, because it's ever-present and it's multiple times a day.
"He has such a long history in this game and a successful one, and has not shown any reservation or restriction to make big deals to make a big impact. And that shows on this roster."
While Dombrowski's fingerprints are all over the acquisitions of Price and Kimbrel, perhaps he hasn't gotten enough credit for some of the players he held on to. In 2015, Hanley Ramirez disappointed in three areas -- offense, defense and durability.
Public outcry was to trade him. Dombrowski's opinion was to stay patient. That opinion has never looked better than now, as Ramirez takes 30 homers and 111 RBIs with him into the postseason. One of the first things that happened under Dombrowski's watch late last season was the decision to pull Ramirez out of left field permanently and move him to first base.
"I think one of the things where you have to be more careful in our situations as clubs is that a lot of people want instant gratification," Dombrowski said. "It just doesn't happen. You have a lot of ups and downs. That's how baseball is."
Dombrowski knows it because he's seen it -- for decades. So when nearly every Boston fan and many media members thought Clay Buchholz should be gone after his nightmarish start this season, Dombrowski's instincts were to stay the course. Much like Ramirez, Buchholz justified that faith and went 4-0 with a 2.63 ERA in his final seven starts. The righty is expected to take the ball in Game 3 of this series at Fenway.
"The reality is that he still had ability," Dombrowski said. "He's a proven winner as a big league pitcher. When we took him out of the rotation, he just mentally needed to step back. He responded well. Give him credit. Sometimes I can understand the fan base may not like that, but you have to make the decisions yourself."
And the Red Sox have full confidence in their decision-maker.
"Obviously he's the guy that signed everybody," said Buchholz. "He knows what he's doing. That's why they brought him in here. He's a very good judge of talent, and I think the biggest thing about him is he's not a sabermetrics guy, he's not in too deep with that. He tries to judge a player on what they are and how they play the game, and that's historically how they've gone about their business, and he's definitely good at his job."
Dombrowski's favorite part of his job starts on Thursday night in Cleveland.