Rivals in Bronx looking like Boston's big hurdle
Defending champs 'preparing for a grind' vs. Yankees in 2019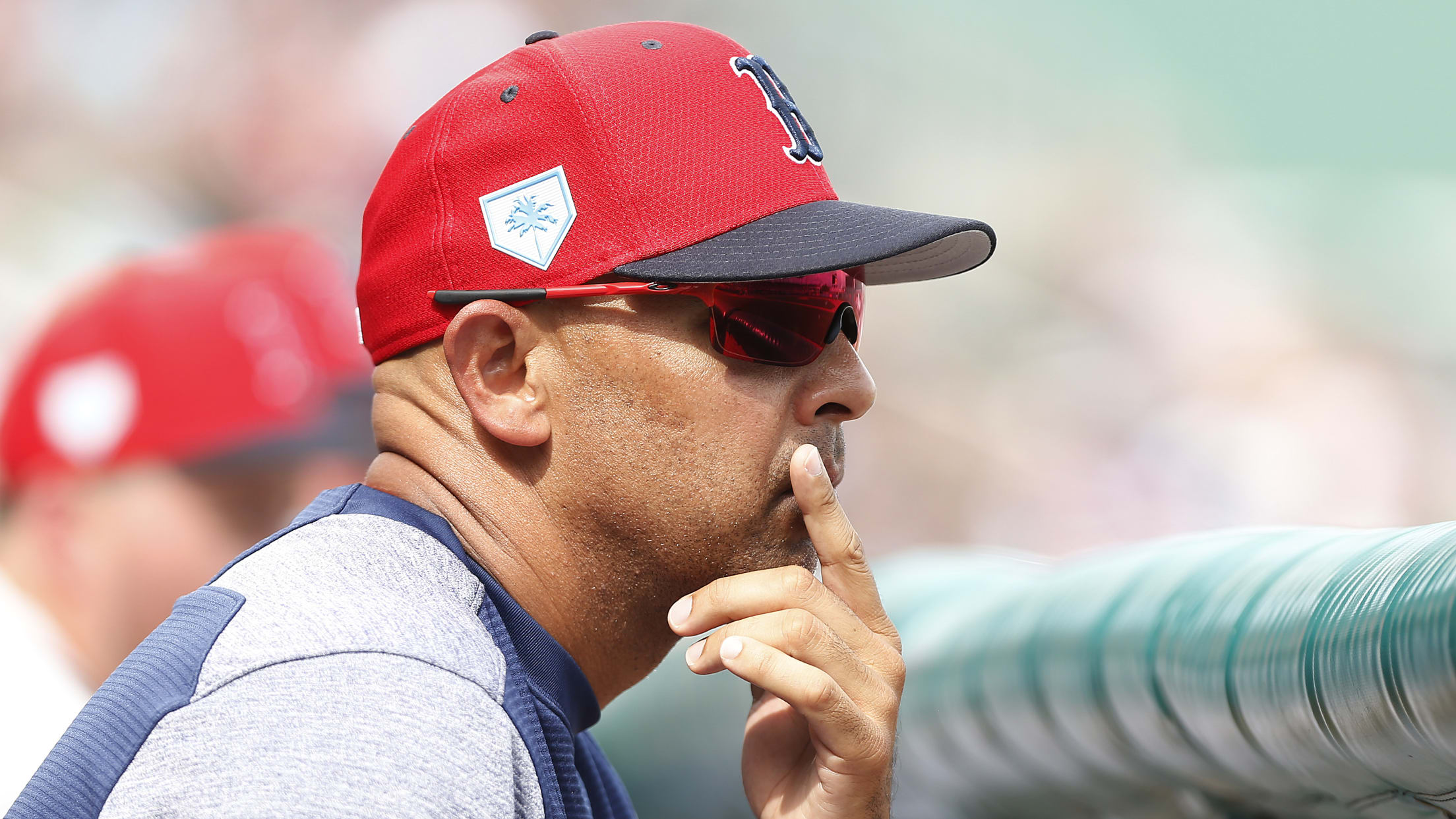 TAMPA, Fla. -- The Red Sox, who have visions of repeating as World Series champions this season, were looking across the field on Friday at the toughest obstacle they will face in trying to reach that goal. The Yankees won 100 games last season and were somehow underappreciated. That's what
TAMPA, Fla. -- The Red Sox, who have visions of repeating as World Series champions this season, were looking across the field on Friday at the toughest obstacle they will face in trying to reach that goal.
The Yankees won 100 games last season and were somehow underappreciated. That's what happens when you are in the same division with a team that won a franchise-record 108 games and rampaged through the competition (including a certain team from the Bronx) in October.
For the Red Sox, winning the American League East again could be as daunting a task as trying to win the World Series again.
The Yankees, who romped, 14-1, on Friday with many of Boston's regulars back in Fort Myers, still have a dangerous lineup that includes Aaron Judge and Giancarlo Stanton.
"The Yankees have a good lineup, but I also think we have a good lineup," said Red Sox third baseman Rafael Devers. "It's baseball. Anything can happen. I think we're going to get off to a good start like we did last year, and we'll just see what happens during the season."
New York's bullpen was dominant last year, and it might even be better after re-signing July trade acquisition Zack Britton and adding Adam Ottavino. The rotation will be without Luis Severino for the first month of the season, but they've gained talented lefty James Paxton.
"We knew they were good last year. We knew they're going to be good this year," said Red Sox manager Alex Cora. "They won 100 games. In a non-historic season, you win 100 games, you don't play that Wild Card Game. For everything people say about them last year, I think [manager Aaron Boone] did an outstanding job. They were great. We expect the same thing this year."
In the Division Series, the Yankees put a big scare into Boston by stealing Game 2 at Fenway Park to even the series. But the Red Sox put a 16-1 pounding on them in Game 3, then escaped with a 4-3 thriller to take Game 4.
Not much separates these two teams in terms of talent. They are both loaded with stars and with depth. Each series this season will be a must-see event.
The clubs will see each other next on April 16, when they tangle for a two-game set in New York. The Sox go to New York at the end of May for a four-game series. They meet on the neutral ground of London for MLB's first venture into Europe on June 29 and 30. The Yankees finally come to Fenway Park on July 25-28 for four games. It's back to Yankee Stadium for the rivalry Aug. 2-4, then the season series wraps Sept. 6-9 with four games at Fenway.
You get the feeling another October matchup could be in the cards ... but it will be interesting to see which team has to sweat out a Wild Card Game to get there.
"We're not taking anything for granted," Cora said. "Honestly, we're just preparing for a grind."
Cora not worried about record
It has been 10 days since the Red Sox won a Grapefruit League game -- they're 0-8-1 over that span. But Cora doesn't read anything into it, due to the way he has deployed his personnel this spring.
By design, the Sox have eased their starting pitchers, key relievers and even some position players into the mix. Players are just starting to accumulate a regular workload, as Cora has been very mindful of his team's extended October last year.
"Teams do things differently, but obviously in our situation, Chris [Sale], David [Price], Nate [Eovaldi], [Rick] Porcello, they've been pitching a lot their whole careers," Cora said. "You have to save their bullets and hopefully the plan we have in place is going to pay off just like we did last year. A lot of people were set up a little differently in Spring Training, but those guys were able to pitch in April and be dominant, and they were able to do cool things in October because we saved a few bullets in Spring Training and early in the season."
The starting position players will start playing every day beginning on Monday, though Dustin Pedroia will stay on a more conservative plan as he completes his comeback from a left knee injury.
Mejia sharp
Righty reliever Jenrry Mejia again was called up from Minor League camp, and he turned in a strong inning for the Red Sox on Friday, striking out one and retiring all three batters he faced.
"Velocity was up, too, today he was at 93, there was one slider he got away with it on one of the strikeouts," Cora said. "He looked better. Big cutter, seems like they're not picking up the spin of his balls, it was a good outing for him."
After failing three PED tests, Mejia was banned from baseball for life on Feb. 12, 2016, but he was conditionally reinstated last July. Mejia last pitched in the Major Leagues in 2015. He seems to be getting back into a rhythm and could help the Red Sox at some point.
"He pitched good in winter ball, seems like little by little the velocity's getting up there, he started at 90 his first outing here, today was up to 93, he faced some good hitters today, so it was a good one," Cora said.
Up next
Sale makes his Grapefruit League debut on Saturday at 1:05 p.m. ET in Fort Myers against the Braves. The ace lefty did have what amounted to a start on Monday, but it was in a Minor League game. It will also be a big day out of the bullpen, as Matt Barnes, Ryan Brasier and Tyler Thornburg will all see action.