Sox remain engaged with NL West clubs on Betts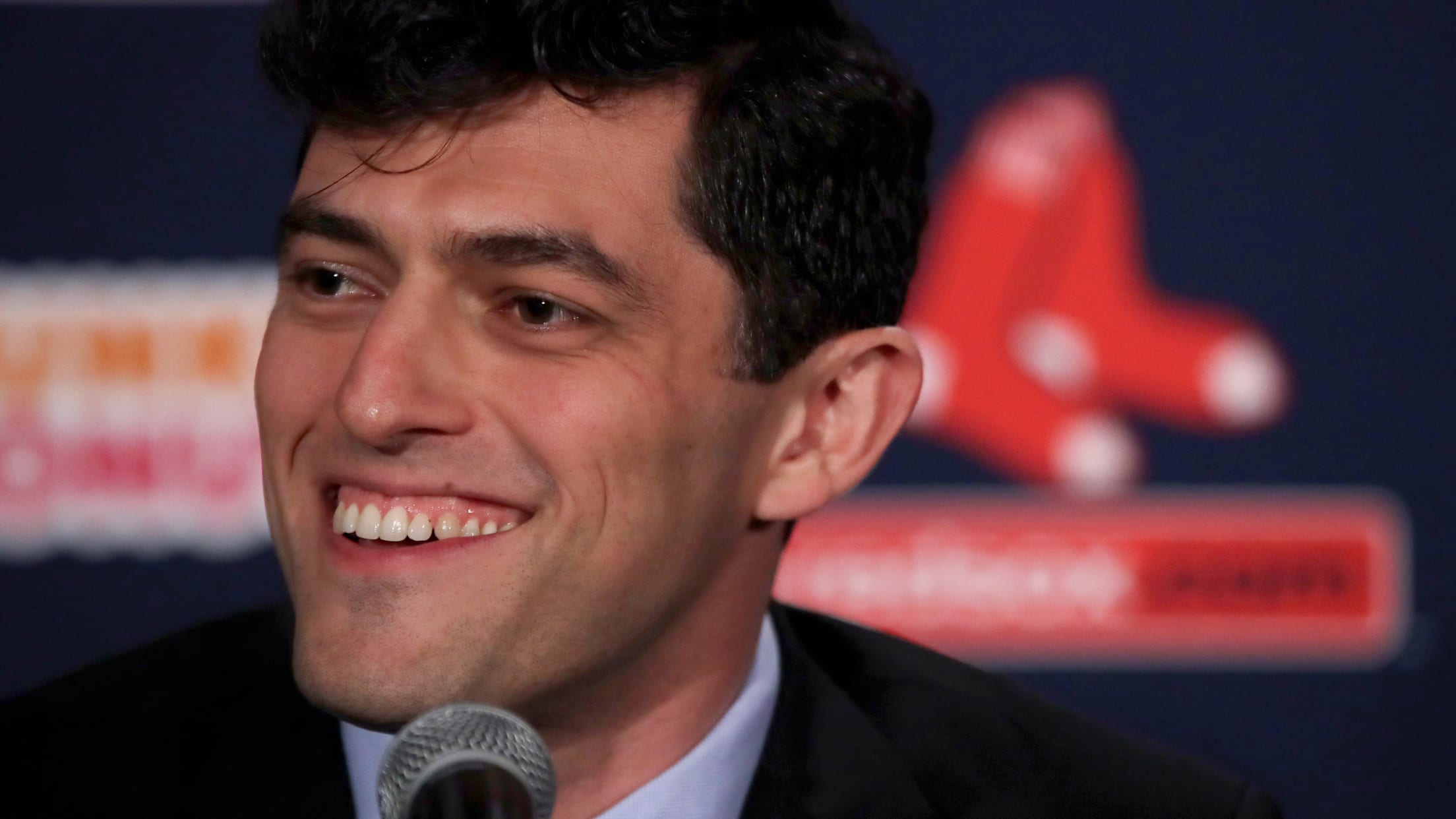 MLB.com is keeping track of all the latest rumors involving the Red Sox right here.
MLB.com is keeping track of all the latest rumors involving the Red Sox right here.
Red Sox remain engaged with Dodgers, Padres on Betts
Jan. 26: The Red Sox are still discussing Betts trade scenarios with the Dodgers and Padres, according to a report by Alex Speier of the Boston Globe.
That doesn't make a Betts trade certain, but the fact that Boston is still considering both clubs' proposals -- each reportedly containing combinations of Major Leaguers and top prospects -- with Spring Training on the horizon signals that the club is still open-minded to a swap. Speier reports that the Red Sox's willingness to trade Betts "appears serious." While the Red Sox could compete for the American League East title this year, MLB Network insider Ken Rosenthal notes in his Sunday column for The Athletic (subscription required) that clearing Betts' salary -- and getting a prospect-laden return for him before he departs via free agency -- would potentially give Boston a more flexible future.
The Dodgers have the financial wherewithal to take on Betts' $27 million salary this year, and possess multiple highly regarded prospects besides shortstop Gavin Lux and pitcher Dustin May, who appear to be untouchable. Los Angeles could probably take on the remaining $96 million left on David Price's contract as part of a deal, too. A deal with the Padres could involve the Red Sox acquiring outfielder Wil Myers, who is owed $61 million over the next three years. San Diego would probably need to tack on significant prospect talent to convince Boston to take on Myers in a swap. Rosenthal reports that the D-backs, with former Boston ties in manager Torey Lovullo and general manager Mike Hazen, have also shown at least some interest in trading for Betts. However, on paper, Arizona doesn't appear to have either the financial or prospect resources to compete with the Dodgers or Padres in a bidding war.
Padres have discussed Betts trade with Red Sox
Jan. 23: The Padres have discussed a trade with the Red Sox involving outfielder Mookie Betts, with recent talks focusing on a package of Wil Myers and prospects going to Boston, sources told MLB.com's AJ Cassavell, confirming what was initially reported by Dennis Lin of The Athletic (subscription required).
People familiar with the discussions consider a trade to be a long shot at this juncture, but there's at least legitimate interest on both sides, Lin notes. More >
Here are Red Sox's reported demands in potential Betts trade
Jan. 19: Red Sox chief baseball officer Chaim Bloom may still be exploring trades for Mookie Betts, but ESPN's Buster Olney reports in an article for ESPN+ (subscription required) that some rival evaluators view the team's asking price as overly steep.
Find out what it might take for Boston to move the 2018 American League MVP Award winner. More >
Bloom intends to start Red Sox's skipper search immediately
Jan. 15: The Red Sox parted ways with manager Alex Cora on Tuesday, one day after he was implicated as a key part of the sign-stealing scandal while he was bench coach of the 2017 Astros.
Replacing Cora, who went on to guide the Red Sox to a franchise-record 108 regular-season games and the World Series title in 2018, will not be easy, in part because Boston is still being investigated by Major League Baseball for its own alleged scheme to illegally steal signs in 2018. As such, the Red Sox obviously have to be careful to avoid furthering this controversy by turning to any members of the coaching staff on that year's team who may come under fire.
That said, new chief baseball officer Chaim Bloom said he will begin the managerial search immediately with the hope of completing the process as soon as possible in order to help the club have as normal a Spring Training as possible under the circumstances. More >
Latest on Red Sox's payroll and potential Betts deal
Jan. 15: At various times this offseason, Mookie Betts has been a hot topic as a trade candidate on the rumor mill. It seemed surprising because he's a former MVP, smack in the middle of his prime, one of the best all-around players in the sport and still under control through the 2020 season -- one in which the Red Sox hope to contend.
The main case for Boston potentially considering dangling Betts -- as well as others, like lefty David Price and center fielder Jackie Bradley Jr. -- came down to the club's desire to lower payroll and get a quality return package for Betts before the 27-year-old right fielder hits the open market next offseason.
"The Red Sox checked out the market for Mookie Betts, David Price and Jackie Bradley Jr.," MLB.com's Richard Justice wrote in discussing six league-wide questions that need to be answered before Spring Training, "but they haven't gotten an offer that would compel them to make a move."
What's more, chief baseball officer Chaim Bloom indicated Wednesday -- in the wake of the club's decision to part ways with manager Alex Cora on Tuesday after he was implicated in the Astros' illegal sign-stealing scandal from 2017 -- that it's increasingly likely Betts will remain with the Red Sox, at least through Opening Day: "That's really been my expectation all along."
MLB.com's Ian Browne detailed the sequence of events and statements regarding the franchise's financial circumstances.
"Just prior to the offseason," Browne wrote, "Red Sox owner John Henry suggested that the Red Sox needed to be under the Competitive Balance Tax threshold of $208 million for the coming season. Team president/CEO Sam Kennedy later clarified that getting under the CBT is a goal, but not a 'mandate'."
In his attempt to clarify the situation further in a recent e-mail exchange with Boston Globe columnist Dan Shaughnessy, Henry wrote: "This focus on [the] CBT resides with the media far more than it does within the Sox. I think every team probably wants to reset at least once every three years -- that's sort of been the history -- but just this week ... I reminded baseball ops that we are focused on competitiveness over the next five years over and above resetting."
If that is the case, then the expectation would be Betts still will be wearing a Boston jersey when the regular season starts. Perhaps, then, trade rumors will simmer some in the coming months ... until the Red Sox show whether they're contenders leading up to the Trade Deadline.
After all, as teammate David Price commented about Betts: "He's said it multiple times, he's going to go to the free-agent market. He's not saying he won't re-sign with Boston once he hits free agency or anything like that. He's earned his right to get there."
The best right fielder in baseball? It just might be Betts.
Jan. 11: The biggest question surrounding Mookie Betts all offseason is whether the Red Sox will trade him. But there's another interesting discussion to have around the Red Sox star and 2018 AL MVP: Is the 27-year-old the best at what is a very stacked position in right field?
Betts does, in fact, rank as baseball's top right fielder, according to the list compiled by ESPN's Buster Olney (subscription required). He hit .295/.391/.524 with 29 homers, 80 RBIs, 16 steals and an MLB-best 135 runs to go with his fourth straight Gold Glove -- and that was considered something of a step back from his award-winning effort the previous year.
The other names in the mix? Oh, just some guys you might have heard of: the Brewers' Christian Yelich, the 2018 NL MVP and '19 runner-up; the Dodgers' Cody Bellinger, who bested Yelich for the honor in '19; the Yankees' Aaron Judge, the '17 AL Rookie of the Year who owns a 151 OPS+ for his career; and the Braves' Ronald Acuña Jr., who flirted with a 40-40 campaign at 21 years old and may be the most exciting young player in the sport.
But back to Betts, who on Friday set a record for the highest single-season salary for an arbitration-eligible player at $27 million, a source told MLB.com's Mark Feinsand.
The fact that the Red Sox and Betts were able to settle on a number and thus avoid the often-contentious salary arbitration process doesn't necessarily provide any insight into the future, but it's at least something to consider. "If Boston has any hope of signing Betts long-term," Feinsand noted, "not going through that process would seem to be the right call."
Makes complete sense that the Red Sox did what they had to in order to avoid going to an arbitration hearing with Mookie Betts. Those hearings can get ugly, and if Boston has any hope of signing Betts long-term, not going through that process would seem to be the right call.

— Mark Feinsand (@Feinsand) January 10, 2020
"As Jeff Passan wrote recently, Betts will be the centerpiece of a lot of the conversation this year," Olney added, "because it seems inevitable the Red Sox will deal him -- some executives continue to believe this will happen before the start of the season -- and he'll be the No. 1 free agent."
Could Red Sox actually trade Betts?
Jan. 7: It's been one of the biggest questions all offseason: Will the Red Sox trade Mookie Betts?
The speculation stems primarily from two factors. One, the Red Sox are aiming to cut payroll to get under the $208 million Competitive Balance Tax threshold. And two, Betts is entering his final year before he's set to hit the open market, which could lead to a frenzy of suitors vying for the services of the 27-year-old former AL MVP. Put bluntly, if the Red Sox really are going to move him, the countdown to do so is on.
But ... will it happen? More >
Red Sox-Dodgers talks becoming 'more dynamic'
Jan. 2: It's been all Los Angeles to this point as far as Francisco Lindor trade rumors are concerned. But now, that chatter has cooled, and in its place has arisen a new potential blockbuster.
Sources told MLB.com's Jon Paul Morosi on Thursday that as the Dodgers-Indians conversations have become less intense, "the Dodgers' negotiations with the Red Sox about acquiring Mookie Betts have become at least as frequent -- and perhaps even more involved -- than their talks with the Indians about Lindor."
Why might that be the case? Morosi added that Boston is less insistent on Gavin Lux, Los Angeles' top prospect and the No. 2 overall prospect according to MLB Pipeline, be part of a potential return for their superstar. That's not been the case so far with Cleveland. What's more, Los Angeles is in need of a starter to replace the innings of Hyun-Jin Ryu and Rich Hill, and with the Red Sox having an interest in shedding salary, David Price and the three years and $96 million left on his contract certainly fits the bill on both sides.
However, Morosi predicts that a deal which sends boh Betts and Price to Los Angeles would require highly-touted prospects in return, though it may not have to include Lux. Instead, Dustin May or Tony Gonsolin -- two of Los Angeles' top three pitching prospects -- could be moved. More >
Report: Red Sox not actively shopping Mookie
Dec. 31: Although the Red Sox could be multiple moves away from getting under the $208 million Competitive Balance Tax threshold in 2020, the club isn't actively shopping Mookie Betts, according to a report from Rob Bradford of weei.com.
In fact, there are no signs CBT concerns are influencing the team's plans when it comes to Betts, Bradford writes.
Of course, that doesn't mean Betts is untouchable. Per Bradford, the Red Sox are weighing offers for the 27-year-old, who can become a free agent next offseason. If Boston is blown away, there's a chance it will trade Betts to avoid losing him for nothing more than Draft compensation in a year. But given his limited control remaining and expected 2020 salary, which could climb north of $25 million in arbitration, a worthwhile deal may not come along this offseason.
In the meantime, the Red Sox are expected to continue exploring trades involving David Price. The left-hander has three years and $96 million left on his contract.
How Ryu to Jays could affect Price, Red Sox
Dec. 22: The Blue Jays' addition of Hyun-Jin Ryu on a four-year, $80 million contract (per sources) not only brings the left-hander to one of Boston's American League East rivals, but also could have a notable impact on the Red Sox's efforts to trade David Price.
Earlier on Sunday, MLB Network insider Ken Rosenthal reported in an article for The Athletic (subscription required) that Toronto was talking to the Sox about a deal for Price. The move to bring Ryu aboard likely takes the Blue Jays out of the running for Price, but it could create more urgency on the trade market overall. In terms of 2019 FanGraphs Wins Above Replacement, the top remaining free-agent starters are Homer Bailey, Iván Nova, Andrew Cashner and Jason Vargas.
The 34-year-old Price previously pitched for the Jays in 2015, posting a 2.30 ERA over 11 starts after the Tigers traded him to Toronto. His efforts helped the Blue Jays win the American League East, ending a postseason drought of more than two decades.
Price subsequently signed a seven-year, $217 million deal with Boston. He has three years and $96 million left on the contract, and the Red Sox will surely need to eat some of that money to move him. But given the state of the free-agent market, Price may now look more attractive to teams in need of pitching.
According to MLB Network insider Jon Heyman, at least six clubs appeared to be interested in Ryu, with the Angels, Dodgers, Padres, Twins, Phillies and a mystery team joining the Blue Jays. It's conceivable that at least some of them could consider Price.
Boston is looking to get below the $208 million Competitive Balance Tax threshold in 2020. Trading Price would go a long way toward accomplishing that goal. The Red Sox will continue to explore potential trades for Price and Nathan Eovaldi (owed $51 million through 2022) before entertaining the idea of dealing Mookie Betts, Rosenthal writes. Betts is eligible for free agency next offseason and could make more than $25 million in his final year of arbitration eligibility.
Dodgers eyeing Betts?
Dec. 17: The Dodgers have been connected to a number of big names this offseason, but signing Blake Treinen to a one-year, $10 million contract has been their biggest move to this point.
MLB Network insider Ken Rosenthal reported Monday in an article for The Athletic (subscription required) that the club had turned its attention to Indians shortstop Francisco Lindor. However, Rosenthal wrote that Los Angeles was making Gavin Lux (MLB's No. 2 overall prospect) off limits.
If the Indians insist on Lux being part of any trade for Lindor, 26, the Dodgers could pivot to another superstar trade candidate. USA Today's Bob Nightengale reports that L.A. also has its eyes on Red Sox outfielder Mookie Betts and has engaged in "exploratory talks" with Boston.
Alex Speier of the Boston Globe was told by multiple sources that the Red Sox and Dodgers had "virtually no engagement" on Betts during the Winter Meetings. But it's possible that Los Angeles decided to check in on Betts in response to a rapidly thinning free-agent market and Cleveland's lofty asking price for Lindor.
With Betts set to test the open market next offseason and the Red Sox looking to get below the $208 million Competitive Balance Tax threshold in 2020, trade rumors have been swirling around the outfielder all offseason.
The 27-year-old is a season away from free agency, compared to two years for Lindor, and he'll be much more expensive in his final year of arbitration eligibility than Lindor will be in his second year. Given those factors, Betts will surely cost less to acquire.
The Dodgers also remain in the running for free-agent third baseman Josh Donaldson, per Rosenthal, but the Nats are considered the favorites to sign the 34-year-old.
Following Kluber trade, is Price the next pitcher to be dealt?
Dec. 16: Sunday saw two more pitchers find new homes, as Madison Bumgarner agreed to a deal (five years, $85 million, per sources) with the D-backs and Corey Kluber was traded from the Indians to the Rangers. With so many teams still in need of starting pitching, it's possible the Red Sox's path to a David Price trade just became a bit clearer.
"If the Red Sox are actively trying to trade starter David Price, as has been widely reported, it's likely they've been slowed by teams' desire to pursue free agents first. Perhaps the Kluber deal now opens the floodgates for more trades of starting pitching," writes Jen McCaffrey in a story for The Athletic (subscription required).
The problem for Boston, as McCaffrey points out, is that Cleveland's underwhelming return in the Kluber deal -- reliever Emmanuel Clase and outfielder Delino DeShields -- offers a reference point for what the Sox can expect to get back for Price.
Kluber, 33, is owed $17.5 million in 2020, and his $18 million team option for '21 will become guaranteed if he throws at least 160 innings next season and is not on the injured list at the end of the year. At most, Kluber will make $35.5 million over the next two seasons.
Price, meanwhile, is owed $96 million through 2022. To move the 34-year-old, the Red Sox will likely need to eat a sizable portion of his deal and accept a trade package similar to -- and perhaps less than -- what the Tribe got for Kluber.
But if getting below the $208 million Competitive Balance Tax threshold is the franchise's ultimate goal heading into 2020, chief baseball officer Chaim Bloom may have no choice but to take whatever he can get for the left-hander.
At least these five clubs are eyeing Price
Dec. 13: The Red Sox continue to explore ways to trim the payroll and get below the $208 million Competitive Balance Tax threshold in 2020. While a Mookie Betts trade remains a long shot, a David Price deal might be gaining some traction.
At least five teams have been in contact with Boston regarding Price, a source told MLB.com's Mark Feinsand. The Padres, Cardinals, White Sox and Reds are in play, while the Angels also have been in contact with the Red Sox, according to sources.
The 34-year-old lefty has three seasons left on his deal and his contract's average annual value of $31 million, while still lofty, now fits more in line with the top of the market for free-agent starters with the ability to pitch at or near the front of a rotation after Gerrit Cole ($36 million AAV) and Stephen Strasburg ($35 million) inked their pacts this week.
"This market is only helping the Red Sox," an MLB executive said. "All of a sudden, Price's deal doesn't look so crazy."
That doesn't necessarily mean it will be easy to move Price, especially since he's now past his peak and coming off a wrist injury that cost him most of the second half of 2019. But if the Red Sox are open to paying down a portion of the $96 million he's owed through 2022, Price could be a fit for teams looking to add a pitcher who still was productive (3.24 ERA, 1.14 WHIP, 10.3 K/9) over the first half.
All of which might help explain why new Red Sox chief baseball officer Chaim Bloom is "projecting an air of confidence" about the potential of trading Price, according to Ken Rosenthal and Jayson Stark of The Athletic (subscription required).