Depleted bullpen leaves few options for Reds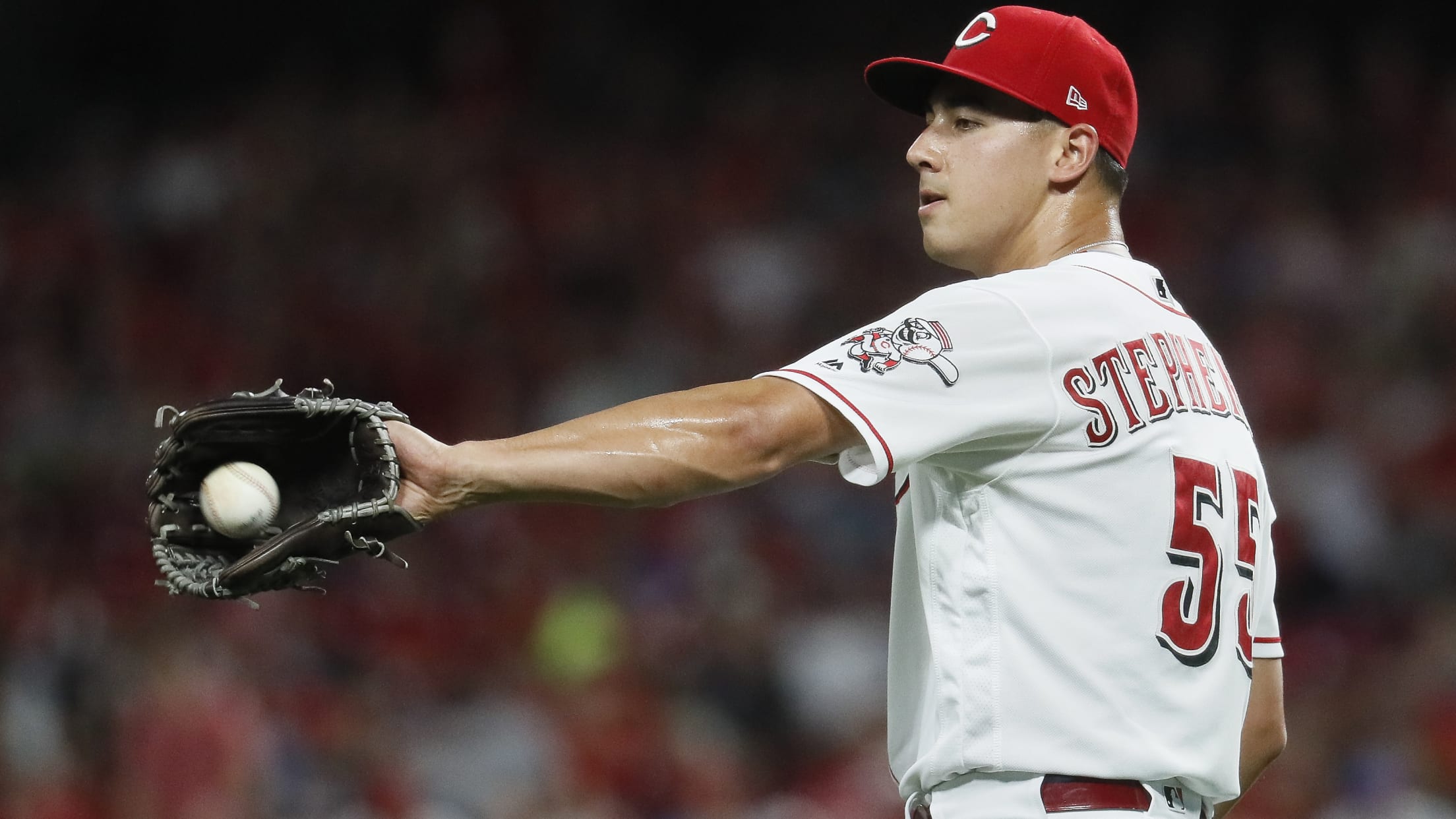 CINCINNATI -- Bullpen woes and injuries have mounted for the Reds in recent weeks as they try hard to hang on as the Trade Deadline nears. Closer Raisel Iglesias is on paternity leave while top lefty Amir Garrett has been on the injured list with a left lat strain since
CINCINNATI -- Bullpen woes and injuries have mounted for the Reds in recent weeks as they try hard to hang on as the Trade Deadline nears. Closer Raisel Iglesias is on paternity leave while top lefty Amir Garrett has been on the injured list with a left lat strain since July 4. Struggling righty David Hernandez joined Garrett on the IL Thursday because of shoulder fatigue.
So when it was time to replace starter Tanner Roark after five innings with a one-run lead, manager David Bell turned to Robert Stephenson. The results Cincinnati hoped for didn't happen as Stephenson gave up five earned runs -- including Tommy Edman's grand slam -- for a 7-4 loss to the Cardinals before 32,359 fans at Great American Ball Park.
"They've been a big part of our bullpen all year," Bell said of his missing relievers. "With Robert, I'd pitch him again in that spot. He's been pitching really, really well and pitching in high-leverage spots."
The Reds went into the All-Star break with high hopes to contend and push their way up the National League Central division standings. Just the opposite has happened over the past week as they are 2-5 since the break and losing seven of its last nine.
That moved the Reds to a full eight games behind the idle first-place Cubs as they tied a season-high by moving eight games below .500 at 43-51.
Normally one able to go deeper in games, Roark endured a long fifth inning with a lot of foul balls and Paul DeJong's two-run homer that closed the Reds' lead to 3-2. It was a hot, muggy night and fatigue had set in.
"Could you tell? I was kind of running on fumes," Roark said. "I felt like I threw the ball pretty well. There wasn't much contact other than the home run."
That meant Bell needed to mine four innings from his short-handed bullpen.
Stephenson had 3 2/3 scoreless innings worked on the just-completed road trip, including a scoreless two-thirds of an inning on Wednesday in Chicago. He pitched with the score tied in parts of the eighth and ninth innings before Iglesias lost the game in the 10th inning. Against St. Louis in the sixth inning on Thursday, Stephenson wanted to build from his work on the road.
"Absolutely tonight was an opportunity for me. I felt like I didn't live up to expectations," Stephenson said.
The decisive rally started with Dexter Fowler's one-out walk before three straight Cardinals connected for singles. On the third hit, by Kolten Wong to right field, Yasiel Puig kept a run from crossing with a throw to the plate and catcher Juan Graterol just missed throwing out Wong after he drifted off first base.
That could have derailed the whole rally but with two outs, Edman attacked Stephenson's first-pitch slider and drove it to center field for a grand slam.
"Honestly, I thought I made some good pitches and felt like I was really close to being out of it," Stephenson said. "A couple of well-placed ground balls and we just missed getting that guy at first base. It all comes back to get me on that home run. I thought I made a good pitch there, but it was probably one too many sliders."
Indeed, Edman noted he was waiting for that very pitch.
"Roark earlier in the game got me out with a bunch of curveballs. I think going off that, I was pretty confident that Stephenson was going to try to spin me to the ground," Edman said. "Watching the at-bats before me, he was throwing tons of sliders even to the lefties, too. … Fortunately for me, he just left one out and over the plate, and I was able to put a good swing on it."
With the July 31 Trade Deadline looming, the Reds planned on being buyers coming out of the All-Star break and finding bullpen help for the rest of this season -- and beyond -- was viewed as one of the priorities.
Until outside help can be found, the Reds can take solace knowing Iglesias will be back on Saturday. Garrett, who will pitch one inning on Friday, in a rehab assignment for Triple-A Louisville, could be back as soon as Sunday.
After the Edman grand slam, fresh callup Lucas Sims provided a perfect 1 1/3 innings of relief. Sims has been a starter all season for Louisville and made one strong 7 1/3-inning big league start in May.
"For right now, he's going to continue to pitch out of the bullpen and we need him," Bell said.
But Bell is still high on Stephenson, too.
"We can't rely on the same guys. We don't want to. We don't feel a need to do that either, especially with the way Robert has pitched," Bell said. "We like him and his stuff against the best hitters in the league. He's got elite stuff, an elite slider. He'll bounce back. He threw strikes. You can live with guys getting hits off you."
Mark Sheldon has covered the Reds for MLB.com since 2006, and previously covered the Twins from 2001-05. Follow him on Twitter @m_sheldon and Facebook.