Reds demote three from struggling bullpen
Diaz, Sampson sent to Triple-A, while Delabar designated for assignment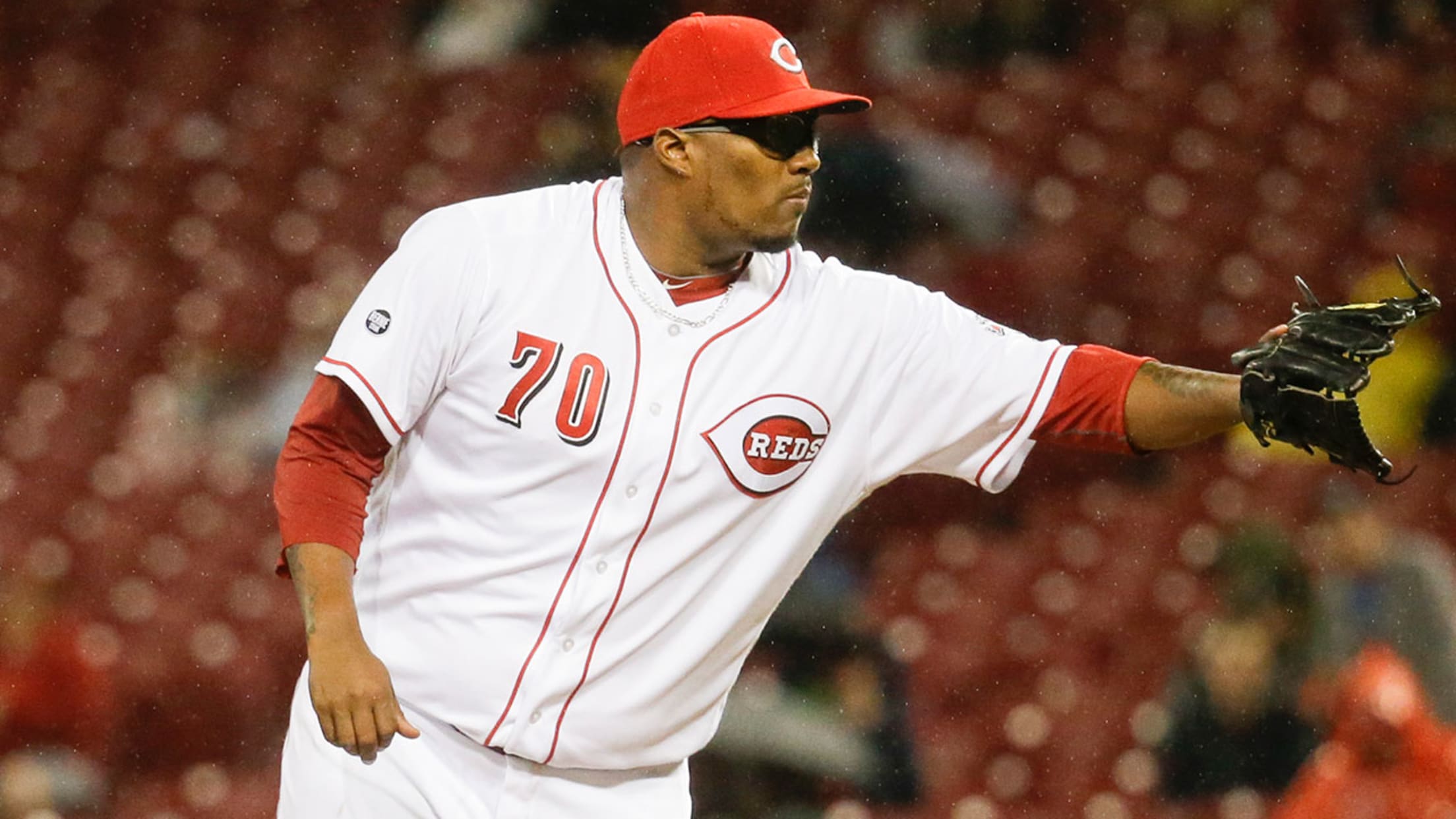 Jumbo Diaz was one of three relievers demoted after the Reds' 4-0 loss on Saturday to the Mariners. (AP)
CINCINNATI -- The Reds bullpen has been the club's weakest link so far during what has been a rough season. Following Saturday's 4-0 loss to the Mariners, more changes were made. Jumbo Diaz and Keyvius Sampson were optioned to Triple-A Louisville, and Steve Delabar was designated for assignment.Corresponding rosters moves
CINCINNATI -- The Reds bullpen has been the club's weakest link so far during what has been a rough season. Following Saturday's 4-0 loss to the Mariners, more changes were made. Jumbo Diaz and Keyvius Sampson were optioned to Triple-A Louisville, and Steve Delabar was designated for assignment.
Corresponding rosters moves for their replacements were not immediately announced.
"What's unfortunate is you can't give guys more time to try to figure it out here," Reds manager Bryan Price said. "We're having a hard time finding a way to make guys comfortable and find roles or pitch well enough to define roles. Right now, I think what we have to do and what we will be shooting for are guys who historically throw the ball over the plate and maybe have a higher ground-ball rate."
Ironically, the bullpen provided three scoreless innings of work on Saturday. It was the rare time where Reds relievers didn't allow a run, the first time since May 13. Delabar pitched a scoreless seventh inning vs. Seattle with one walk and one strikeout.
Delabar, a veteran right-hander who was promoted from Triple-A on May 7, also had a very poor previous outing on Tuesday at Cleveland where he faced six batters and walked five, including four with the bases loaded.
Diaz and Sampson were recalled together on Wednesday after a string of strong performances following their previous demotions. They were not able to keep it rolling in the big leagues.
In three appearances, Diaz walked four batters, including two during a scoreless eighth inning on Saturday. He also gave up a pair of home runs in the ninth inning of Friday's loss. Sampson pitched three innings on Friday with one run and also gave up a go-ahead leadoff homer to first batter Francisco Lindor in the 12th inning on Wednesday.
The Reds bullpen has the Major Leagues' highest ERA at 6.64, and has allowed the most home runs and walks while leading the Majors in innings pitched.
"Right now, we're not competitive enough from a pitching perspective," Price said. "At some point in time, the bell tolls where there has to be change. We sat down today and said we have to make some change to say this isn't good enough and we'll give some other guys an opportunity."
One possible call-up could be right-hander Daniel Wright, who was scratched from his start Saturday for Louisville. Wright, who is coming off a nine-inning complete game for his first Triple-A victory, is 3-0 with a 0.79 ERA in 10 games combined for Louisville and Double-A Pensacola. He is not currently on the 40-man roster.