Brennaman to return as Reds' voice in 2017
In final year of contract, 2000 Frick recipient looking to continue on year-to-year basis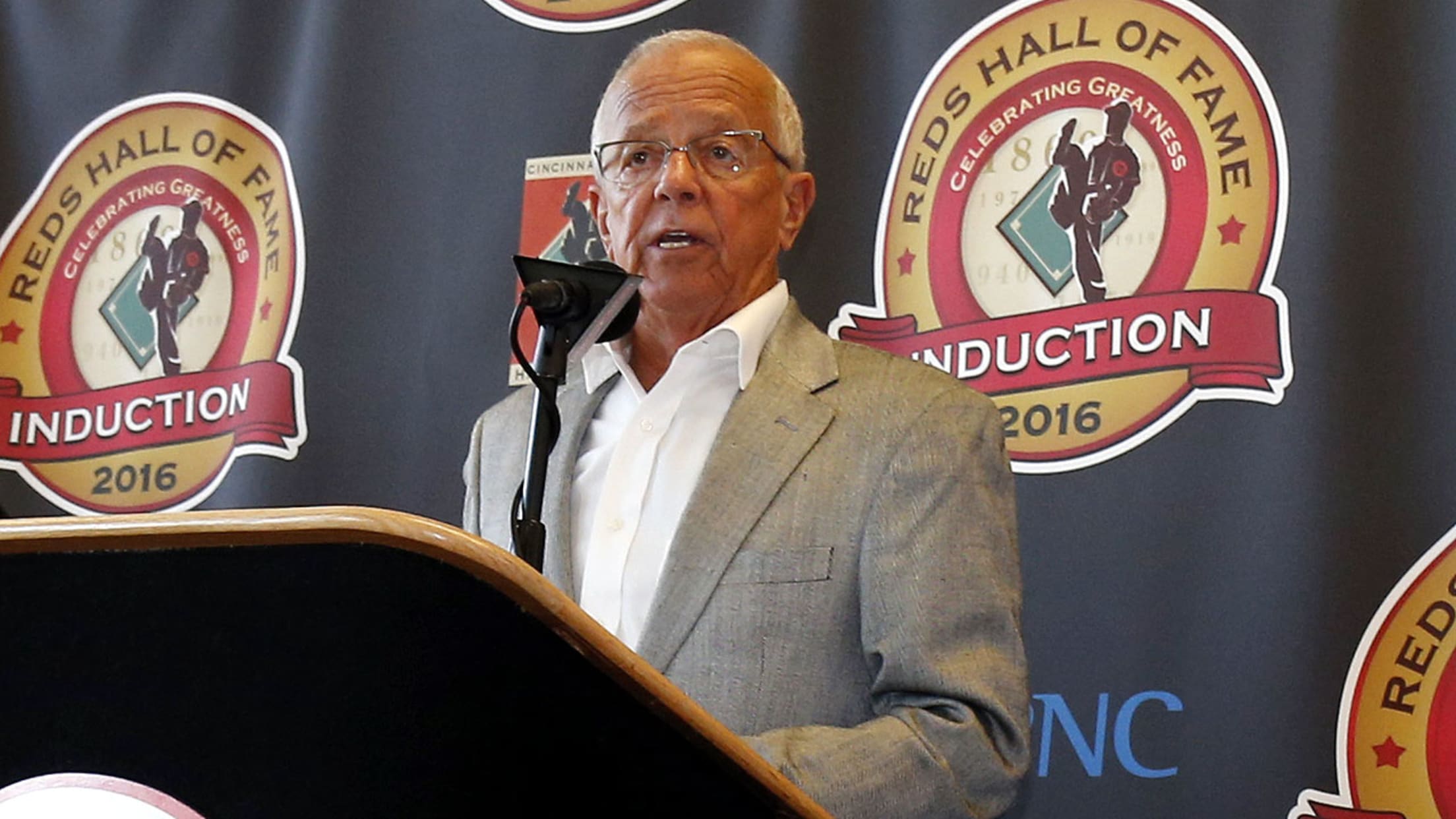 Marty Brennaman: "Another year far outweighs any thought I'd have of retiring." (AP)
MILWAUKEE -- In the final year of his three-year contract, iconic Reds broadcaster Marty Brennaman did some soul searching about his future. When he was done, that future still included calling games. Brennaman recently told the club he would return next season as the team's play-by-play voice on radio."When you
MILWAUKEE -- In the final year of his three-year contract, iconic Reds broadcaster Marty Brennaman did some soul searching about his future. When he was done, that future still included calling games. Brennaman recently told the club he would return next season as the team's play-by-play voice on radio.
"When you get to be my age, you think about it," Brennaman said on Friday before the Reds played the Brewers. "It's a natural thing, but in no way does it indicate you're unhappy. On the contrary, I could not be happier. I work for great people, who pretty much allow me to do whatever I want to do. I feel like I'm healthy for my age. I take care of myself. God bless Amanda [my wife], she is the best. Whatever I want to do is fine with her."
Brennaman will turn 74 in July. He has been the team's primary radio voice since 1974, with 43 of his 52 years in broadcasting calling Reds games. Even though the team is struggling and in last place this season, it did not figure into his decision.
"When I sit down and think, 'Another year doing what I'm doing or retiring?' Another year far outweighs any thought I'd have of retiring," Brennaman said.
Brennaman, the 2000 recipient of the National Baseball Hall of Fame's Ford C. Frick Award, informed Reds COO Phil Castellini he would like to have his deal be on a year-to-year basis beginning next season.
"I feel like I'm a young 73. I still look forward to going to the ballpark every day. When we're home, I'm at the park by 2:30. I go because I like to be down there."
Brennaman and the Reds have not determined how many games he will call in 2017. In recent years, he's scaled back his schedule somewhat and has taken some in-season vacations or series off.
Legends. ⭐️⭐️ (via Marty's Instagram) pic.twitter.com/vJb6XenysT

— Cincinnati Reds (@Reds) May 26, 2016
"I'm certain I won't do what Vin has done and just do the home games," Brennaman said, referring to Dodgers legendary broadcaster Vin Scully.
Brennaman, who made his decision prior to the current 11-day, 10-game trip, was planning on not going on the road this week, but he didn't want to miss a chance to visit with Scully this week in Los Angeles. This is Scully's final season with the Dodgers.
"I realized this was it. The main reason I went on this trip was so I could see him one more time," Brennaman said. "He's been like a mentor to me at times. I've gone to him for advice over the years. He's always been willing to talk to me and give me his opinion. I have just a tremendous degree of respect for him as a broadcaster, but equally as a person. He's a great person. He has no ego. He's nice to everybody. I think that speaks for a person."