Lorenzen fulfills dream facing childhood team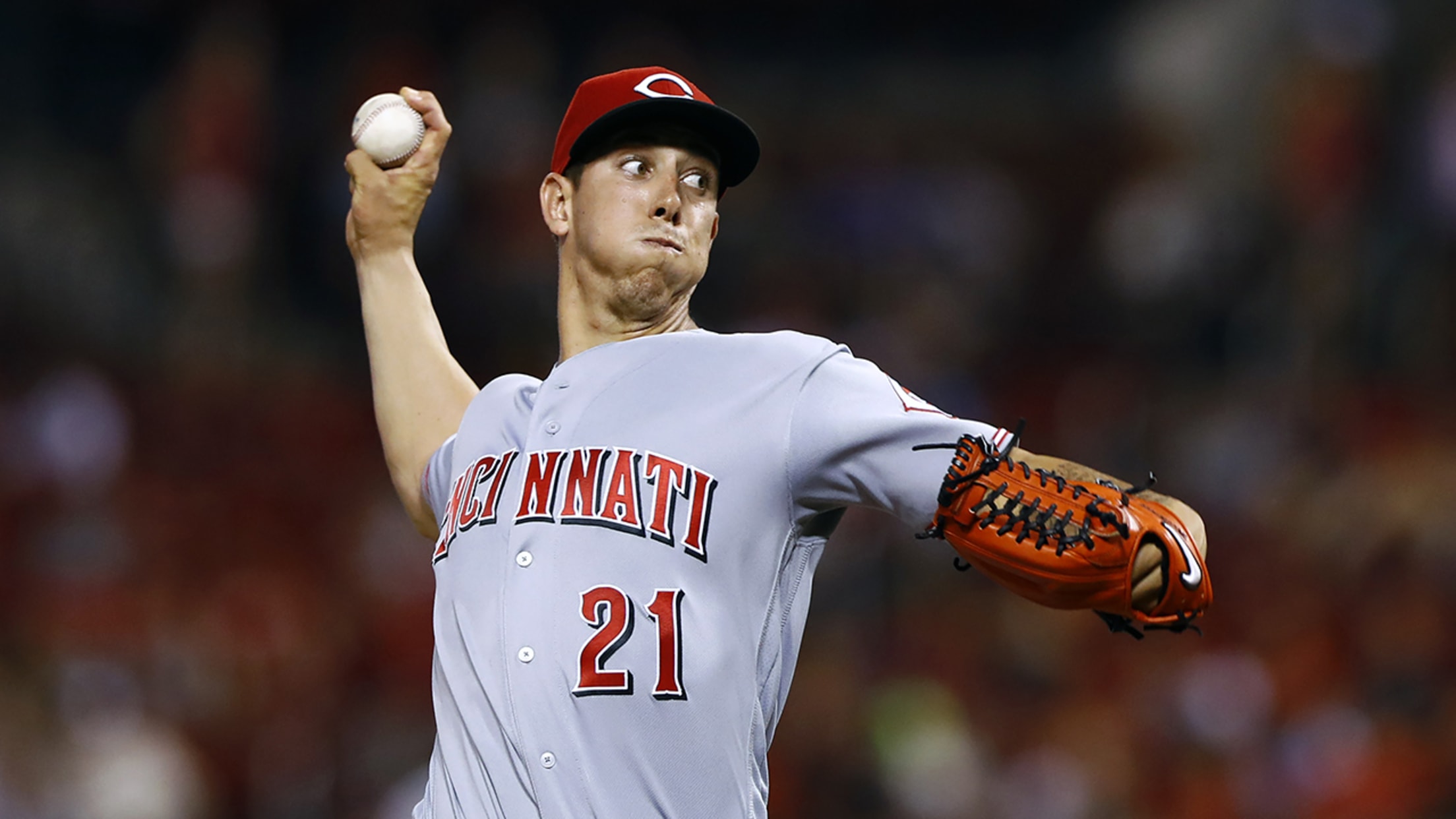 Michael Lorenzen, an Anaheim native, pitched two innings against the Angels on Tuesday. (AP) (Billy Hurst/AP)
ANAHEIM -- Before this week, the Reds hadn't played the Angels on the road since 2002. But reliever Michael Lorenzen has been in or around Angel Stadium most of his life."Five minutes north, I grew up playing Little League," said Lorenzen, an Anaheim native.During Tuesday's 4-2 Reds loss to the
ANAHEIM -- Before this week, the Reds hadn't played the Angels on the road since 2002. But reliever Michael Lorenzen has been in or around Angel Stadium most of his life.
"Five minutes north, I grew up playing Little League," said Lorenzen, an Anaheim native.
During Tuesday's 4-2 Reds loss to the Angels, Lorenzen pitched the final two innings. Following a perfect seventh with two strikeouts, he gave up a run on three hits in the eighth.
Practically pitching in his backyard was still a thrill for Lorenzen.
"Growing up watching the Angels, watching the 2002 World Series team, I could tell you everyone on that team," Lorenzen said on Wednesday. "Coming to Angels games and now playing in this stadium against the Angels, it's definitely a dream come true. I have a lot of support, people who have watched me throughout my career from south Orange County to north Orange County."
Lorenzen, 24, has had much of his family in attendance at the ballpark. His mother, Cheryl, was on the field as a guest during batting practice on Monday and Tuesday. He could not even remember how many tickets he has left for people to watch him play.
"There are people literally scattered throughout the stadium everywhere," Lorenzen said. "I'm just waving to everyone, saying hi to everyone. It's been awesome."
Tuesday was already an emotional day for Lorenzen because he hosted a gathering at his home to remember his father, Clif, who passed away a couple of weeks ago. In a stunning moment during his first game back on Aug. 19 against the Dodgers, Lorenzen pitched 1 2/3 scoreless innings and hit the first home run of his career.
"We were able to have a ton of my parents' friends over who used to come over when my Dad was around," Lorenzen said. "It was neat seeing all of them and just having close family and friends come over. We had something at my house. That was good."
Worth noting
• The Reds have adjusted their rotation plans with Homer Bailey still dealing with right biceps tenderness. Instead of adding a pitcher to take Bailey's spot, Dan Straily will move up a day and pitch Saturday against the Cardinals, with Tim Adleman scheduled to pitch on Sunday. The work will be on regular rest for both pitchers because of the team off-day on Thursday.
"Then we still have some wiggle room there," Reds manager Bryan Price said. "We're letting [Bailey] settle back in, get some of that soreness and stiffness out of that biceps. Then we'll see what happens with the September callups and how we make things work if Homer is going to be out for a period of time."
• Catcher Tucker Barnhart (right hand contusion) was slated to take batting practice on Wednesday for the first time since last Friday. Price indicated that Barnhart was a good bet to return to the lineup on Friday against St. Louis.
• Infielder Zach Vincej, catcher/first baseman Chad Wallach and pitchers Barrett Astin, Evan Mitchell and Daniel Wright were named as the Reds' representatives to the Arizona Fall League. They will play for the Peoria Javelinas. There is a "TBA" spot open for another Reds Minor Leaguer that could be named at a later date.