Peraza optioned, versatile Pacheco makes team
25-man roster not set until Bailey officially placed on DL Monday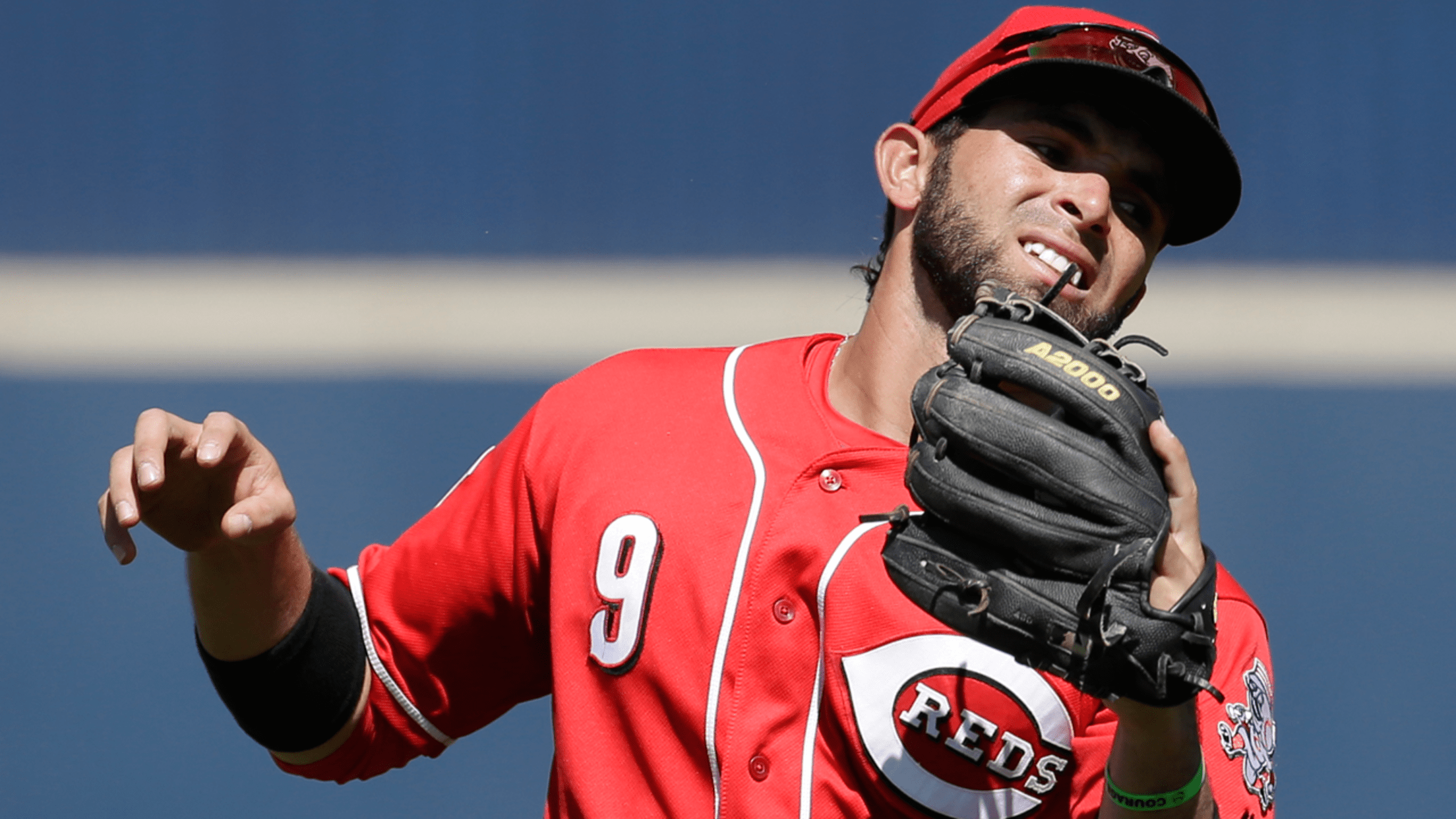 The Reds made several moves Sunday, including sending infielder Jose Peraza to Triple-A Louisville. (AP) (AP)
CINCINNATI -- The Reds made a flurry of last-minute moves on Sunday, ahead of Monday's Opening Day, but do not officially have a final 25-man roster.One of the odd men out is young infielder Jose Peraza, who was optioned to Triple-A Louisville. Ultimately, it was determined Peraza would not get
CINCINNATI -- The Reds made a flurry of last-minute moves on Sunday, ahead of Monday's Opening Day, but do not officially have a final 25-man roster.
One of the odd men out is young infielder Jose Peraza, who was optioned to Triple-A Louisville. Ultimately, it was determined Peraza would not get enough at-bats at the big league level as a role player to keep his development going. He would have to fill in at up to four different positions if he made the club.
"There was a lot of internal debate on what was best for the player," Reds manager Bryan Price said. "I think we all agree he's a big leaguer and could be playing here now, but it would be in a somewhat limited basis compared to what he'll do in Triple-A."
2016 season: Tickets | Schedule | Gear
The reason the final Opening Day roster is not quite official is the Reds have yet to make a move to put Homer Bailey on the disabled list. That will be done officially on Monday, the club said.
With Tim Melville re-assigned to Triple-A Louisville, the Reds still need to select a starting pitcher for Thursday's game against the Phillies. If it's not Melville, one possibility might be No. 2 prospect Robert Stephenson, who was cut from the camp roster.
"We have made a decision. We're just apparently not going to release it until [Monday]," Price said.
Catcher Ramon Cabrera was also optioned to Triple-A Louisville, while reliever Dayan Diaz also was re-assigned to Louisville. Also not making the club is outfielder and Rule 5 player Jake Cave, who was designated for assignment. Cave was placed on waivers originally on Thursday.
Utility player Jordan Pacheco has made the team and his contract was selected. Outfielder Tyler Holt, who was cut from the spring roster last week, was recalled from Triple-A Louisville.
Pacheco was given the good news on Sunday as the team worked out at Great American Ball Park. His ability to play three infield spots and catch helped his cause.
"I'm glad I'm able to be part of this team. I'm glad I'm able to help," Pacheco said. "Last year it was same thing with Arizona. It came down to the last couple of hours."
Much of the bullpen was in flux until near the end of camp. The situation got murkier, though, when the team added pitchers in the closing days.
"It's an awesome feeling being on the Opening Day roster," reliever Caleb Cotham said. "It will definitely be new to be there, but it's exciting and a great opportunity."
Retroactive to March 25, starting pitchers Anthony DeSclafani, John Lamb, Michael Lorenzen and Jon Moscot were placed on the 15-day disabled list.
Outfielder Yorman Rodriguez was placed on the 15-day DL retroactive to March 27. Catcher Kyle Skipworth is on the 15-day DL, retroactive to March 31.
DeSclafani is still expected to be ready by April 10 to take the fifth starter's spot and pitch against the Pirates.
Here is the breakdown of the Reds' roster:
Position players (13):
Joey Votto, Brandon Phillips, Zack Cozart, Eugenio Suarez, Billy Hamilton, Adam Duvall, Jay Bruce, Devin Mesoraco, Tucker Barnhart, Ivan De Jesus, Scott Schebler, Holt, Pacheco.
Starting pitchers (3):
Raisel Iglesias, Brandon Finnegan, Alfredo Simon.
Bullpen (8):
J.J. Hoover, Tony Cingrani, Jumbo Diaz, Cotham, Keyvius Sampson, Dan Straily, Ross Ohlendorf and Blake Wood.