Innings start to mount for Reds' bullpen
Short outings by starters puts pressure on relievers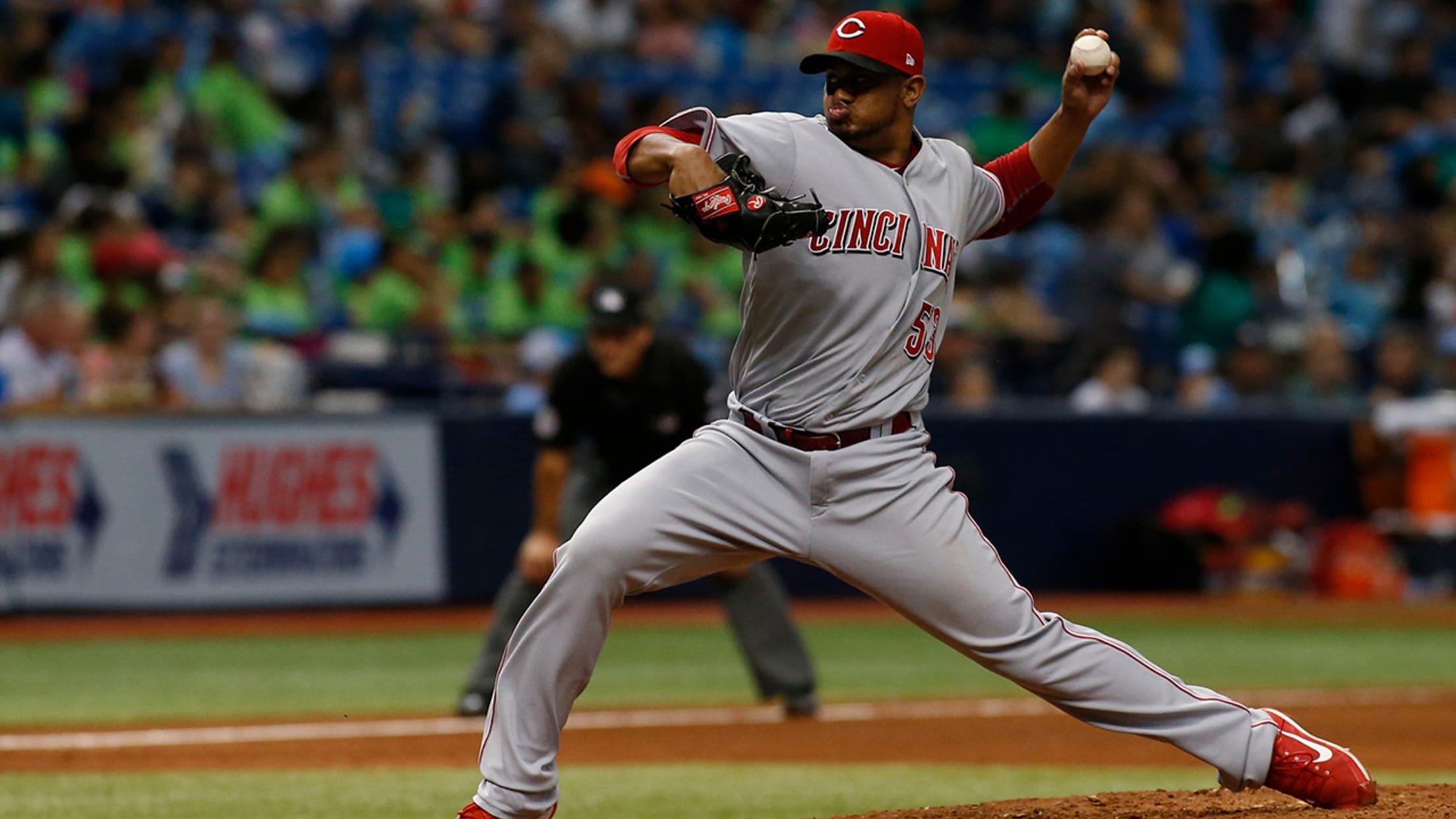 Wandy Peralta is the Reds' leader with 32 games pitched. (Getty Images) (Brian Blanco/Getty Images)
ST. PETERSBURG -- For the first 2 1/2 months of the season, Reds manager Bryan Price seemed to make all of the right bullpen moves as his rotation struggled to go deep into games. In turn, relievers were able to do everything that was asked of them.But as the innings
ST. PETERSBURG -- For the first 2 1/2 months of the season, Reds manager Bryan Price seemed to make all of the right bullpen moves as his rotation struggled to go deep into games. In turn, relievers were able to do everything that was asked of them.
But as the innings mount for relievers, perhaps the bullpen has reached the fraying point. In an 8-3 loss for the Reds to the Rays on Wednesday, relievers Austin Brice, Wandy Peralta and Drew Storen gave up five runs over the sixth and seventh innings.
Cincinnati's rotation entered the day last in the Majors in innings pitched and with a 6.10 ERA. When Luis Castillo makes his big league debut on Friday at Washington, he will be the 11th different starter Price has used. The bullpen came into the day with the fourth-best ERA in the National League (3.80). Its 280 innings entering the game was far ahead of the Brewers, which are second at 261 1/3 innings.
"I've tried to stay away from using guys three days in a row. It's a rare occasion it's happened," Price said. "But everyone is getting a lot of work. Usually you will have a length guy that won't pitch for a while, which was the case when Cody Reed and Robert Stephenson were up. Now it seems like everybody is in the mix so Brice is a regular. He's getting a lot more regular work. Certainly with Storen and Tony Cingrani and the whole group, nobody is getting a lot of regular rest."
The rotation has averaged 4.93 innings per start this season. Tim Adleman labored for five innings with 95 pitches but kept the team in the game with three runs allowed. Adleman, who left trailing by a 3-1 score, has been one of the more consistent starters the Reds have had lately.
"It's really important, that's what winning teams do. That's my goal every time out, it's to go as deep into the game as possible," Adleman said. "Today I didn't do that."
Peralta, a rookie who made the club out of camp, is the Reds' leader with 32 games pitched. The lefty began as one of the nice surprises for the bullpen, but his last two outings weren't good. On Sunday, he pitched one inning and gave up a three-run homer to the Dodgers' Justin Turner.
"Just a bad moment I'm going through right now," Peralta said via translator Julio Morillo. "I think I'm going to be OK. I've just got to keep working hard and work on the things I can control and do my best."
As the Reds have dropped 11 of their last 12 games since June 9, the bullpen has a 5.33 ERA. Even in the win that snapped the losing streak on Monday, Michael Lorenzen blew a 3-1 lead in the seventh by allowing a game-tying two-run homer to Daniel Robertson. In that start, Scott Feldman had reached the seventh inning.
"I don't know if it's critical at this point, but I would certainly like to see a lot more six- or seven-inning outings," Price said. "Truth be told, we're starting to talk about six-inning outings as being successful. Maybe the game is evolving or changing that way and you decide the last nine outs will be getting knocked down by your bullpen. But I still am a believer that if you have guys that can pitch deep into the game, you have a fresh bullpen to finish the game off when you need it."