Arroyo OK to make next start on Thursday
Right-hander was struck in face by throw from Mesoraco Saturday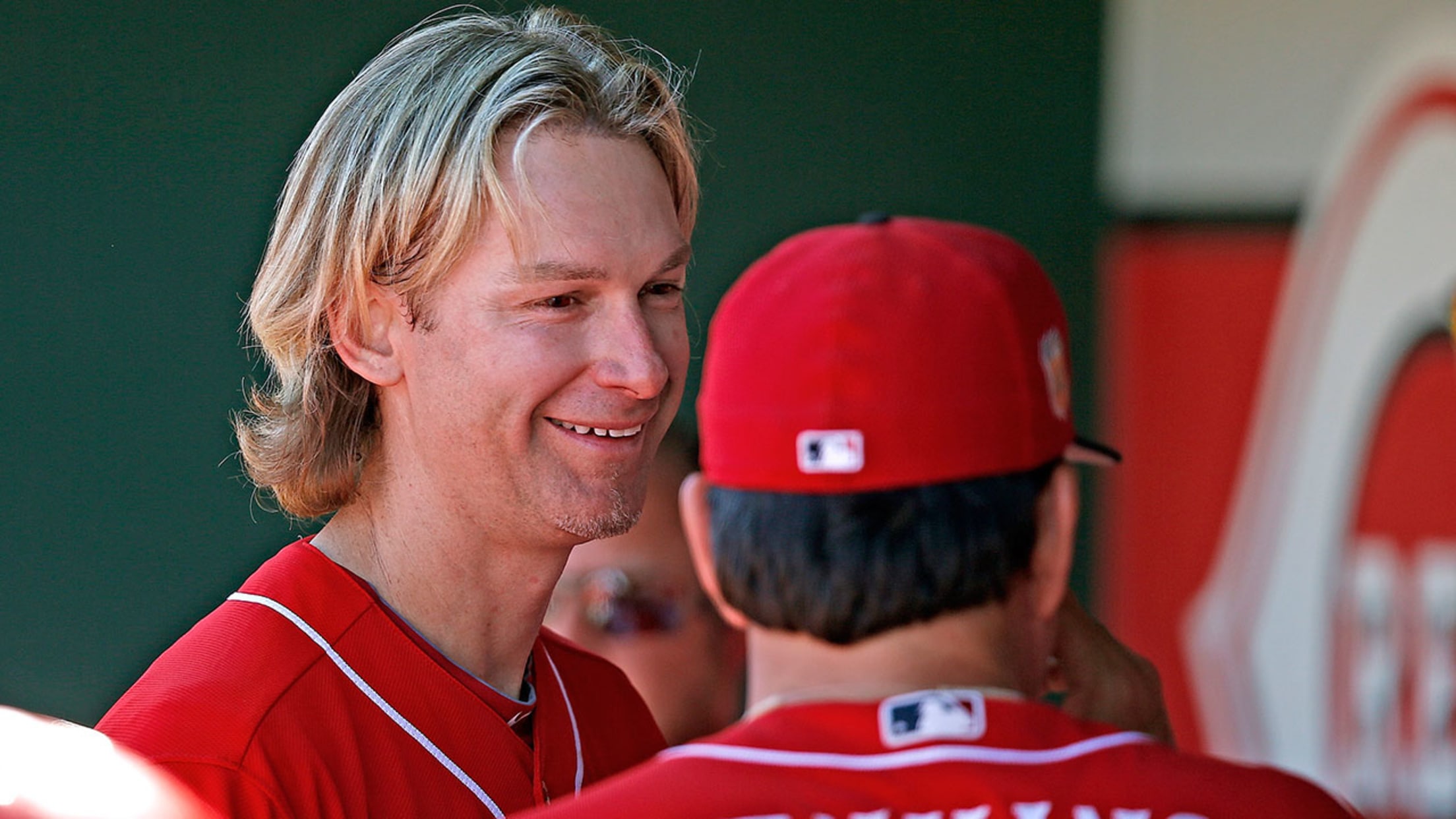 Bronson Arroyo, 40, hasn't appeared in a Major League game since 2014. (AP)
GOODYEAR, Ariz. -- One day after he struck in the face by a throw from his catcher Devin Mesoraco, Reds right-hander Bronson Arroyo was set to resume his normal schedule. Arroyo is scheduled to start again on Thursday vs. the White Sox.The 40-year-old right-hander threw 39 pitches over 1 2/3
GOODYEAR, Ariz. -- One day after he struck in the face by a throw from his catcher Devin Mesoraco, Reds right-hander Bronson Arroyo was set to resume his normal schedule. Arroyo is scheduled to start again on Thursday vs. the White Sox.
The 40-year-old right-hander threw 39 pitches over 1 2/3 innings vs. the Rangers on Saturday when he had to exit the game after getting nailed in the face. He threw an additional 20 long tosses at the team complex after he was cleared by the medical staff.
"I think we can comfortably bump him [up] as we would had he pitched his three complete innings," Reds manager Bryan Price said on Sunday. "Other than probably being a little sore, he's going to be fine."
• Reds Spring Training: Schedule | Information | Gear
Arroyo gave up a two-run homer to Joey Gallo in the first inning, but Price liked what he saw during the outing.
"Similar to seeing a flashback to 2013," Price said. "He's got the whole arsenal: backdoor breaking ball, frontdoor sinker, changeup, BP fastball, different arm slots. He's just always fun to watch for me. When he was with us before, I found myself often watching his game and be kind of drifting away from what was actually happening in the game because it was so fun watching him at work.
"To try and think along with him and what he's trying to do is challenging for me, even when I was his pitching coach."
Arroyo, who pitched for the Reds from 2006-13 and missed two seasons with arm injuries, is in camp as a non-roster invitee and trying to earn a rotation spot. Price would like to have his veteran influence on the staff, but he also needs to see durability.
"The question we'll find out, and hopefully have answers to over the next 10-12 days, is can we build up a workload that he can sustain as a starter?" Price said. "Can he feel comfortable throwing that 90th pitch? He doesn't have to be 120-pitch or seven, eight, nine innings every fifth day type of guy that he has been. But the reliability to take the ball and stay in 90-100 pitches is important if he's to help us as a starter."
Worth noting
• Because of a stiff right elbow, reliever Raisel Iglesias was scratched from a Minor League game on Saturday. Iglesias was slated to throw two or three innings.
"It's not a major concern," Price said. "I don't imagine any long-term setbacks. It was a practical decision to keep him out of competition."
• Starter Homer Bailey, who had surgery to remove bone chips from his right elbow last month, had to restart his throwing program after missing a few days with a stomach virus.
• In Minor League games on Saturday, Drew Storen threw 12 pitches over one scoreless inning with one strikeout. Blake Wood allowed one walk in his scoreless inning with three strikeouts while throwing 25 pitches, and Tony Cingrani gave up two earned runs and three hits over one inning with two strikeouts while throwing 30 pitches.