Tough roster decisions in store for Padres
Notes on team performance, Lauer, Castillo, Hand, Margot, Spangenberg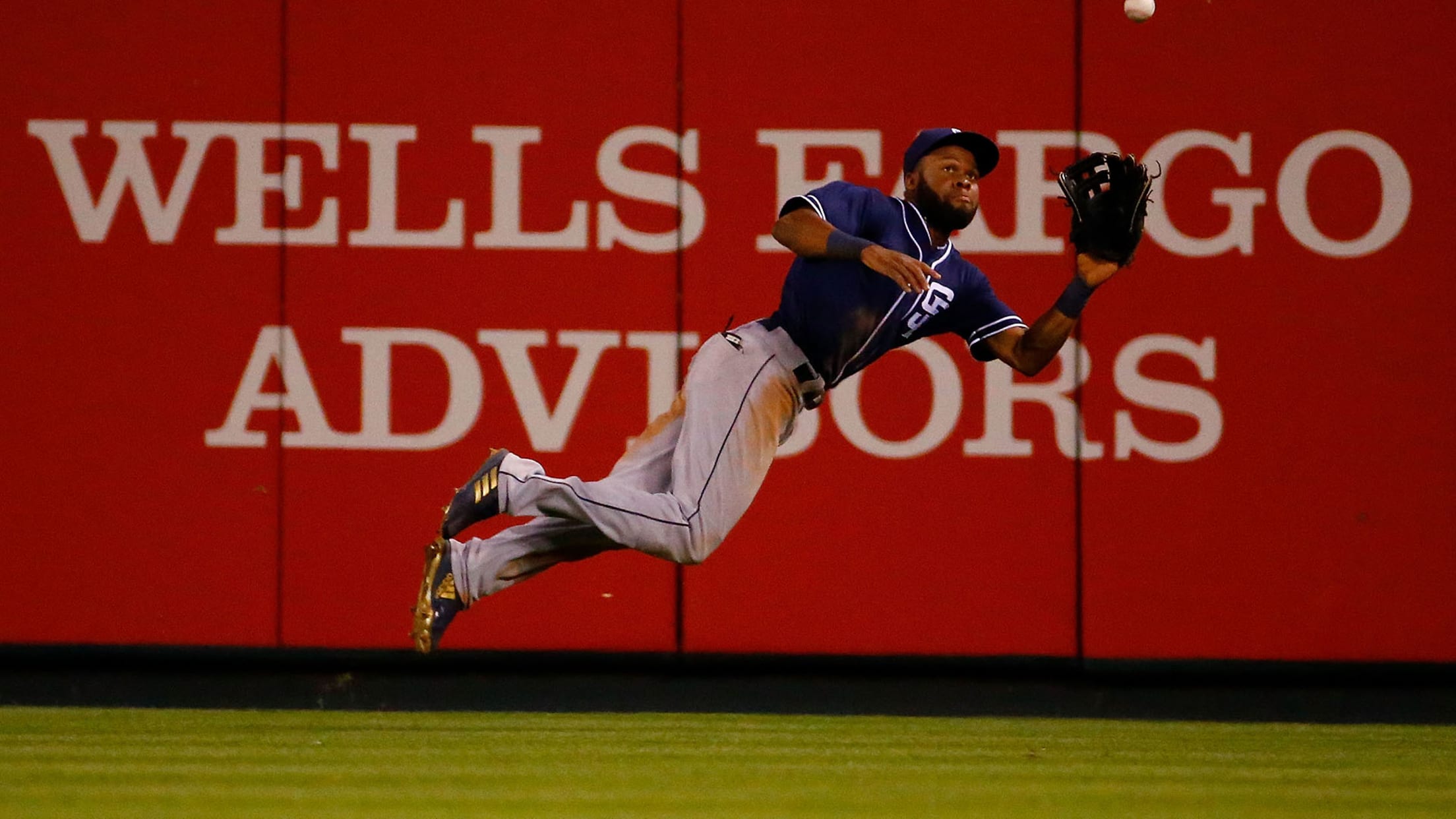 ST. LOUIS, MO - JUNE 13: Manuel Margot #7 of the San Diego Padres catches a fly ball against the St. Louis Cardinals in the eighth inning at Busch Stadium on June 13, 2018 in St. Louis, Missouri. (Photo by Dilip Vishwanat/Getty Images) (Dilip Vishwanat/Getty Images)
Bill Center, longtime sportswriter for U-T San Diego, is an employee of the Padres.When Joey Lucchesi starts for Class A Advanced Lake Elsinore Thursday night, the Padres will have seven players from their disabled list on active rehab assignments. Catcher Austin Hedges and infielder-outfielder Allen Cordoba started their rehab assignments
Bill Center, longtime sportswriter for U-T San Diego, is an employee of the Padres.
When Joey Lucchesi starts for Class A Advanced Lake Elsinore Thursday night, the Padres will have seven players from their disabled list on active rehab assignments. Catcher Austin Hedges and infielder-outfielder Allen Cordoba started their rehab assignments with Lake Elsinore on Tuesday night.
And right-handed starter Colin Rea allowed no runs with four walks and five strikeouts over 4 2/3 hitless innings for Double-A San Antonio Wednesday night in his best rehab outing. Right-handed reliever Phil Maton is also rehabbing with the Missions.
But the improving health of the Padres' injured players creates a bigger problem. How do they all fit on the 25-man roster when they are ready to return?
The Padres are 24-19 with Raffy Lopez and A.J. Ellis sharing the catching duties since Hedges went on the disabled list on April 30 with right elbow tendinitis.
Lucchesi figures to go back into the rotation, although the Padres have won two of their last three "bullpen starts" in Lucchesi's spot in the rotation. Rea's situation is less clear.
Cordoba, who spent the entire 2017 season with the Padres as a Rule 5 Draft pick, will most likely be optioned.
Maton has options left and with the Padres' bullpen already at nine relievers and pitching exceptionally well as of late, it is possible for Maton to be back with Triple-A El Paso until needed.
Which brings us to the two outfielders, Myers (out since April 28 with a left oblique strain) and Cordero (out since May 28 with a forearm strain).
And that's where it really gets interesting. The Padres already have five outfielders in Manuel Margot, Travis Jankowski, Hunter Renfroe, Franmil Reyes and Matthew Szczur. They won't be carrying six. And Myers and Cordero were both starters earlier in the season. NOTEBOOK
• The Padres are 25-20 over their last 25 games despite going 1-13 in the first 14 games of their last 14 series. But they are 10-4 in the second games of those series, 11-3 in the thirds games and 3-0 in the finale of the three four-game series they've played since the end of April. • The Padres didn't issue a walk during the three-game series against the Cardinals, marking the first time in club history the team did not issue a walk in a three-game series. The Padres have gone 28 straight innings without issuing a walk, the fifth-longest walkless streak in franchise history. The Padres have also won five straight series, the longest such streak since 2010.
• Eric Lauer picked off a runner for a franchise-record fifth straight game Wednesday night. He leads the National League with seven pick-offs this season. Lauer is 2-1 over his last three starts with a 3.45 earned run average. He went from walking seven during his June 8 start to issuing no walks for the first time in his 10 Major League starts Wednesday.
• Jose Castillo has faced 14 Major League batters in his career and has struck out nine, including the last five. He struck out all four Cardinals he faced in relief of Eric Lauer Wednesday night. Castillo is one of five pitchers, including teammate Brad Hand, to strike out all four hitters they've faced in a single appearance this season.
• Manuel Margot is 9-for-20 with a double, a triple and a walk during a six-game hitting streak, which is one game shy of the longest streak in his career. He is 19-for-49 (.413) since May 23 with five doubles and a triple with eight walks for a .474 on-base percentage - raising his batting average from .189 to .235.
• Brad Hand recorded his National League-leading 21st save Wednesday, tying his single-season high set last year. Hand has successfully converted 15 straight save opportunities since May 1 and the Padres are 19-0 in his last 19 appearances.
• Cory Spangenberg is 6-for-16 over a four-game hitting streak with a homer, two RBIs and a run scored in each game. He is 11-for-32 (.344) over his last nine games with two triples and three homers for six RBIs and eight runs scored.