Reyes proof that Padres' system is deep
Notes on series openers, Ellis/Pirela, Galvis, Erlin, Mejía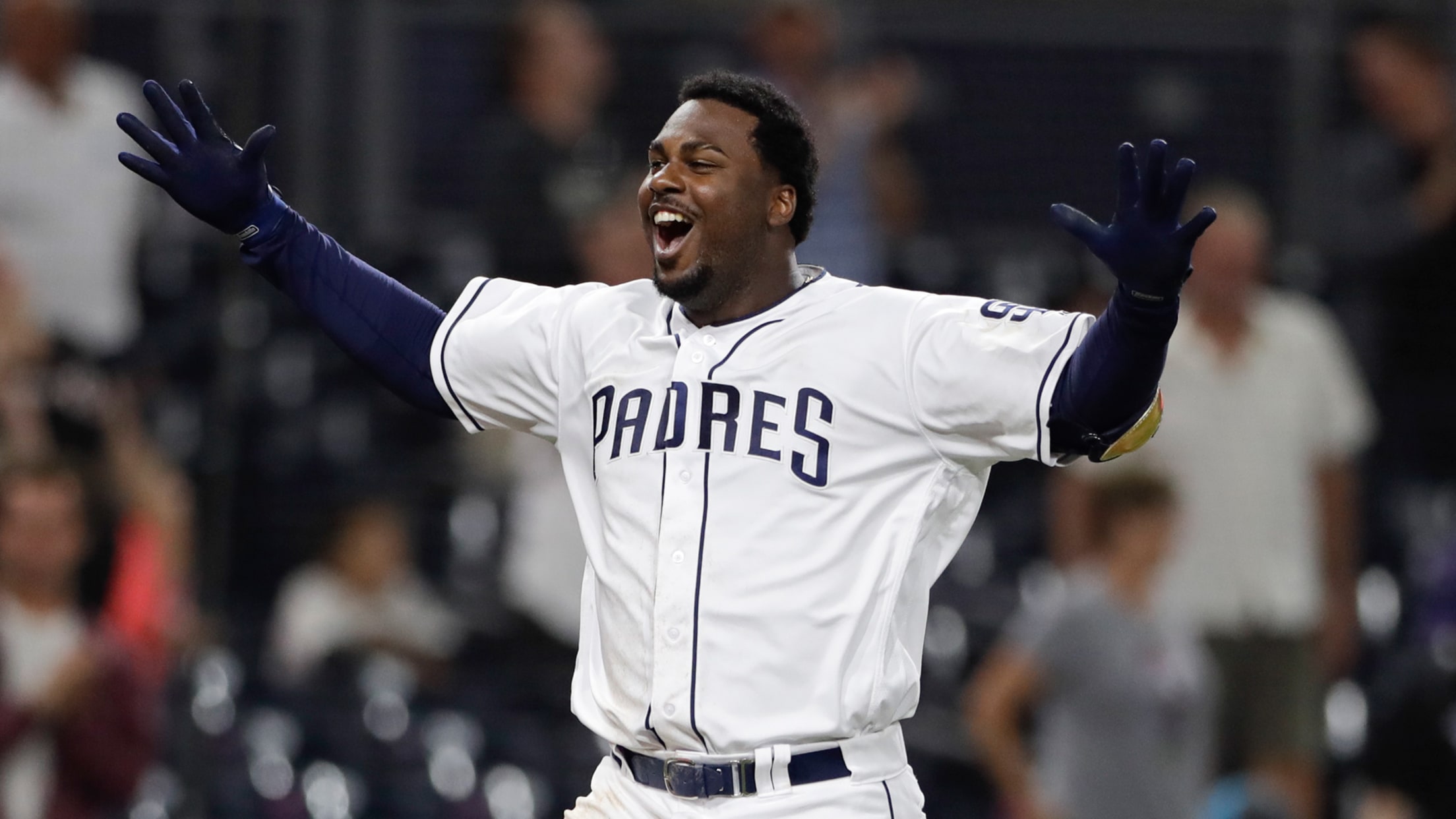 Bill Center, longtime sportswriter for U-T San Diego, is an employee of the Padres.Right fielder Franmil Reyes is swinging proof that the Padres farm system is deeper than its Top-30 prospect list. He is also proof that those Top-30 lists are not fool proof. The 23-year-old
Bill Center, longtime sportswriter for U-T San Diego, is an employee of the Padres.
Right fielder Franmil Reyes is swinging proof that the Padres farm system is deeper than its Top-30 prospect list.

He is also proof that those Top-30 lists are not fool proof.

The 23-year-old native of the Dominican Republic was never mentioned as a Padres' Top-30 prospect. Yet, the 6-foot-5, 275 pound Reyes has become something of a fixture in right field this season and has been improving as his first Major League season nears an end.

Reyes currently has a six-game hitting streak going - 8-for-21 (.381) with a double and a walk. He has hit safely in 16 of his last 17 games (20-for-54 with a double and six homers with 11 RBIs and 10 runs scored).

And going back a bit farther, Reyes has hit safely in 20 of his last 22 games - going 24-for-65 (.369) with two doubles, six homers, 11 RBIs and 11 runs scored. Over the run, Reyes has a .431 on-base percentage and a .677 slugging percentage for a 1.108 OPS. Since the run began on Aug. 21, Reyes has raised his batting average from .232 to .271.

Now, Reyes, who has played 73 games in the Major Leagues this season and has been with the Padres continuously since Aug. 4, has been named the designated hitter on Keith Law's annual all-prospect team for ESPN.

Remember, Reyes has never been a Top-30 prospect.

NOTEBOOK:

--The Padres lost the series opener to the Rangers Friday night to fall to 16-32 overall in series openers and 4-20 in series openers at home. However, before Friday night, the Padres had won five straight series openers and six of their last seven, including two straight series openers at Petco Park.

--Jose Pirela started at second base Friday night for the first time since Aug. 25. Catcher A.J. Ellis was 0-for-1 as a pinch-hitter in his first appearance since Sept. 2.

--Shortstop Freddy Galvis, who could make his first start at second Saturday night, is hitless in his last 13 at-bats and is 3-for-34 with 16 strikeouts since Sept. 3. Of course, one of those three hits was a decisive two-run double in Cincinnati Sunday. The Padres have played 148 games this season . . . and Galvis has played in 148 games.

--LHP Robbie Erlin didn't issue a walk Friday night. He has now walked only 10 of the 396 hitters he has faced this season - the third-best mark of any Major League pitcher who has made at least 36 appearances. Erlin has been saddled with the loss in four straight starts, matching the longest losing streak of his career. He deserved better Friday night against the Rangers when he allowed two runs (one earned) on six hits in 5 1/3 innings.

--C Francisco Mejía was 1-for-3 with a walk in his Petco Park debut Friday night.