Hill not too concerned by wild start to spring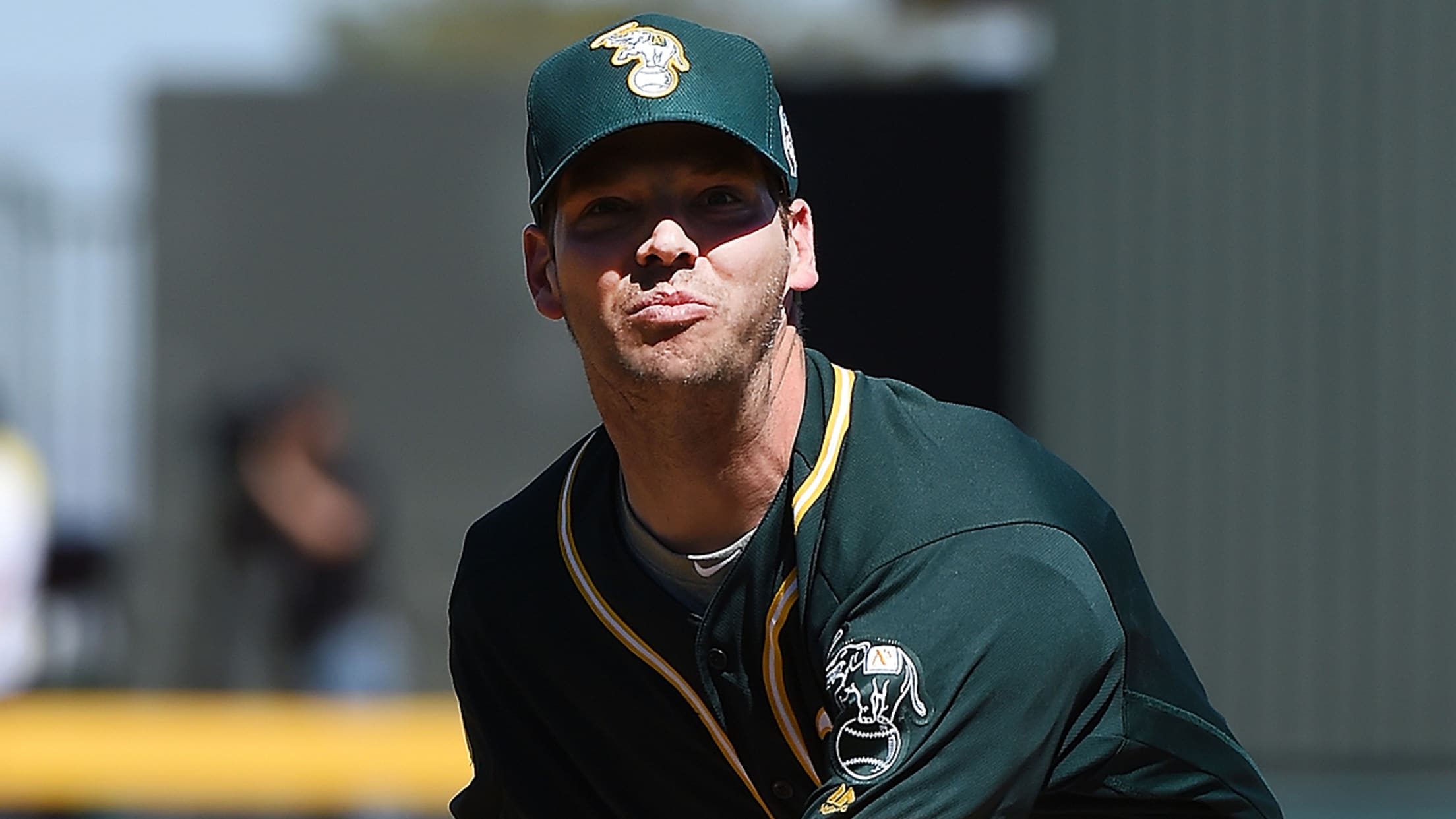 Rich Hill said he has not had success in Spring Training his entire career. (Photo by Norm Hall/Getty Images) (Norm Hall/Getty Images)
MESA, Ariz. -- Few players put much stock into Spring Training performances. Rich Hill isn't one of them, but the A's lefty does yearn for better results than he's producing in the early stages of camp.Hill, signed by the A's to a one-year, $6 million deal this winter, surrendered seven
MESA, Ariz. -- Few players put much stock into Spring Training performances. Rich Hill isn't one of them, but the A's lefty does yearn for better results than he's producing in the early stages of camp.
Hill, signed by the A's to a one-year, $6 million deal this winter, surrendered seven runs in just 2 1/3 innings in an 8-3 loss to the Dodgers on Thursday afternoon. Just as he did in his debut five days prior, he walked three batters, this time in succession and with two outs in the first.
Dodgers catcher A.J. Ellis responded with a two-out, three-run double, and it wasn't long before Trayce Thompson followed with a two-run homer in the five-run frame.
"I need to work on getting the ball more in the zone, that's the biggest thing," Hill said. "I think it is mechanical, but also getting into a rhythm and a good flow of repeating the delivery. Repeat delivery equals high percentage of strikes, which equals success."
"You get behind, you get into some bad counts, and they had some pretty good hitters in the game that had some good swings off him," A's manager Bob Melvin said. "But the stuff looks good, ball's jumping out of his hand pretty good, curveball looks to be spinning OK, but just a little off in his rhythm and once he irons that all out he'll be fine."
Entering Thursday's start, Hill had a career 5.36 ERA in Spring Training, with 52 walks in 90 2/3 innings dating back to 2006. That would explain why he can't remember enjoying much success during this six-week period. But, "the thing is," he said, "you gotta start having something to build off of, create some kind of momentum, and I need to see some results here shortly.
"You build off continuing to go out there and attack and stay aggressive."
Hill, who turns 36 on Friday, at least feels "great physically," allowing him to exert his focus on obtaining consistency with his delivery.
"I felt great today, I really did," he said. "I felt really good. I know the results are pretty bad, but overall the physical part of it was good."
Worth Noting
• A's top pitching prospect Sean Manaea made his second spring appearance, allowing one run on one hit and two walks with one strikeout in 2 2/3 innings. He took a comebacker off his pitching hand but remained in the game as long as his pitch count allowed.
• Mark Canha, who has been slowed by back stiffness, is set to make his Cactus League debut on Friday with a start in left field.
Jane Lee is a reporter for MLB.com.