Richard continues hot run outside the NL West
Notes on Hosmer, Galvis, Reyes, Strahm, walk-off wins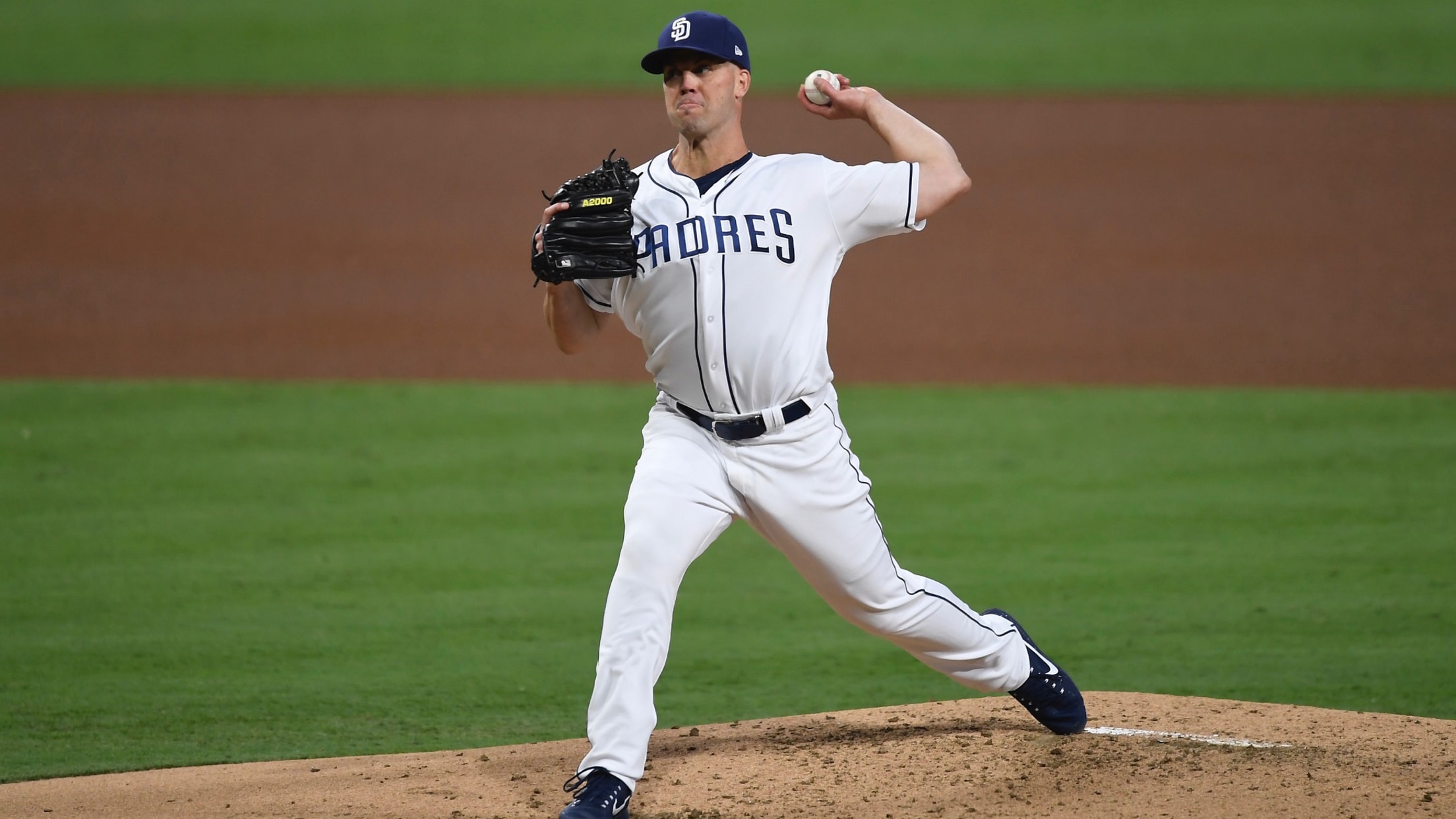 Bill Center, longtime sportswriter for U-T San Diego, is an employee of the Padres.Clayton Richard has now made 12 starts this season -- six against National League West teams and six against teams from outside the division.In his six starts against teams from outside the National League West, Richard has
Bill Center, longtime sportswriter for U-T San Diego, is an employee of the Padres.
Clayton Richard has now made 12 starts this season -- six against National League West teams and six against teams from outside the division.
In his six starts against teams from outside the National League West, Richard has allowed 13 runs on 35 hits and six walks with 33 strikeouts in 44 innings -- posting a 2.66 ERA and 0.93 WHIP. The Padres are 3-3 in Richard's starts outside the division, and he is 2-2.
In six starts against National League West teams this season, Richard has given up 27 runs (26 earned) on 37 hits and 19 walks with 28 strikeouts in 30 innings, posting a 7.80 ERA and 1.87 WHIP. The Padres are 2-4 in Richard's starts inside the division and he is 1-4.
Richard has given up nine home runs this season. Starlin Castro's two-run shot Wednesday night was the first hit by a player outside the National League West.
Richard pitched his sixth quality start of the season Wednesday night, holding the Miami Marlins to two runs on four hits, a walk and a hit batter in seven innings. All six of those quality starts have come against teams outside the division.
In his last five outings, Richard has posted a 3.22 ERA with 29 strikeouts against five walks in 36 1/3 innings. Four of those five starts were against teams outside the National League West.
Wednesday night's outing lowered his career ERA against the Marlins to 2.76 -- the second-lowest career ERA against any team in which he has made at least six starts. He has a 2.38 career mark against the Pirates.
NOTEBOOK:
--LHP Matt Strahm picked up his first win as a Padre Wednesday night with two perfect innings in relief of Richard. Strahm has worked two scoreless innings in each of his last two outings -- including his "bullpen" start Sunday. Since allowing three runs in his return to the Major Leagues on May 7, Strahm has allowed two runs (one earned) on six hits and three walks with five strikeouts over 9 1/3 innings (a 0.96 ERA) over seven appearances.
--1B Eric Hosmer was 2-for-3 with a walk Wednesday. It was his team-leading, 19th multi-hit game of the season. Two of those came in the past three games against the Marlins. He is 6-for-11 in those three games with his 17th double and a RBI. Hosmer has reached base in 17 of his last 18 games with a .355 on-base percentage.
--Strahm benefitted from the Padres' second walk-off win of the season. The first came on May 12 against the Cardinals.
--SS Freddy Galvis, who scored the winning run in Wednesday's walk-off win was 1-for-3 with a double and a walk. He has hit safely in six of his last seven games, going 7-for-24 (.292) with five doubles and a home run.
--RF Franmil Reyes is the second Padres' rookie to homer in three straight games this season. Christian Villanueva did it April 14-16. Reyes has four homers in his last seven games. But again, it was an at-bat that was not a homer that stood out -- the walk he drew in the ninth that triggered the Padres' walk-off win.