Ruiz, Fisher among top prospect performers Saturday
Braves' No. 15 notches career-best 11 total bases; Astros' No. 8 shows off power, speed combo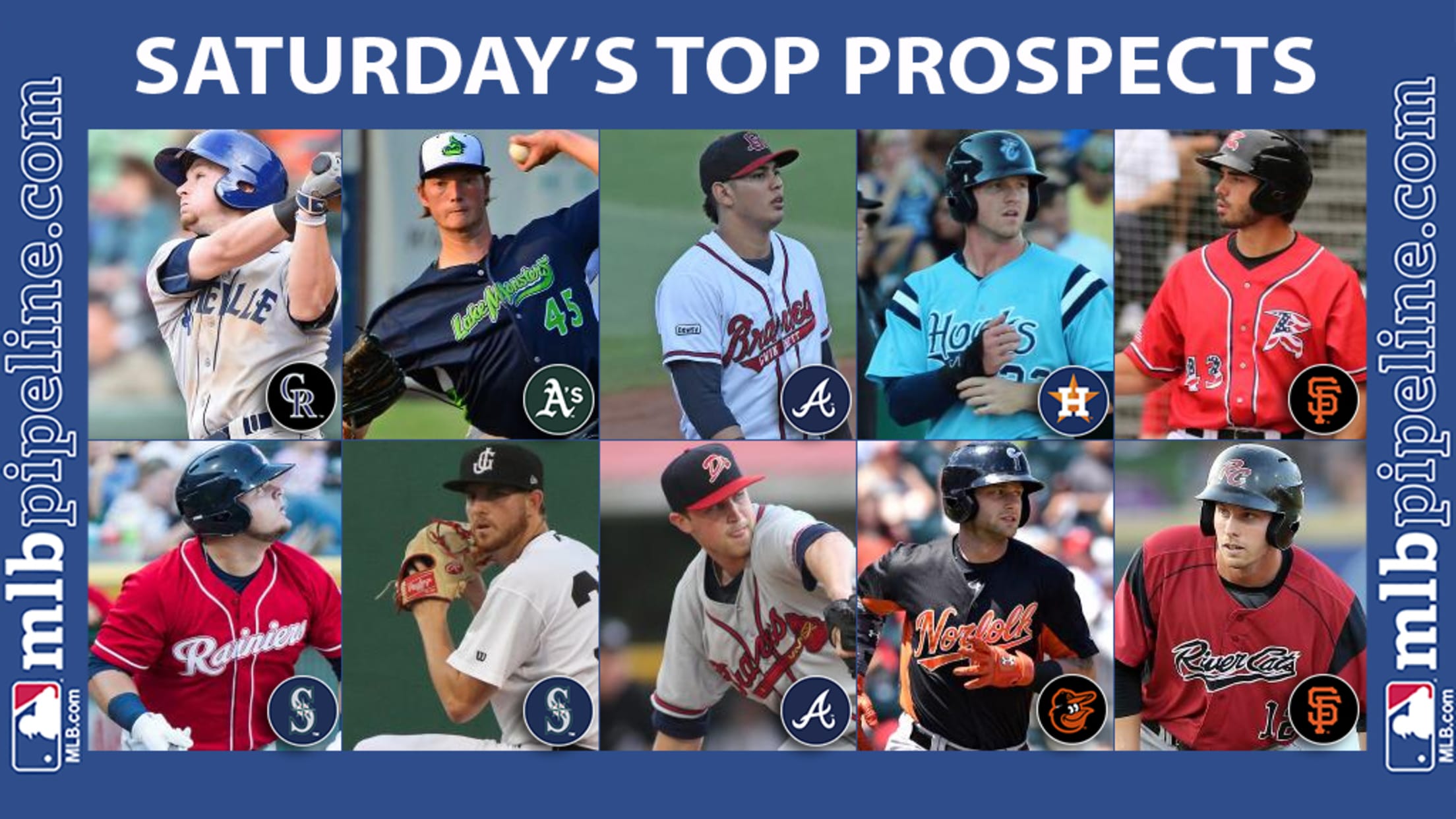 As one of the younger everyday players at the Triple-A level, Rio Ruiz has been anything but overmatched this season.The Braves' No. 15 prospect put together a big offensive performance on Saturday, when he hit multiple home runs for the first time in his five-year career and plated all four
As one of the younger everyday players at the Triple-A level, Rio Ruiz has been anything but overmatched this season.
The Braves' No. 15 prospect put together a big offensive performance on Saturday, when he hit multiple home runs for the first time in his five-year career and plated all four runs as Triple-A Gwinnett shut out Rochester, 4-0. Ruiz finished 3-for-3 at the plate, also tallying a triple in the contest en route to accruing a career-best 11 total bases.
By collecting three hits for the fifth time this season, the 22-year-old third baseman improved his overall slash line to .273/.359/.401 through 117 games for Gwinnett. Meanwhile, with nine home runs and 19 doubles, Ruiz's power has translated better than expected this season against the advanced pitching of the International League.
The rest of the best performances from top prospects Saturday
• No. 7 overall prospect Brendan Rodgers (Rockies' No. 1) connected on his 19th home run and 29th double as part of a 2-for-5 performance for Class A Asheville. The 20-year-old shortstop has been on a tear of late, hitting an even .500 (10-for-20) with four home runs, eight runs scored and nine RBIs over his last five games.
• No. 74 overall prospect A.J. Puk (A's No. 2) allowed two hits over five innings in his second straight scoreless start for Class A Short Season Vermont. The 2016 No. 6 overall Draft pick struck out five, generated eight ground-ball outs and threw 50 of his 63 pitches for strikes. "I felt really good out there today," Puk told MiLB.com. "Probably the first few innings I just mainly used my fastball and a couple changeups, and they were just jumping on the first-pitch fastballs. The second time through the lineup, I started mixing all my pitches to keep them off-balance and I was able to keep getting them out."
MILB Video - Title: Watch: MiLB Video - Url: http://www.milb.com/r/video?content_id=1075177683
• No. 94 overall prospect Derek Fisher (Astros' No. 8) connected on a solo home run and stole a base in Triple-A Fresno's loss to Albuquerque. With 19 home runs and 24 steals in 114 games, the 23-year-old outfielder is one long ball away from becoming the second Minor Leaguer to achieve 20 homers and 20 steals in 2016.
• Giants No. 3 prospect Chris Shaw homered, doubled and reached base four times on Saturday in Double-A Richmond's loss to Harrisburg. The home run, a two-run shot in the first inning, was his 20th of the season and fourth in 45 games since being promoted from the Class A Advanced level. The 22-year-old first baseman has posted an OPS of .829 between the two stops, with 80 RBIs and 32 doubles in 117 games.
• Mariners No. 7 prospectDan Vogelbach belted his 20th home run and went 3-for-5 in Triple-A Tacoma's contest against Las Vegas. Teammate D.J. Peterson (Mariners' No. 8) also homered for the Rainiers, his 19th of the year and eighth in 44 games since returning to the Triple-A level.
• Orioles No. 11 prospectChristian Walker provided most of the offense in Triple-A Norfolk's 4-0 win over Durham as he went 3-for-3 with a home run, two doubles and three RBIs. The 25-year-old outfielder has recorded hits in six straight games, during which he has three homers and six RBIs.
MILB Video - Title: Watch: MiLB Video - Url: http://www.milb.com/r/video?content_id=1076498683
• In what was his best start of the season, Brewers No. 14 prospectJorge López picked up the win behind seven innings of one-run ball for Double-A Biloxi against Mobile. The right-hander scattered five hits, issued one walk and struck out six, with 63 of his 101 pitches going for strikes in the outing. It was the 23-year-old's second win in 21 starts this season between the Double- and Triple-A levels.
• Reds No. 17 prospectSal Romano and Braves No. 20 prospect Max Povse matched zeroes for eight innings as Double-A Mississippi edged Pensacola in 16 innings, 2-1. Romano, 22, yielded four hits and notched eight strikeouts in his longest outing of the season, while Povse carried a no-hit bid into the fifth inning before ultimately allowing two hits. The 6-foot-8 right-hander fanned five hitters and issued one walk, giving him a 127-25 strikeout-to-walk ratio in 138 2/3 innings for the season.
MILB Video - Title: Watch: MiLB Video - Url: http://www.milb.com/r/video?content_id=1075950883
• Mariners No. 17 prospectPaul Blackburn carried a no-hit bid into the fifth inning for Double-A Jackson before surrendering a leadoff single. It was the only hit allowed in seven innings by the 22-year-old righty, who walked two, struck out five and generated 10 outs on the ground to help lead the Generals to a 9-0 shutout of Birmingham.
• Yankees No. 20 prospect Jordan Montgomery turned in his third straight scoreless performance and extended his scoreless innings streak to 18 2/3 for Triple-A Scranton/Wilkes-Barre, which shut out Pawtucket, 4-0. The 23-year-old left-hander allowed three hits and one walk in seven innings, also fanning eight for a second straight turn. Montgomery is 3-1 with a 0.71 ERA in four starts since being promoted from Double-A Trenton, where he had posted a 2.55 ERA with 97 strikeouts in 102 1/3 innings (19 starts).
MILB Video - Title: Watch: MiLB Video - Url: http://www.milb.com/r/video?content_id=1076123283
"I've been trying to be as aggressive as I can," Montgomery told MiLB.com, "changing speeds, mixing up pitches and keeping the hitters as off-balanced as I can. It's huge to have so many pitches. It gives me a lot of options when I'm down in the count. If it's 2-0 or 2-1, I can throw a changeup, a fastball or a backfoot slider. There's a lot of things I can play off of with four pitches."
• Giants No. 22 prospect Austin Slater belted a pair of solo home runs off of Shelby Miller and went 4-for-4 in Triple-A Sacramento's game against Reno. The multi-homer performance was Slater's second of the season, and with 13 home runs in 98 games, he's already blown well past his previous career high of three, which he achieved over 114 games in 2015.