Alomar hosts amateur showcase in Puerto Rico
Hall of Famer teams up with MLB to bring PR12 tourney to island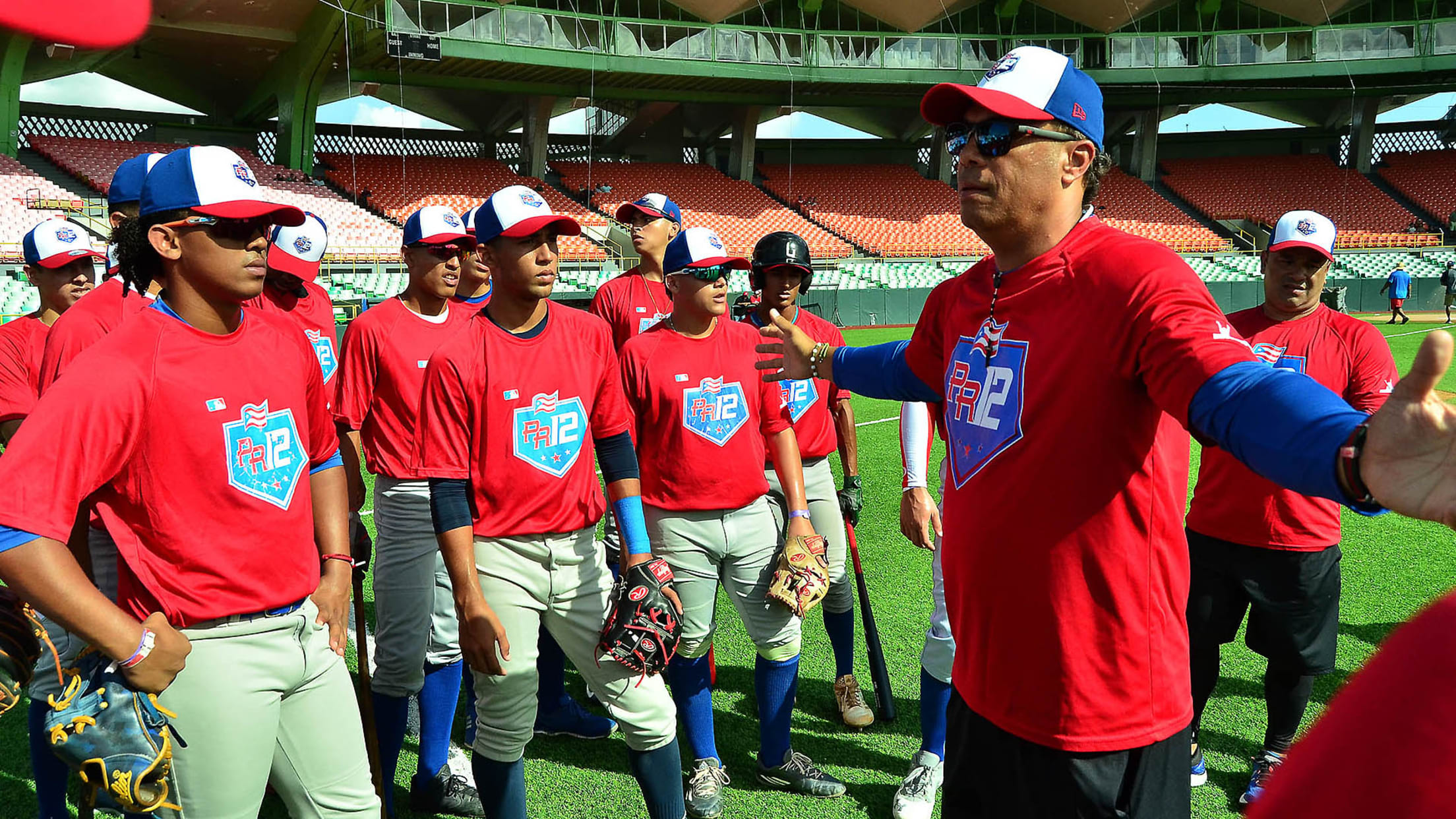 ( )
Hall of Famer Roberto Alomar scanned the field at Hiram Bithorn Stadium in San Juan, Puerto Rico, and saw the future.Alomar witnessed 150 young players working hard toward their Major League dream. He saw big league scouts and college recruiters in the stands taking notes. Alomar was there as parents
Hall of Famer Roberto Alomar scanned the field at Hiram Bithorn Stadium in San Juan, Puerto Rico, and saw the future.
Alomar witnessed 150 young players working hard toward their Major League dream. He saw big league scouts and college recruiters in the stands taking notes. Alomar was there as parents cheered on their kids.
Baseball is alive and well in Alomar's beloved Puerto Rico, and he has the proof.
Alomar and Major League Baseball recently partnered to play host to Puerto Rico 12 (PR12), a showcase tournament for the best 150 amateur prospects on the island. The event started Tuesday and ended Sunday at the historic ballpark.
"The thing that stood out to me the most this week is that there is definitely a lot of talent here, and that this event will hopefully give some of these kids an opportunity to go to school or get signed," Alomar said. "The kids responded great. They are very happy to be here and understand that they have been given a great opportunity."
The six-team event featured a scouting combine in front of MLB scouts and college recruiters, followed by a five-day tournament. The players were selected by Alomar Sports Inc. and the Puerto Rico Baseball Federation after six tryouts across the island.
"I believe the future looks bright, and hopefully this is just the beginning," Alomar said. "I want to thank the Commissioner's Office for their support this year and I hope they will continue to support the program going forward."
Alomar created a similar program in Toronto for the Blue Jays called Tournament 12, and it was his goal to institute the same concept back home. Mission accomplished. The new program comes at crucial time in the island's recovery; it's been almost a year since Hurricane Maria devastated Puerto Rico.
The island has faced hardship, but the passion for baseball has never wavered.
In fact, Puerto Rico won this year's Caribbean Series in February. Two months later, MLB and the Major League Baseball Players Association played two regular-season games between the Twins and Indians in San Juan, while also giving back to the place that has played such important role in the sport's history.
Moreover, Indians shortstop Francisco Lindor, Cubs second baseman Javier Baez, Tigers reliever Joe Jimenez, Mariners closer Edwin Diaz, Twins starter Jose Berrios and Cardinals catcher Yadier Molina represented their teams and Puerto Rico on July 17 in the 2018 All-Star Game.
Last week's showcase was another positive sign for the sport on the island.
"Our talent is there, but we haven't signed as many players to give them an opportunity to make it to the big leagues," said former Major League infielder Carlos Baerga, who served as an instructor at the event. "And I think eventually, events like this one will give the opportunity to players that don't have the opportunity to be drafted. I say to the kids, 'Give thanks to Robbie Alomar, because this is the first time an event like this happened in Puerto Rico.' I think we have a great future here."