Rockies host young cancer patients in camp
'We want to reach out and help others,' Motte says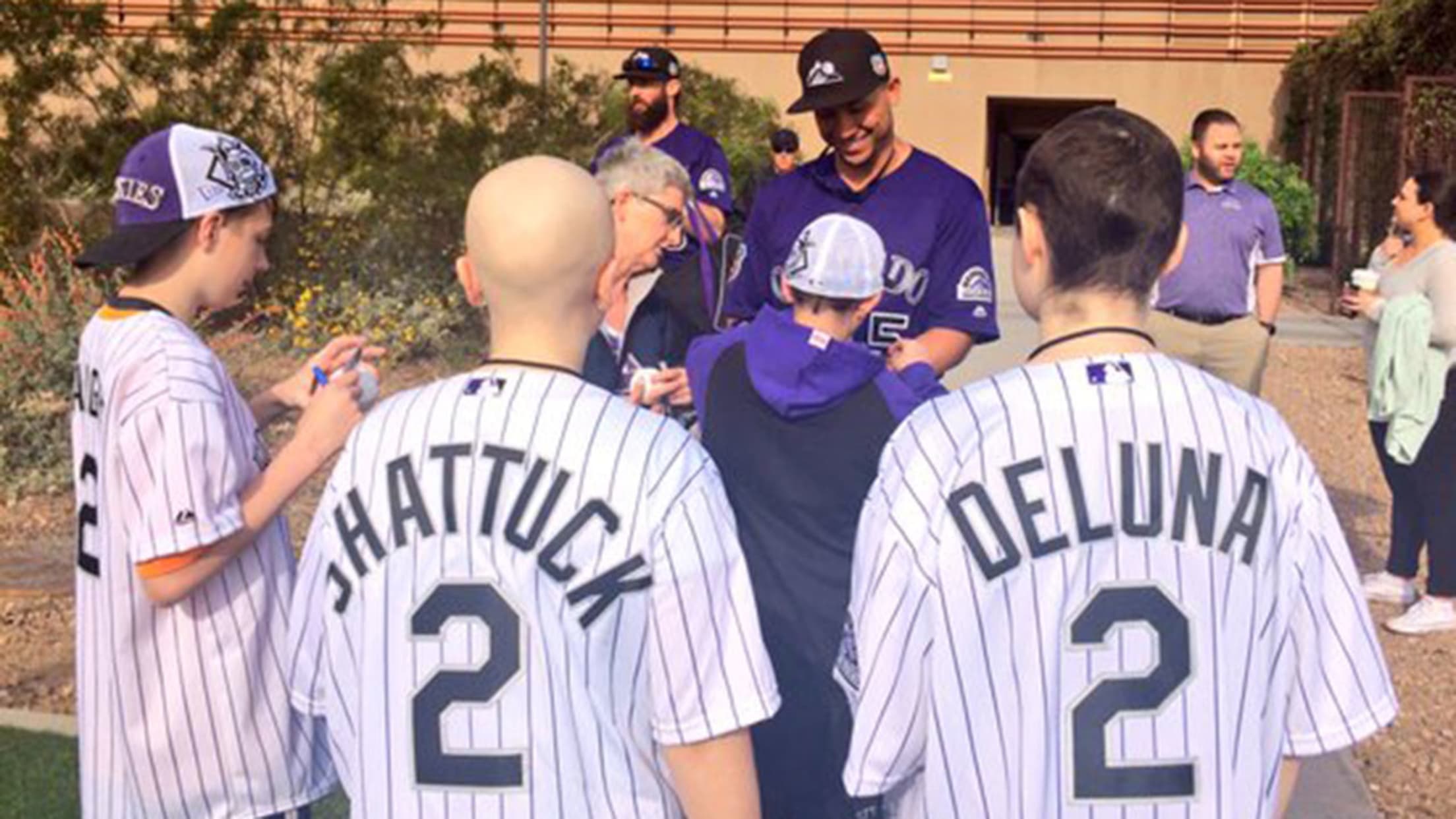 Carlos Gonzalez signs autographs for visitors from Children's Hospital Colorado. (@Rockies)
SCOTTSDALE, Ariz. -- Former Rockies shortstop Troy Tulowitzki made sure to keep giving to young cancer patients in the Denver area, and current Rockies Brandon Barnes and Jason Motte spent the weekend picking up the mantel.For the previous three years, Tulowitzki underwrote an expense-paid trip to Spring Training for patients
SCOTTSDALE, Ariz. -- Former Rockies shortstop Troy Tulowitzki made sure to keep giving to young cancer patients in the Denver area, and current Rockies Brandon Barnes and Jason Motte spent the weekend picking up the mantel.
For the previous three years, Tulowitzki underwrote an expense-paid trip to Spring Training for patients of Children's Hospital Colorado's Center for Cancer and Blood Disorders. Even though Tulowitzki was traded to the Blue Jays last summer, he contacted the Rockies and the hospital to make sure 24 patients this year didn't lose their trip.
• Rockies Spring Training info
Barnes and Motte, each of whom have been active in raising and donating funds and giving time toward fighting the disease, made sure the children had a good time by hosting a tour of the Rockies' facility and offering activities throughout the weekend. The Rockies also hosted the medical caregivers and their parents.
"It's good for those kids to get out from the environment they're in, the hospital or rehab or whatever it is and get out here, away from their life back there, have a little vacation -- let everything go away, and just enjoy being a kid," said Barnes, who is dedicated to the cause because his stepbrother, Thomas French, survived a bout with neuroblastoma as a baby.
This morning, kids visiting from @ChildrensColo met #Rockies players.#RoxSpring ☀️🌵⚾️ pic.twitter.com/O8dxUGMTCa

— Colorado Rockies (@Rockies) March 6, 2016
Motte started the Jason Motte Foundation to fight all types of cancer with his wife, Caitlin, after Caitlin's grandfather, Lynn Doyle, was diagnosed with cancer. Motte said upon signing his two-year, $10 million contract this offseason, he was informed of the Tulowitzki-funded program by Jim Kellogg, the Rockies' vice president of community and retail operations.
Motte and Barnes were happy to help.
"I was like, if there's anything we can do, let me know," Motte said. "When my wife was going through it with her grandfather, we had people helping us. We want to reach out and help others, and show that people care. You're not in this alone."