New coach McDowell builds 'foundation' at minicamp
Bullpen coach Mills also enjoys meeting with O's pitchers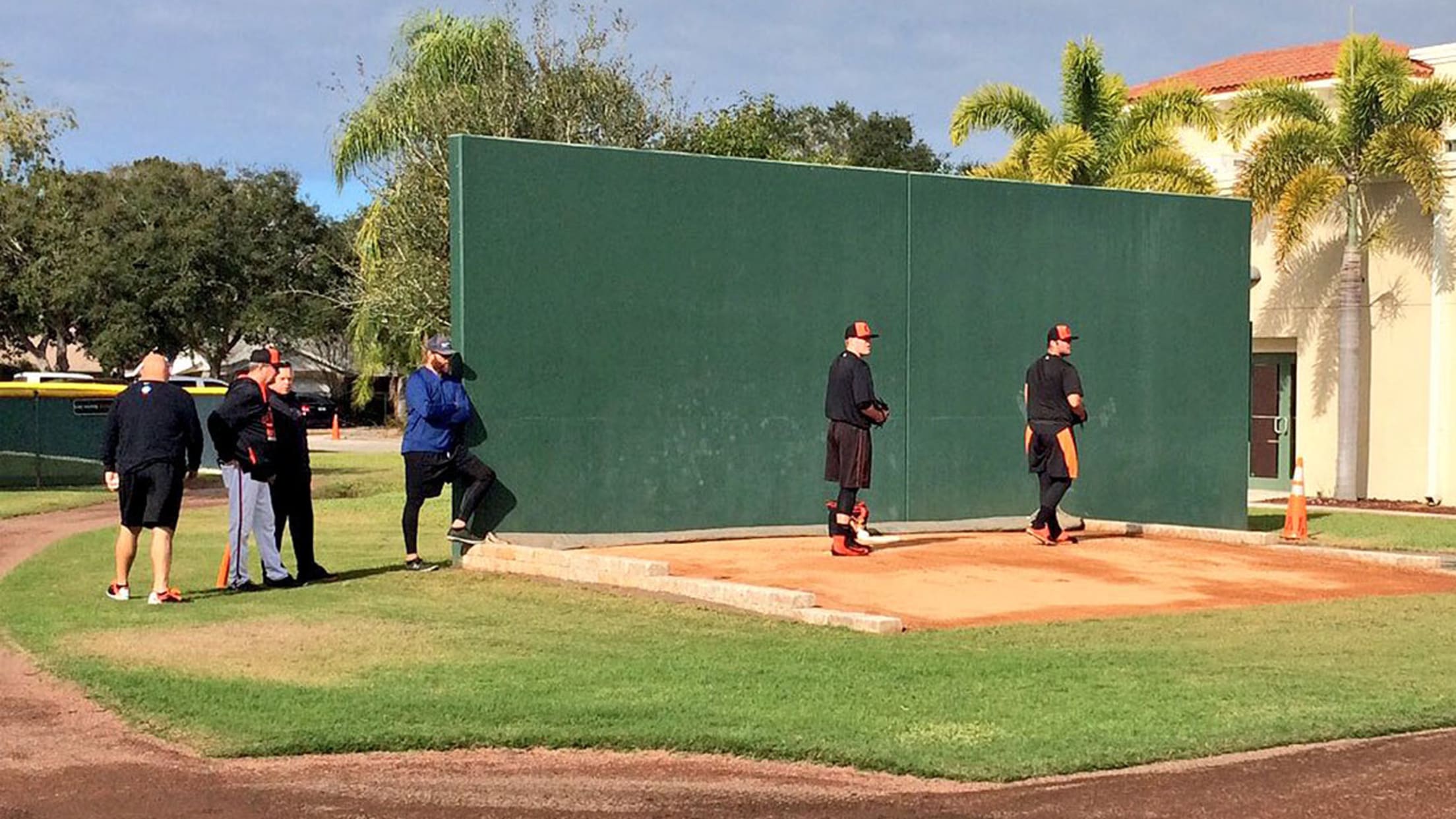 Buck Showalter, Roger McDowell and Chris Tillman watch bullpen sessions at minicamp. (Orioles/Twitter)
SARASOTA, Fla. -- When he got the job as the Orioles' pitching coach in November, Roger McDowell reached out to every pitcher on the 40-man roster. This week, he was able to see a dozen of Baltimore's hurlers up close and personal at the organization's annual spring minicamp."When Spring Training
SARASOTA, Fla. -- When he got the job as the Orioles' pitching coach in November, Roger McDowell reached out to every pitcher on the 40-man roster. This week, he was able to see a dozen of Baltimore's hurlers up close and personal at the organization's annual spring minicamp.
"When Spring Training rolls around, we already have the foundation with those guys who have a chance to be in Baltimore," said McDowell, who along with new bullpen coach Alan Mills met with each O's pitcher during the three-day camp. "I think it's very important for us to start that foundation … not only me getting to know them, but them getting to know me as well."
• Orioles' Spring Training info
Orioles manager Buck Showalter started the minicamp several years ago as a way to get familiar with the organization's arms and guys who are either dealing with health issues or on the cusp of helping the club.
"We've got two teams in our division that paid a luxury tax last year," Showalter said. "It's who we are. We're going to try to out-relationship you, out-knowledge [you] … try to make somebody the best they can be.
"It's a lot more fun, quite frankly, instead of trying to outbid on people. That's kind of who we are. We have to do things like this to find somebody that nobody really knew about. We know about them. Shame on us if we don't know about them. It creates a great morale in the organization, and it starts with the pitching coaches, the pitching coordinator, the pitchers themselves, because they know that's where they're going, and their job is very important."
Being a pitching coach isn't a new job to McDowell, who was with the Braves for 11 seasons, though the former O's pitcher is getting used to new names and faces. He joked he made the wrong turn toward the cafeteria about 90 percent of the time this week.
"Last year, when I went to Spring Training, I hadn't seen 21 or 22 of the guys [in camp]," McDowell said. "[I] had never laid eyes on them. So getting familiar with someone is not foreign. But getting familiar to surroundings, [a] new organization, what preferences are -- it's my job to find out how things tick around here and try to fit in as best as possible. It's me fitting in."
McDowell doesn't have to worry much about getting acclimated with Mills, as the two were teammates on the 1996 Orioles club that advanced to the American League Championship Series.
"I think it helps that we played together during the same era," said Mills, who as a younger player at the time learned a lot from McDowell. "When we were in meetings the last two days talking to pitchers, a lot of things he said, it was funny. I'd look at the guy we were talking to, because a lot of them I've had, and I'd be like, 'OK, you've heard that before.' It was actually refreshing where he's hitting them again with the same messages in that room. So I really look forward to helping him, assisting him in any way possible."