Gardy ready for fight against prostate cancer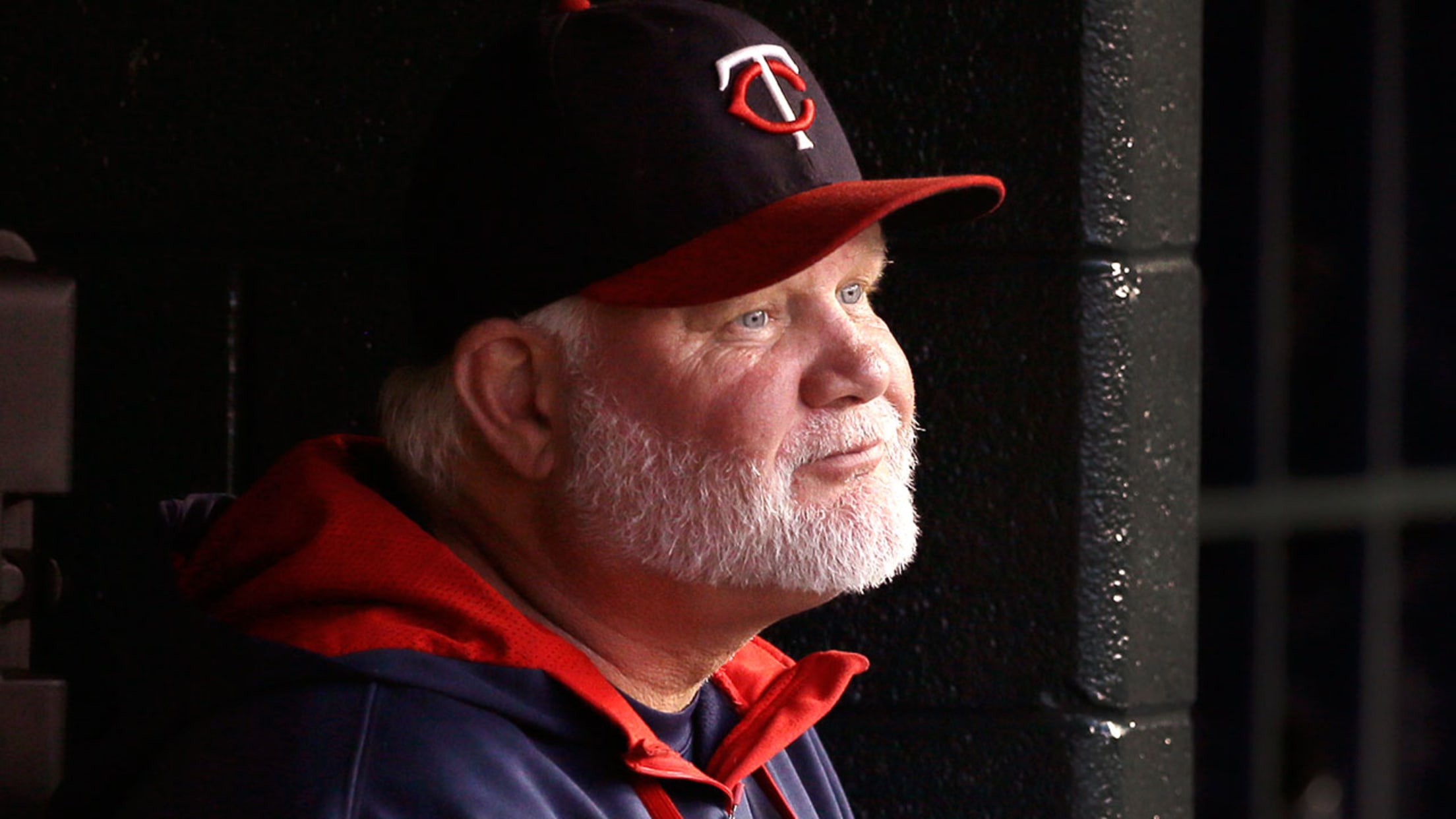 Ron Gardenhire managed the Twins from 2002-14 before becoming the D-backs' bench coach. (AP)
PHOENIX -- When the D-backs hit the road for the first time this season after their game against the Indians at Chase Field on Sunday, bench coach Ron Gardenhire will return to Minnesota to face a far more serious foe.Gardenhire was diagnosed with prostate cancer this past January, and he'll
PHOENIX -- When the D-backs hit the road for the first time this season after their game against the Indians at Chase Field on Sunday, bench coach Ron Gardenhire will return to Minnesota to face a far more serious foe.
Gardenhire was diagnosed with prostate cancer this past January, and he'll undergo a surgical procedure called a prostatectomy to remove the cancer-riddled prostate on April 18.
The fact that Gardenhire has the disease was revealed publicly the first day pitchers and catchers gathered for the spring this past February.
The former Major League infielder and Twins manager has already been replaced on the bench aside new manager Torey Lovullo by Jerry Narron. But Gardenhire sounds like he's in a fine state of mind.
"I'm ready for the surgery and I'll attack this just like I attack everything else," Gardenhire told MLB.com before the D-backs played the Giants on Wednesday night. "You know what? Lots of people have been through it and have had it. I'm just joining the legion and fighting against cancer."
The 59-year-old Gardenhire was diagnosed during an early January physical. He said doctors became concerned when the PSA (Prostate-Specific Antigen) in his annual blood test had quadrupled from a reading of 1 to 4 in a year. Four and above is an indicator of a problem. A quick jump in that marker usually means cancer is present in the prostate. A biopsy and MRI confirmed it.
Most positively, the cancer was detected early, which means Gardenhire's prospects of a full cancer-free recovery are excellent.
At Gardenhire's physical the year before, he was told his blood sugar had escalated to the point where he was in danger of becoming a diabetic. Gardy has since lost 30 pounds and is more than ready for this latest battle. He looks much trimmer than he did in 2014, the end of his 13-year tour of managing the Twins.
"I just went on a diet," Gardenhire said. "I didn't want to be a diabetic, so I just shut her down. I was not working, so I had plenty of time."
Gardenhire has plenty of support. In the D-backs' organization, managing general partner Ken Kendrick and president Derrick Hall are both long-term prostate cancer survivors. In Major League Baseball, Joe Torre, Dusty Baker and Davey Lopes are among the legion of men who have also survived the disease.
Gardenhire, who compiled a .232 batting average in five years playing for the Mets and a .507 winning percentage (1,068-1,039) managing the Twins, said Hall and Kendrick have spoken to him and that he has talked to dozens of people about their experiences battling prostate cancer.
Torre, now chief baseball officer for Major League Baseball, was told he had the disease when he was managing the Yankees in 1999. Baker was about to embark on the 2002 season managing the Giants. Neither has had a recurrence. The American Cancer Society estimates that 26,730 men will die of prostate cancer this year, but 99 percent of all those contracting the disease will live more than five years.
"I've had so many people reach out, which is the greatest thing in baseball," Gardenhire said. "Baseball people reach out to you, and it's been really neat. I've heard from a lot of people who've been through it or know people. I talked to Joe. He sat down right next to me at the umpire's meeting and told me all about it. It's all been positive, and that's helpful."
Lovullo recently went through a similar situation with his friend John Farrell, the Red Sox's manager who missed the final six weeks of the 2015 season undergoing chemotherapy because of a bout with a form of Non-Hodgkin's lymphoma.
Lovullo replaced Farrell for the final 48 games of that season. Farrell remarkably recovered to retake the reins of the team in time for Spring Training 2016.
The transition from Farrell to Lovullo back to Farrell was seamless, and the new D-backs manager wants it to be the same with Gardenhire, who right now is suiting up for batting practice but retires to the clubhouse out of uniform while Narron helps the rookie manager.
Narron and Gardenhire were both on the bench during Cactus League games, when restrictions on active uniformed personnel are not as strict.
"I wanted Jerry to come in and get used to my style and situation, which Gardy is paying very close attention to," Lovullo said. "There's going to be one transition when he's healthy, and that's Gardy back in."
Gardenhire said he appreciates the sentiment, but he's not about to shake things up just because he might be healthy.
"We'll see how it goes," he said. "If we're 39-2, I'm not coming back. I'm going to sit in the clubhouse. I'm not screwing up something good."
But that's Gardy.
Asked if he had any words of wisdom for those men who might be going through the same thing, Gardenhire didn't miss a beat.
"You know, that's a big word, when you hear that cancer word. So many people have gone through the fight," he said. "I raised a lot of money for people when I was a manager and tried to be a positive influence, and now I'm on the flip side. Now they've told me I have cancer.
"It's just like I've told everyone else: 'Stay strong. Fight it.' And that's what I'm telling myself."