Kuntz (eye issues) no longer first-base coach
Veteran will remain on staff, be on bench during games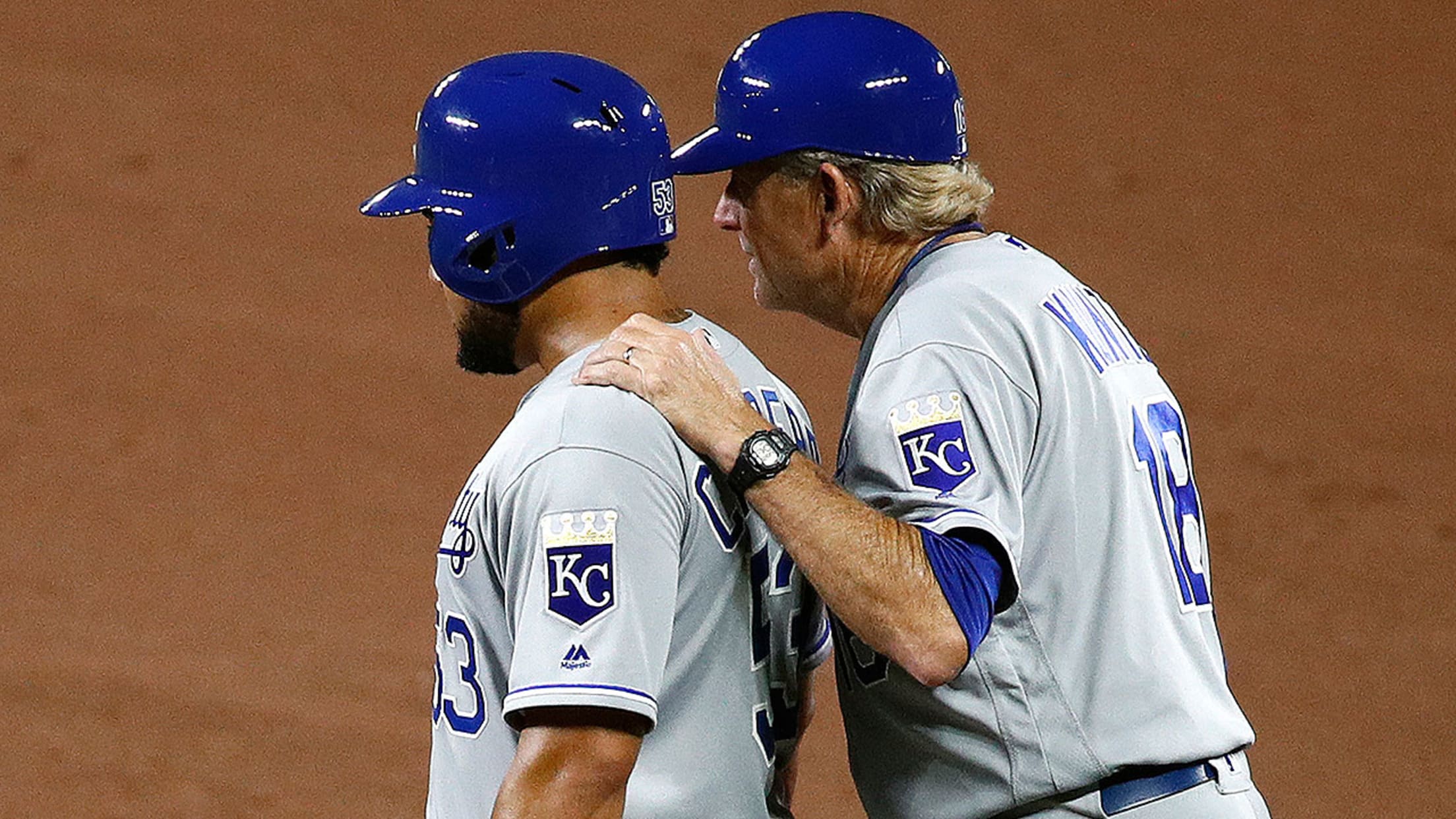 Rusty Kuntz is in the sixth year of his second stint on the Royals' coaching staff. (AP)
KANSAS CITY -- Royals first-base coach Rusty Kuntz will not coach first base for the rest of the season because of eye issues, manager Ned Yost said Tuesday.Yost said catching coach Pedro Grifol will handle the first-base coaching duties Tuesday and Wednesday, until the Royals are allowed to bring up
KANSAS CITY -- Royals first-base coach Rusty Kuntz will not coach first base for the rest of the season because of eye issues, manager Ned Yost said Tuesday.
Yost said catching coach Pedro Grifol will handle the first-base coaching duties Tuesday and Wednesday, until the Royals are allowed to bring up an extra coach from the Minor Leagues when the roster expands in September.
Kuntz will remain on the staff and perform his normal pregame coaching duties, and also will be on the bench during games.
"He's really having trouble seeing," Yost said. "He had eye surgery … and he's not able to see [very well]. Those two balls down the line that [Lorenzo] Cain hit [Monday night], he didn't even see. The doctors said [his vision would improve], but right now, it's really affecting his vision.
"We just can't afford to put him on the line. He could get drilled over there. He said it's like looking through a bottle of water."
Skoglund recalled from Triple-A
Left-hander Eric Skoglund, who was sent back to Triple-A Omaha on Monday after a disappointing start Sunday, was recalled to replace left-hander Brian Flynn, who went on the 10-day disabled list with a strained groin Tuesday.
Flynn had just replaced Skoglund on the roster Monday.