Perez downcast over crucial passed ball
Royals catcher watches run score after pitch slips through his legs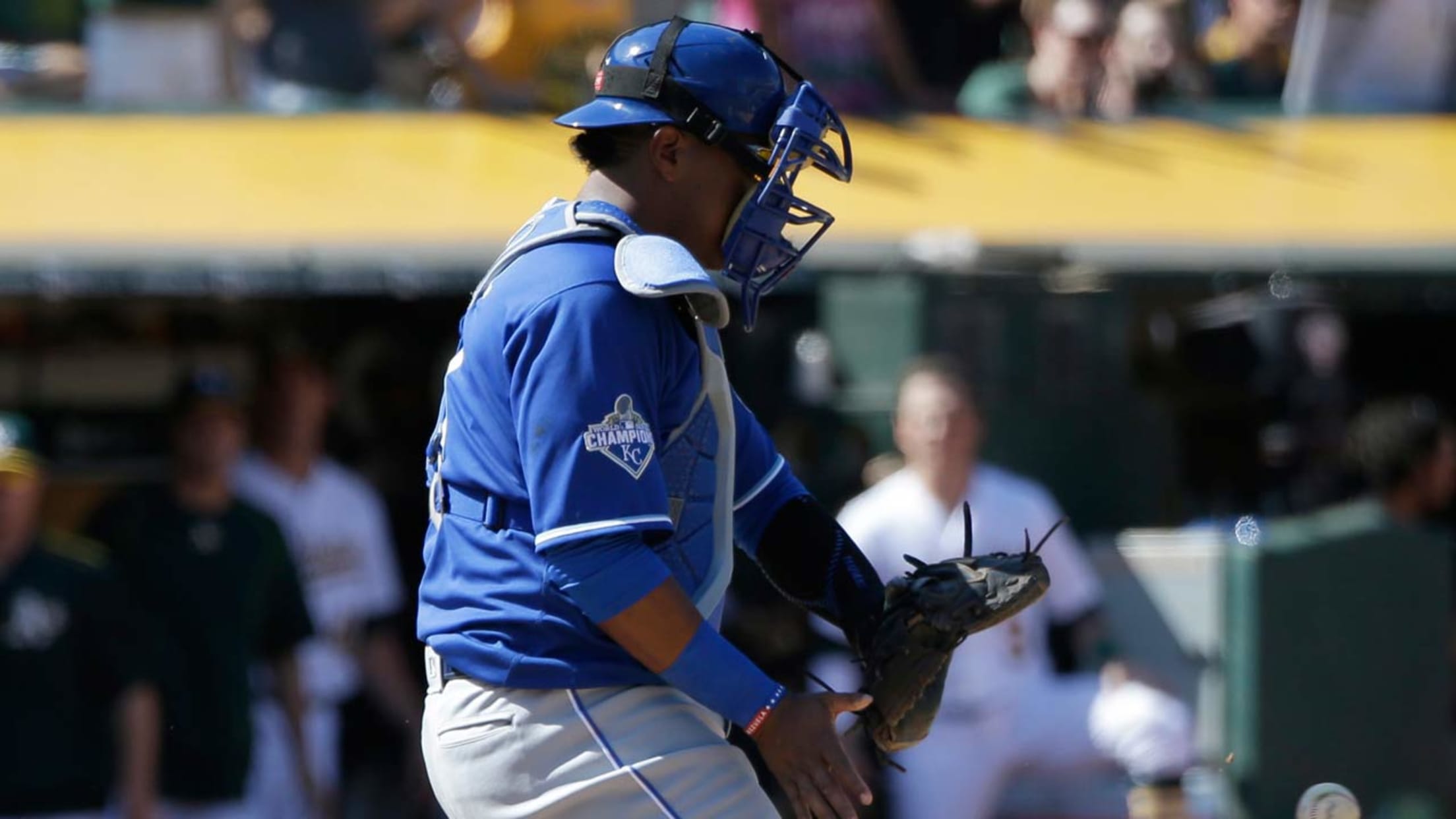 Salvador Perez made a rare mistake on a passed ball in the fourth inning. (AP)
OAKLAND -- Royals All-Star catcher Salvador Perez sat in front of his locker berating himself for a costly passed ball that wound up being a pivotal play in Sunday's 3-2 loss to the Oakland A's.Perez let a two-out, 3-2 pitch from starter Kris Medlen bounce through his legs in the
OAKLAND -- Royals All-Star catcher Salvador Perez sat in front of his locker berating himself for a costly passed ball that wound up being a pivotal play in Sunday's 3-2 loss to the Oakland A's.
Perez let a two-out, 3-2 pitch from starter Kris Medlen bounce through his legs in the fourth inning, allowing Coco Crisp to score Oakland's first run of the game.
It was a rare fielding mistakes by Kansas City's three-time Gold Glove winner, and it ended the shutout bid by Medlen. It also provided the difference in the Royals' first one-run loss of the season.
"I don't know what happened, I just missed the ball," Perez said. "[Medlen] did pretty good. I [messed] that up for him."
Medlen was stellar while giving up just one hit through the first six innings. The only blemish was the run scored by Crisp after Oakland's Chris Coghlan swung and missed on Medlen's low pitch.
The ball skipped under Perez's glove and rolled all the way to the backstop. Perez, the 2015 World Series MVP, hustled to retrieve the ball and still came close to throwing Coghlan out at first.
"It was a back-foot slider," Medlen said. "It didn't bounce up, it kind of skipped so it stayed down on him. He's 99 out of 100. It just happened to be that one. I know he's probably disappointed, but he's human."
Royals manager Ned Yost also downplayed Perez's gaffe and pointed to Kansas City's numerous missed opportunities when batting as being equally costly.
"It happens," Yost said. "Just kind of took his eye off of it a little bit. Just one of those situations."
Perez nearly made up for the mistake when he got a two-out single off Oakland reliever Ryan Madson in the ninth. Pinch-runner Terrance Gore advanced to second but was stranded when Reymond Fuentes lined out to first.
"If I catch that ball it's going to be over no problem," Perez said. "Maybe still tied but …"
Michael Wagaman is a contributor to MLB.com.