These guys went from castoffs ... to the playoffs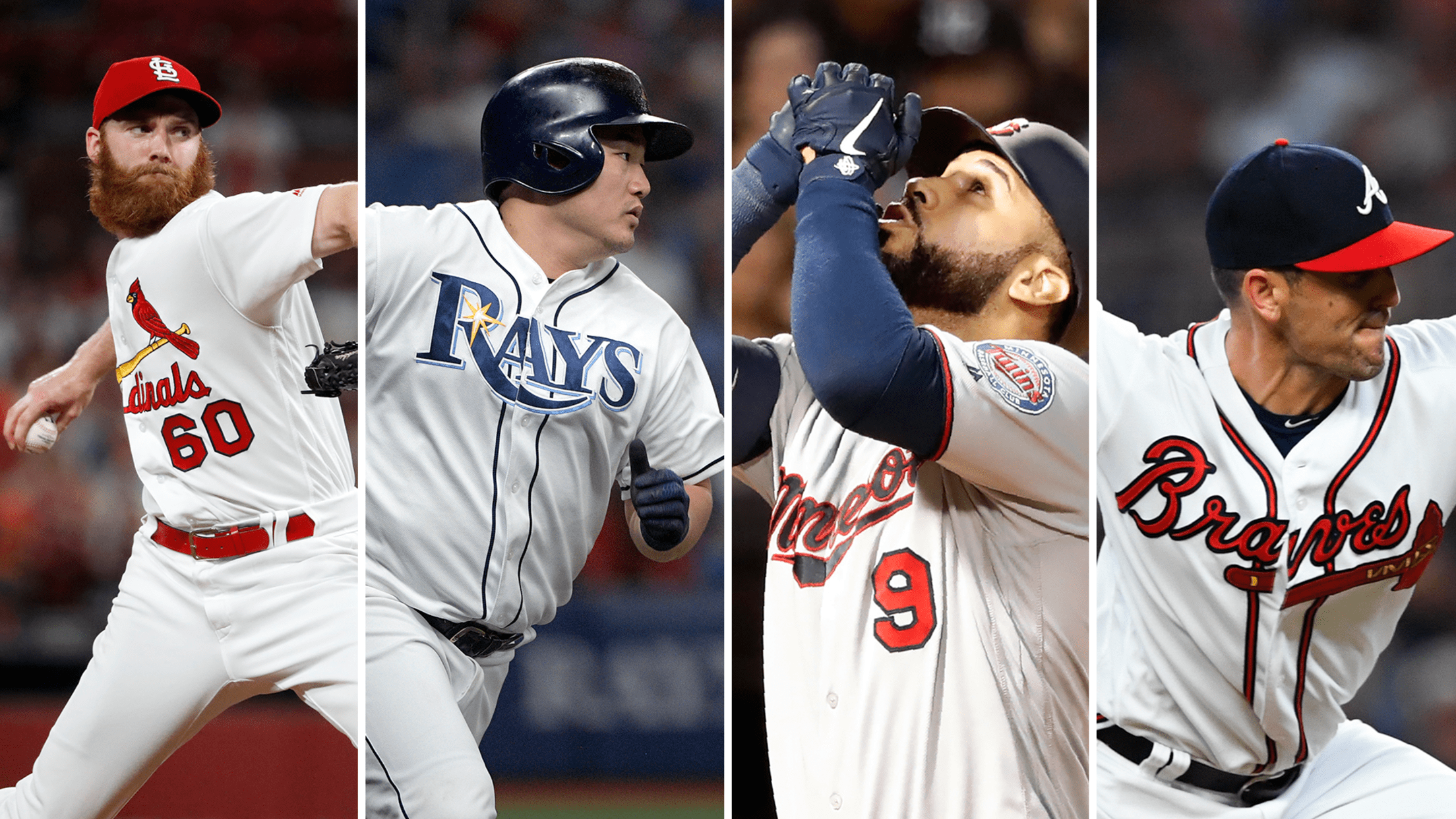 Though widely considered an obscure event that is nothing more than an annual formality at the Winter Meetings, the Rule 5 Draft is an integral part of Major League Baseball that dates back, in some form or another, more than 120 years -- thus, making it older than the World
Though widely considered an obscure event that is nothing more than an annual formality at the Winter Meetings, the Rule 5 Draft is an integral part of Major League Baseball that dates back, in some form or another, more than 120 years -- thus, making it older than the World Series.
Speaking of the World Series, many of the teams vying for this year's title sport at least one Rule 5 alum on its roster. While many Rule 5 selections ultimately have a brief big league career, if any at all, others become All-Stars or -- in the case of players like Roberto Clemente, Hack Wilson and Red Faber -- Hall of Famers.
Put simply, any club with an open spot on its 40-man roster is eligible to make a selection in the Rule 5 Draft. Teams pick in reverse order of record, while any player on an organization's 40-man roster are protected. To be eligible for selection, a player must either have spent four seasons in professional baseball after signing at age 19 or older, or spent five seasons in pro ball after signing at 18 or younger (as of June 5 of that year).
A team that makes a selection pays a player's previous team $100,000 and places the player on its 40-man roster, then must keep the player on the 25-man roster or injured list for the duration of the following season. If the acquiring team removes the player from the big league roster, it must offer him back to the former team for $50,000.
Technical jargon aside, the Rule 5 Draft has become a intriguing part of roster construction, while also providing some breakout players with the opportunity to prove themselves at the big league level.
Here's a look at each of the five former Rule 5 Draft picks remaining in this year's postseason field (asterisk indicates the player was a Rule 5 pick -- or acquired in a Draft-day trade -- by his current club), as well as a pair of players whose seasons ended in the American League Wild Card Game:
John Brebbia, RHP, Cardinals*
Brebbia's journey to the big leagues was improbable enough as a 30th-round pick by the Yankees in 2011, but those odds actually grew longer over the next half-decade. The right-hander was released by the Yanks following the '13 season and spent the next two years pitching in independent leagues. Brebbia was signed to a Minor League deal by the D-backs in September 2015, but was selected by the Cards in the Triple-A phase of the Rule 5 Draft that winter before ever playing a game with Arizona.
Despite the new opportunity, Brebbia's debut season in the Cards organization was a forgettable one. He posted a 4.06 ERA in 24 appearances with Double-A Springfield before getting a shot at Triple-A Memphis, where he struggled to a 6.23 ERA in 19 outings.
Brebbia, however, was an entirely different pitcher in 2017. After putting up a 1.69 ERA in his first 15 appearances at Memphis, he finally made his long-awaited MLB debut on May 28. There's been no looking back for Brebbia, who has been a mainstay in the St. Louis bullpen after recording a 2.44 ERA over 50 appearances in his rookie season. He had a 3.59 ERA this season, while racking up a career-high 87 strikeouts over 72 2/3 innings.
Ji-Man Choi, 1B, Rays
Choi began his professional career when he signed a Minor League deal with the Mariners in 2010. He made an immediate impact, earning Most Valuable Player honors in the Rookie-level Arizona League after hitting .378 with a 1.000 OPS and 10 stolen bases over 39 games. Choi, however, then missed the entire 2011 season due to a back injury.
After returning in 2012 and working his way through the organization, Choi seemed poised to make the big league roster when he arrived for Spring Training prior to the '15 season. That all changed when he sustained a fractured right fibula in the Mariners' Cactus League opener. He instead missed the majority of the '15 campaign before signing a Minor League deal with the Orioles following the season. Less than a month later, the Angels drafted him away from Baltimore in the Rule 5 Draft.
Choi made his big league debut with the Angels in 2016, but hit just .170 with a .611 OPS over 54 games before being designated for assignment. After passing through waivers unclaimed, Choi returned on a Minor League deal. He spent the rest of the season with Triple-A Salt Lake, where he hit .346 with five homers and 31 RBIs over 53 games.
Choi signed with the Yankees after the season, but again had trouble making an impact at the big league level. He entered free agency again following the 2017 season and ultimately signed with the Brewers before being traded to the Rays in June 2018. After flashing some potential in his debut season with the Rays, Choi clubbed 19 homers and drove in 63 runs in 2019. He has an .837 OPS in 176 games with Tampa Bay.
Marwin Gonzalez, UTIL, Twins
Prior to establishing himself as one of the more versatile sluggers in the Majors, González had to work just to get a shot in the big leagues. Though he signed with the Cubs at just 16 years old in 2005, González did not play a single game above Class A until '10. He earned a promotion to Triple-A Iowa in '11, where he hit .274 with a .701 OPS and only two home runs in 60 games.
Following the season, González was selected by the Red Sox in the Rule 5 Draft, but immediately flipped to the Astros in exchange for Minor League pitcher Marco Antonio Duarte. While Duarte is yet to appear in a big league game, González carved out a role as a utility player for the Astros for seven seasons. He played all over the diamond and had a breakout season in '17, when he hit .303 with 23 homers and 90 RBIs. González earned a share of AL MVP votes en route to helping Houston win a World Series title.
After another productive season in 2018, González signed a two-year deal with the Twins as a free agent last offseason. He hit 15 homers over 114 games with Minnesota, all while appearing in both corner outfield spots and all four infield positions.
Darren O'Day, RHP, Braves
O'Day's journey to finally joining the Braves' bullpen last month was, in many ways, reminiscent of his initial path to establishing himself as a formidable big league reliever more than a decade ago. After putting up a 4.57 ERA in his 2008 rookie season with the Angels, O'Day was selected by the Mets in the Rule 5 Draft during that ensuing offseason.
He made just four big league appearances with New York in 2009 before being designated for assignment. O'Day was promptly claimed off waivers by the Rangers, and the rest is history. He put up a 1.94 ERA over 64 appearances with Texas in '09, then followed it up with a 2.03 mark in 72 games one year later. Various injuries limited O'Day to just 16 appearances in '11, and he was claimed off waivers by the Orioles following the season.
He went on to post a 2.40 ERA over 391 appearances in seven seasons with Baltimore, before being traded to the Braves at last year's Deadline. Though O'Day had already undergone season-ending surgery to repair a strained left hamstring at the time of the deal, the Braves were hopeful he'd be ready for 2019. Instead, a right forearm strain sidelined O'Day for the first five months of the season before he finally made his Braves debut on Sept. 7.
Ender Inciarte, OF, Braves
Though he is out for the postseason with a quad injury, Inciarte deserves mention because he's been a big part of the Braves' rebuild the last few years.
After spending four years in the D-backs' farm system, Inciarte was selected by the Phillies in the 2012 Rule 5 Draft. Though he spent some time in a Phillies uniform at Spring Training the following year, he was returned to the D-backs organization at the start of the '13 season.
He hit .281 with 43 stolen bases at Double-A Mobile in '13, then began the following season at Triple-A Reno, where he continued to impress. Inciarte hit .312 with seven steals in his first 26 games to earn a big league callup. He went on to hit .278 with 19 stolen bases over 118 games and finished fifth in NL Rookie of the Year voting.
Inciarte was traded to the Braves, along with Dansby Swanson, in the Shelby Miller deal following the 2015 season. Inciarte won a Gold Glove Award in each of his first three seasons with Atlanta and earned his first career All-Star selection in '17.
Mark Canha, OF, Athletics*
Yes, the A's were eliminated in the AL Wild Card Game, but they are still worth mentioning, especially since their roster featured two Rule 5 picks.
Originally a seventh-round pick by the Marlins in the 2010 MLB Draft, Canha spent his first four years playing in the lower levels of Miami's organization. In '14, however, he made the jump to Triple-A New Orleans, where he hit .303 with 20 homers, 28 doubles and 82 RBIs. Canha was then selected by the Rockies in the 2014 Rule 5 Draft and immediately flipped to the Athletics in exchange for Minor League pitcher Austin House and cash considerations.
Canha had a mediocre debut season with the A's, hitting .254 with 16 home runs and 70 RBIs in 124 games. He was limited to only 16 games in 2016 after undergoing surgery to repair a left hip impingement, then bouned back and forth between Oakland and Triple-A the next year before settling into a consistent role with the A's over the last two seasons. Canha clubbed a career-high 26 homers this season, while also posting career highs in batting average (.273), on-base percentage (.396) and slugging (.517). Canha also had a 145 OPS+ this season, ranking fifth in the AL among players with at least 450 plate appearances, behind only Mike Trout, Nelson Cruz, Alex Bregman and George Springer.
Joakim Soria, RHP, Athletics
Soria was drafted away from the Padres by the Royals in the 2006 Rule 5 Draft and immediately established himself as one of the game's top relievers the following season. The right-hander posted a 2.48 ERA and 17 saves over 69 innings en route to earning a share of '07 AL Rookie of the Year votes. He was even better in his sophomore campaign, recording a microscopic 1.60 ERA over 67 1/3 innings, all while earning his first career All-Star selection.
Soria racked up a 2.01 ERA and 132 saves over his first four big league seasons and even earned some Cy Young and Most Valuable Player Award votes in 2010 before struggling throughout the '11 campaign. He underwent Tommy John surgery in April 2012 and ultimately entered free agency following the '12 season.
Soria has since pitched for seven teams over the last seven seasons, including a return to Kansas City from 2016-17. He's been traded four times during that span, including three times to a contender at the Trade Deadline ('14, '15 and '18). After helping the Brewers make a run to the NL Championship Series last season, Soria signed with the A's, for whom he made 71 appearances en route to a Wild Card berth.