Howard starts making up for lost time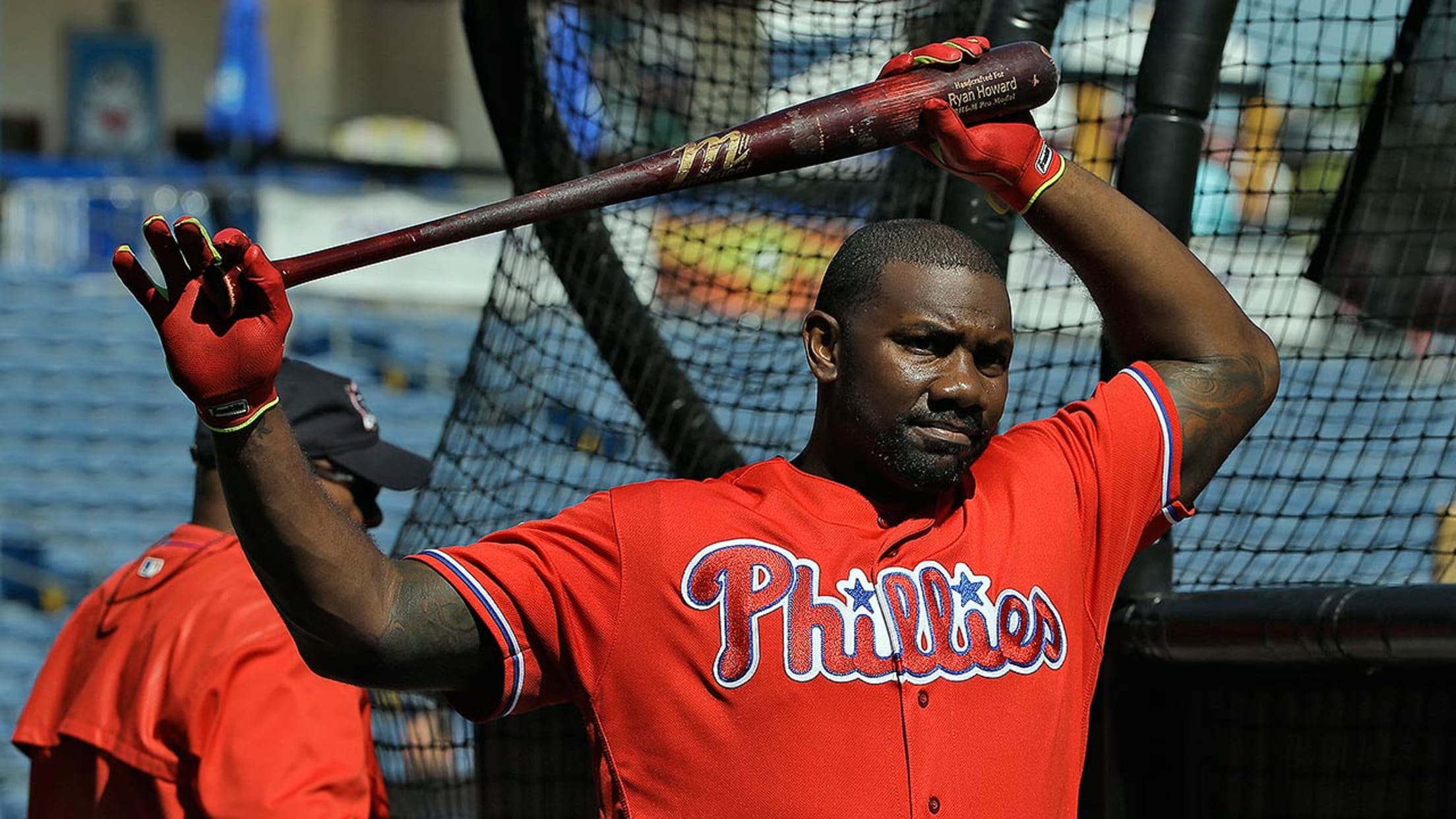 Ryan Howard will get extra Grapefruit League at-bats over the final three weeks of Spring Training. (AP)
LAKE BUENA VISTA, Fla. -- Phillies manager Pete Mackanin said Ryan Howard, who returned to the lineup Friday in a 9-2 win over a split-squad Braves club after missing a week of Grapefruit League action, will have a heavier-than-normal workload during the final three weeks of Spring Training to make
LAKE BUENA VISTA, Fla. -- Phillies manager Pete Mackanin said Ryan Howard, who returned to the lineup Friday in a 9-2 win over a split-squad Braves club after missing a week of Grapefruit League action, will have a heavier-than-normal workload during the final three weeks of Spring Training to make up for the time he's missed.
"I told him, 'You should not take batting practice all year,'" said Mackanin. "He hadn't had an at-bat in a week, and that's as good as he's looked in awhile. So I'm real happy about that.
"I'd like to play him tomorrow at first base to try to catch up. He swung the bat real well."
Howard started at designated hitter against the Braves at Champion Stadium and had a two-run double off Braves starter Kyle Kendrick in the first. In the second, Howard lined out to right and in the seventh he flied out to the base of the wall in left-center.
"We've got to get him as many at-bats as we can," said Mackanin. "And if and when Cody Asche is able to come back [from a strained oblique] in the spring, we've got to try to do the same thing with him. It remains to be seen when he'll be back. But Howie's here and we're just going to run him out there."
Howard had been sidelined with the flu bug that has been making the rounds of the Phillies' clubhouse. When Howard was feeling better, he was interviewed by Major League Baseball regarding an Al Jazeera documentary which claimed that he -- along with Nationals first baseman Ryan Zimmerman, Broncos quarterback Peyton Manning and others -- had used performance-enhancing substances.
Howard has vigorously denied the allegation and is suing Al Jazeera. MLB's involvement does not mean there's a presumption of guilt. All allegations are routinely investigated.
But playing time is more important than usual for Howard this spring. Mackanin has suggested that the 2006 National League Most Valuable Player needs to prove he can hit left-handers this spring or he might find himself in a platoon at first base with Darin Ruf.
That's one reason Howard made the hour-and-a-half trek to Disney on Friday, a bus trip established veterans are often allowed to skip. Instead, Howard volunteered to be on the travel squad.
"I have to get him back in the swing of things," said Mackanin. "So I'm going to play him as much as I can to get him ready. I'm going to try to get him as many at-bats as I can, right or left. He just needs to get at-bats."
Paul Hagen is a reporter for MLB.com.