McMahon eyes starting job after adjustments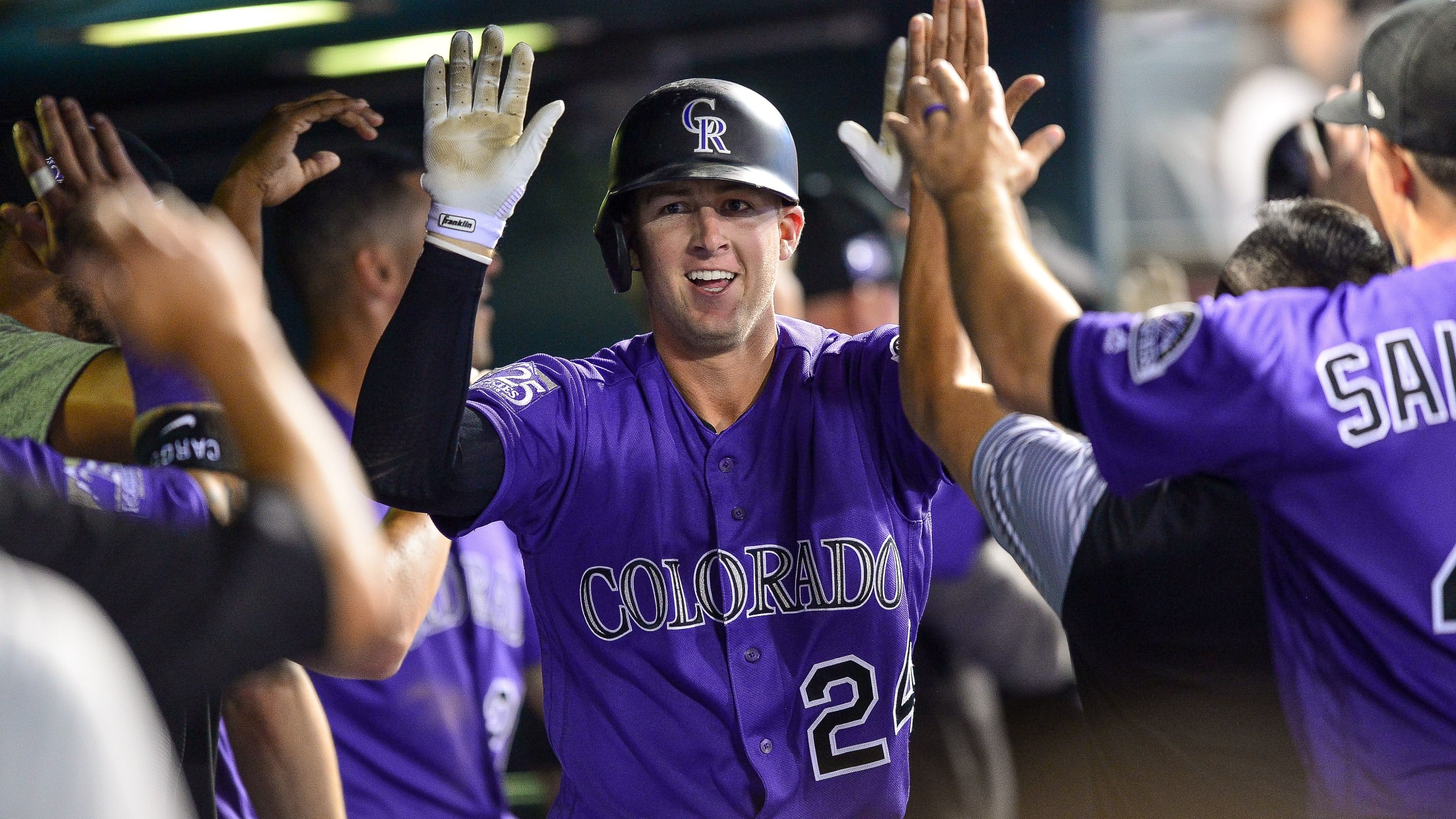 DENVER, CO - AUGUST 10: Ryan McMahon #24 of the Colorado Rockies celebrates in the dugout after a seventh inning go-ahead two-run homerun against the Los Angeles Dodgers at Coors Field on August 10, 2018 in Denver, Colorado. (Photo by Dustin Bradford/Getty Images) (Dustin Bradford/Getty Images)
DENVER -- Ryan McMahon ended his rookie season by squaring up a 96.1 mph fastball from Brewers reliever Corbin Burnes for a line-drive out in the frustrating 6-0 loss in Game 3 of the National League Division Series that ended the Rockies' season. But it didn't end McMahon's dreams, or
DENVER -- Ryan McMahon ended his rookie season by squaring up a 96.1 mph fastball from Brewers reliever Corbin Burnes for a line-drive out in the frustrating 6-0 loss in Game 3 of the National League Division Series that ended the Rockies' season. But it didn't end McMahon's dreams, or Colorado's dreams for him.
"It definitely makes you leave here hungry, that's for sure," McMahon said.
If McMahon can build on a season of development, he could end up with a seat at the table when the Rockies divvy up the 2019 playing time.
McMahon, who turns 24 on Dec. 14, went through a rough first month and two options to Triple-A Albuquerque before making his mark mostly as a bench bat with the Rockies. He finished with a .232 batting average, five home runs -- three of them difference-makers -- and 19 RBIs in 91 games. Now McMahon has a chance to embody the positional versatility that the Rockies have been working toward under general manager Jeff Bridich and senior director of player development Zach Wilson.
Drafted in 2013 as a third baseman, McMahon has learned first and second base. The Rockies' lineup potentially offers a couple opportunities. There is first base, should Ian Desmond slide into the outfield on an occasional or regular basis. With DJ LeMahieu headed for free agency, McMahon and right-handed-hitting Garrett Hampson could compete or share time at second base. Hampson also is versatile enough to play third, short and center field.
McMahon played far more Major League games at first base (31) than second (10), but some of the time in the Minors was used to improve skills at second.
"We've been preparing Ryan for a number of different scenarios," Wilson said. "One of those was preparing to play second base, and he made good use of that development. We believe he can play it on a consistent basis."
McMahon is not being rigid about his preparation.
"I haven't been given much information as far as that goes, so I'm going to stay ready at all positions," McMahon said. "I think I've done a good job balancing it out, and I don't mind staying an extra 30 minutes in the offseason to make sure I'm ready at all three."
If McMahon's hitting improves, he'll be on the field somewhere.
McMahon earned an Opening Day roster spot in 2018, but the situation wasn't ideal.
His Spring Training was solid (.319 .365 on-base percentage, .522 slugging percentage), but not the bang-up spring that warranted a starting job, a la shortstop Trevor Story in 2016 -- especially on a veteran team expecting to contend. Playing time was sporadic, and he hadn't built the inventory of at-bats necessary for confident hitting off the bench.
Early, McMahon struggled with the fastball, which, according to Statcast™, he hit at a .138 clip before being sent to Albuquerque on May 1. A key assignment during his stints in Albuquerque was to be in better position to swing on every pitch, which helped against the fastball. After the All-Star break, Statcast™ showed improvement -- 10-for-27 on pitches 94 mph and above.
Four of McMahon's homers, including his first two game-changers -- for two runs and the lead in a 9-8 victory over the Mets on June 20, and for two runs and the lead in a 5-4 victory over the Dodgers on Aug. 10 -- were on off-speed pitches. His most-pleasing swing, in the Rockies' eyes, was his three-run walk-off to right field on a 95.2 mph heater from the Dodgers' JT Chargois on Aug. 12.
"For Mac to get on that fastball and pull it into the seats, that's something we've talked about," Rockies manager Bud Black said after that game. "Is it going to happen all the time? No. But he has talent, and he has ability to do that. He's growing. His career is underway."
But the job isn't finished.
As McMahon's spray chart shows, he pulled few of his hits, meaning he went with some pitches or was late at times. On-time swings could mean more pull shots, and improvement on his 7.7-degree average launch angle. Teammate David Dahl, of similar size and swing, averaged 14.4 degrees.

The regular Triple-A playing time helped McMahon became a weapon off the bench. Against relief pitchers, he produced a .288/.368/.510 slash line. It was a different story against starters -- .156/.224/.195.
"It's a process with all young players," Black said. "It's rare that you just come up and have a seamless transition to being a big league player. Each day in the big leagues is a learning experience."
The rough start and some of the less-than-dreamy numbers didn't spoil McMahon's first Major League experience.
"I didn't really take all that to heart -- I wasn't playing a lot, wasn't getting consistent at-bats," McMahon said. "I was just going up there trying to battle. We'll see when I'm playing a little bit more consistently."