Kazmir can help ease Dodgers' doubts
Lefty crucial for diminished rotation, gets in sync with Grandal in 'B' game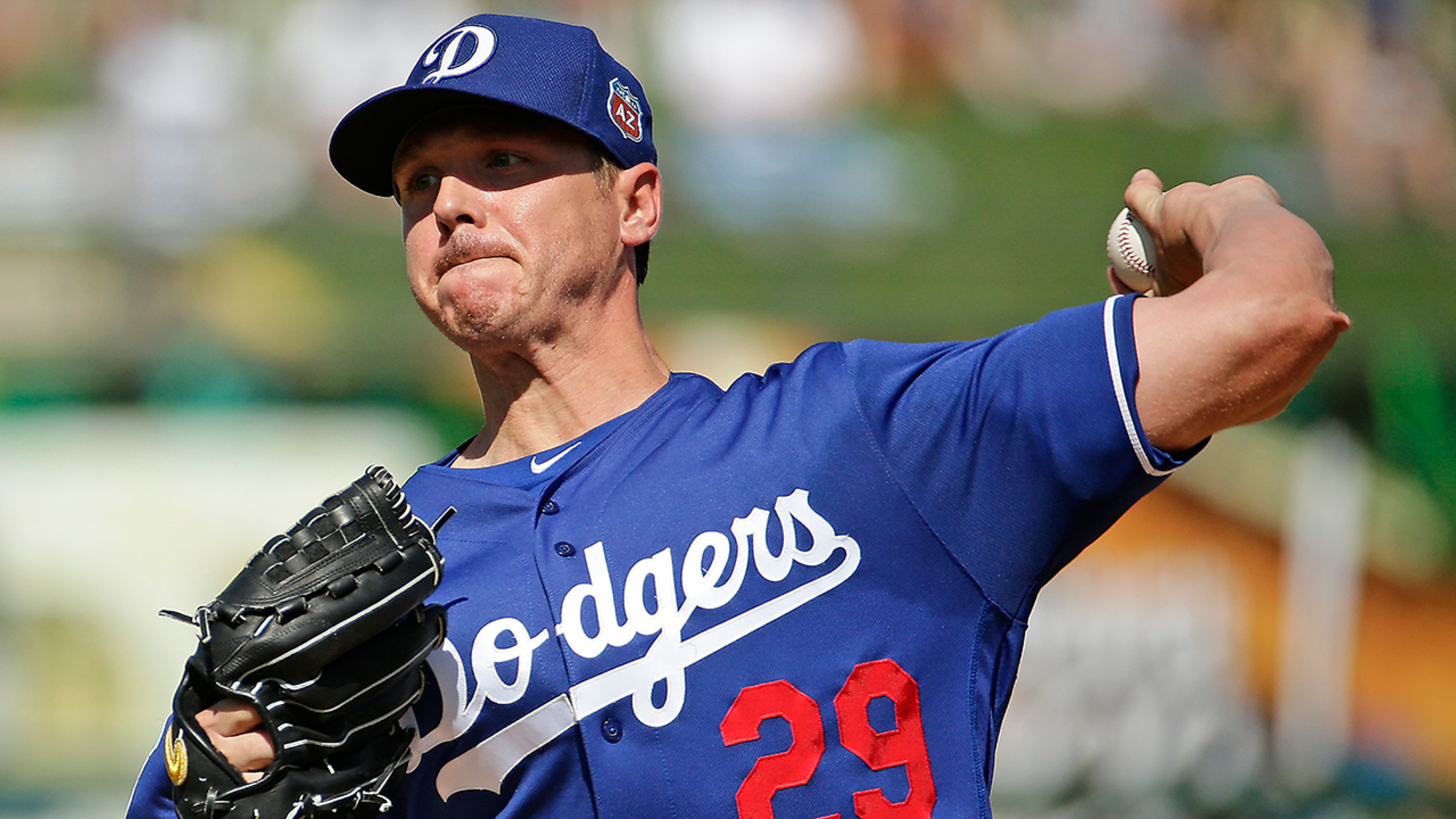 With a lot of pitching talent expected to spend time on the DL, the Dodgers will be counting on Scott Kazmir. (AP)
GLENDALE, Ariz. -- Maybe the Los Angeles Dodgers can recover from the epidemic of injuries that has struck candidates for their starting rotation.But can they recover from the combination of all those injuries and the departure of Zack Greinke? That's a tougher call.Against this backdrop, the Dodgers received one piece
GLENDALE, Ariz. -- Maybe the Los Angeles Dodgers can recover from the epidemic of injuries that has struck candidates for their starting rotation.
But can they recover from the combination of all those injuries and the departure of Zack Greinke? That's a tougher call.
Against this backdrop, the Dodgers received one piece of good pitching news on Monday. Mike Bolsinger, a rotation candidate, pitched four shutout innings in a victory over the Brewers. Scott Kazmir, who had given up seven runs in 3 2/3 innings in his first two Cactus League starts, made marginal progress in a "B" game on the White Sox side of the Camelback Ranch complex.
Pitching against a lineup of White Sox hitters who were predominantly Minor Leaguers, Kazmir's beginning was not promising. In the first two "innings," he threw 33 pitches while retiring only two batters and giving up two runs. The innings were rolled over, although only one White Sox batter had been retired in each inning.
But over the last three innings, each of which contained the regulation three outs, Kazmir allowed no hits and retired the last seven batters he faced. What happened?
"The first two innings didn't go well," Kazmir said. "We were working on some stuff, trying some stuff out. And by the time we got to the third inning, it really clicked, and I had a good rhythm out there, had some quality innings."
Part of what went on was Kazmir building a working relationship with catcher Yasmani Grandal.
"I was working on a couple of pitches, but we were just trying to get that catcher-pitcher relationship down to where we were in sync," Kazmir said. "There were some little things we were trying out in the first couple of innings that kind of made it a little more difficult. We changed it a little bit, got to the third, fourth inning, we were just -- right there -- thinking with each other.
"That's what Spring Training is about, to have that relationship to where he knows what I'm thinking and I know what he's thinking. It's at that point where we're just playing off each other, having a good rhythm together."
After throwing 33 pitches to get two outs, Kazmir needed just 33 more to get nine outs over his last three innings of work. He threw 66 pitches, 44 for strikes.
"I threw pretty much everything," Kazmir said. "Threw some curveballs early [in the count] and got them for strikes, and the changeup was working for me. All in all, it was a productive day."
Kazmir's outing was observed intently by Dodgers manager Dave Roberts.
"Kaz is a little frustrated," Roberts said. "His fastball command wasn't there. He threw some good changeups, he got his work in, got his pitch count up. But I think that where he wanted to be as far as getting the fastball down, it was elevated. He was a little frustrated, but he's got something that I know in his next [bullpen session] he's going to focus on.
"It's the middle of spring, but for a guy like that, I'm not too concerned."
Kazmir received a three-year, $48 million contract from the Dodgers, but the pressure here is not in the financial realm. The Dodgers simply need healthy, capable starters behind ace Clayton Kershaw.
At this point, Kazmir appears to be the Dodgers' No. 2 starter, followed by Kenta Maeda, and some combination of Alex Wood, Brandon Beachy and Bolsinger.
If every legitimate candidate for this rotation were healthy, the Dodgers would have tremendous depth. But this is where the litany of pain enters the starting-pitcher picture.
Brett Anderson needed back surgery and he will be out until at least midseason, possibly longer. Brandon McCarthy is coming back from Tommy John surgery, and he will probably return in June. Hyun-Jin Ryu had shoulder surgery. "I'd like to come back in May," Ryu said Monday through an interpreter.
Wood has what appears to be a minor forearm injury. Beachy is coming back from his second Tommy John surgery, but he has pitched well this spring. Maeda, in his first season of North American baseball, has pitched well early in the Cactus League season, but his physical revealed an irregularity in his throwing elbow.
Top pitching prospectJulio Urias had a slight groin injury. Frankie Montas, obtained in a trade from White Sox, had a broken rib, but he could be of assistance later in the season.
Taken together, there is a ton of talent here. But due to injuries, not all of it is available. The Dodgers will need the pitchers who can pitch to pitch up to their capabilities. Compensating for the free-agent departure of one of the two best pitchers in the game last year is not an easy task.
Mike Bauman is a national columnist for MLB.com.