Injury updates: Doolittle, Elias, Zimmerman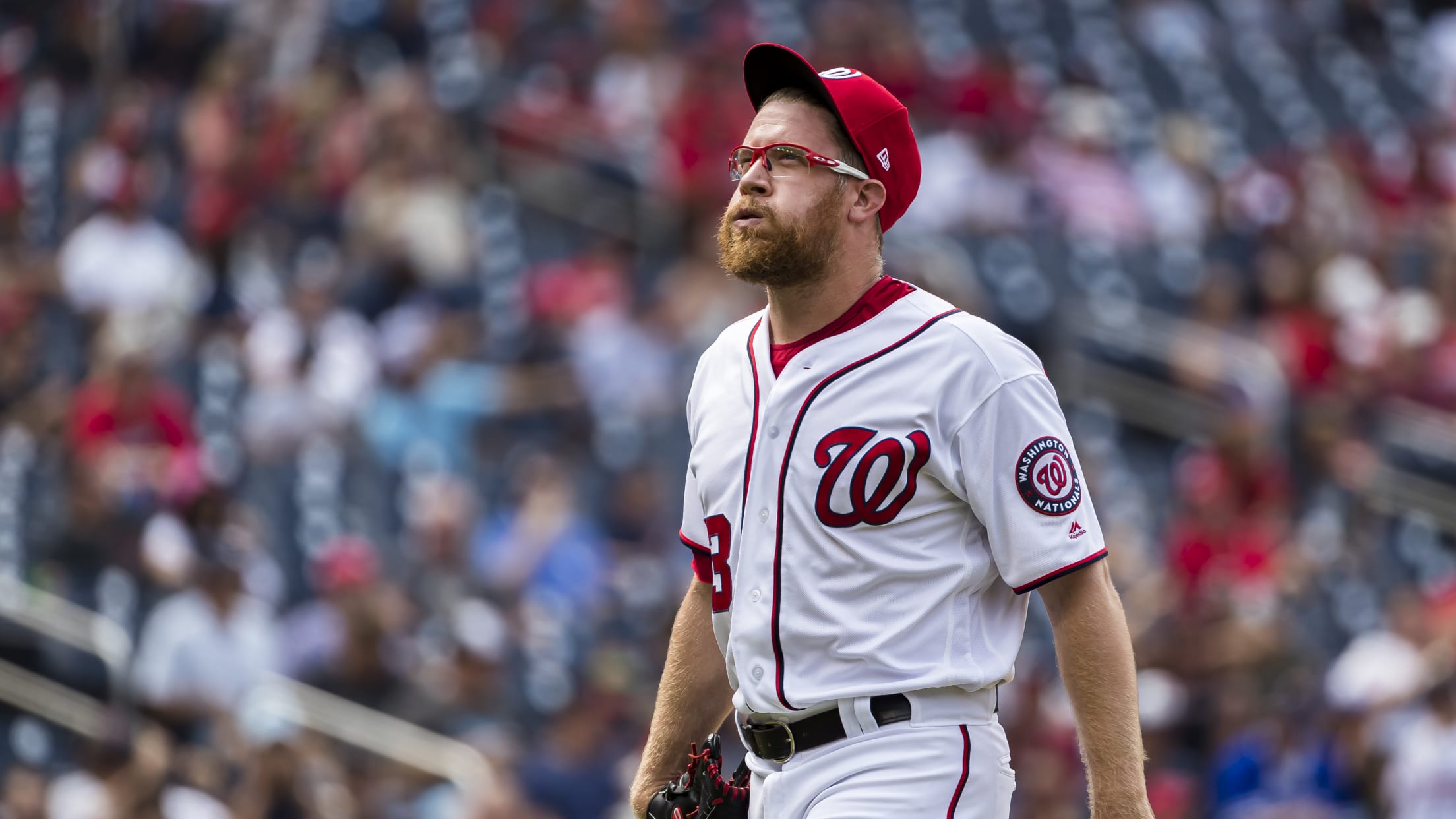 WASHINGTON -- The Nationals have a trio of reinforcements on the way, all of whom could be ready to come off the injured list and join the team as soon as this weekend's three-game series against the Marlins. Left-handers Sean Doolittle and Roenis Elias both completed a simulated game Wednesday
WASHINGTON -- The Nationals have a trio of reinforcements on the way, all of whom could be ready to come off the injured list and join the team as soon as this weekend's three-game series against the Marlins.
Left-handers Sean Doolittle and Roenis Elias both completed a simulated game Wednesday afternoon at Nationals Park which, barring any setbacks, should be their final hurdle before they are ready to return. And Ryan Zimmerman will play in a Minor League rehab game at Double-A Harrisburg on Wednesday. With a scheduled day off on Thursday, Zimmerman could also be ready to join the Nats this weekend.
To avoid a roster crunch for their imminent returns, the Nationals could wait until rosters expand on Sunday, but it sounds like each player could be prepared to return much sooner than that.
Doolittle threw 16 pitches during Wednesday's simulated game -- facing Gerardo Parra and Spencer Kieboom -- and told manager Dave Martinez he felt great. Martinez was hesitant to reveal the next steps for Doolittle, who landed on the IL after a heavy workload activated some right knee tendinitis, wanting to wait and see how he feels on Thursday before the Nationals make a decision regarding the lefty's return.
"This is going to be based on a conversation with Doo," Martinez said. "We've been talking a lot, like we always have, but I want to make sure that physically, mentally, that he's good and ready to go. If we have to do something different for him, all options are open."
Elias felt great after his performance Wednesday, which Martinez said should be the final box to check before Elias returns from a right hamstring injury that he suffered during an at-bat in his lone appearance with the Nationals on Aug. 2.
Taking the ailment in stride, Elias joked about the possibility of swinging the bat in his next potential plate appearance.
"That's prohibited for me anymore," Elias said. "If they want to throw three straight fastballs down the middle, go ahead."
The Nationals have struggled to find reliable left-handed relief options in Elias' absence, leaning on lefty Matt Grace and his 6.36 ERA as their only southpaw, although reliever Wander Suero has been asked to match up with difficult left-handed hitters.
"Obviously it's been frustrating," Elias said through an interpreter. "I've been pitching all year, and to have an injury like this come up … especially knowing that there's been a lot of possibilities in games where I should've been pitching and helping the team win, it's been very frustrating for me. But there's nothing I can do about it now, just try to get back on the field as quickly as possible."
And then there is Zimmerman, on the injured list with his second bout of plantar fasciitis, one that has limited him to 33 games this season. He has already played in seven Minor League games in his latest rehab stint, hitting 6-for-20 (.300) with five walks and a pair of doubles. The Nationals are without a true right-handed first baseman at the moment -- Asdrubal Cabrera is making his second career start there Wednesday -- so Zimmerman's return could add an extra bat to the Nats' offense.
Garcia headlines Nats' AFL invitees
Infielder Luis Garcia, the Nationals' second-ranked prospect and No. 77 overall per MLB Pipeline, has been named to the Arizona Fall League roster, headlining a list of eight Nats players selected. Garcia, 19, has posted a slash line of .253/.277/.329 in 123 games at Harrisburg this season.
Garcia will be joined by right-handers Sterling Sharp (the Nationals' No. 13 prospect), Jacob Condra-Bogan, Andrew Lee, left-hander Nick Raquet (No. 29), catcher Jakson Reetz and outfielders Nick Banks and Cole Freeman (No. 26).
Worth noting
Matt Adams is out of the Nats' lineup for Wednesday's game against the Orioles at Nationals Park as he deals with a knee contusion after getting hit with an errant pitch on Tuesday against the O's. Martinez hoped Adams would be available to pinch-hit later in the game.