Several Nats honor loved ones with tattoos
Getting inked up reminds players the importance of family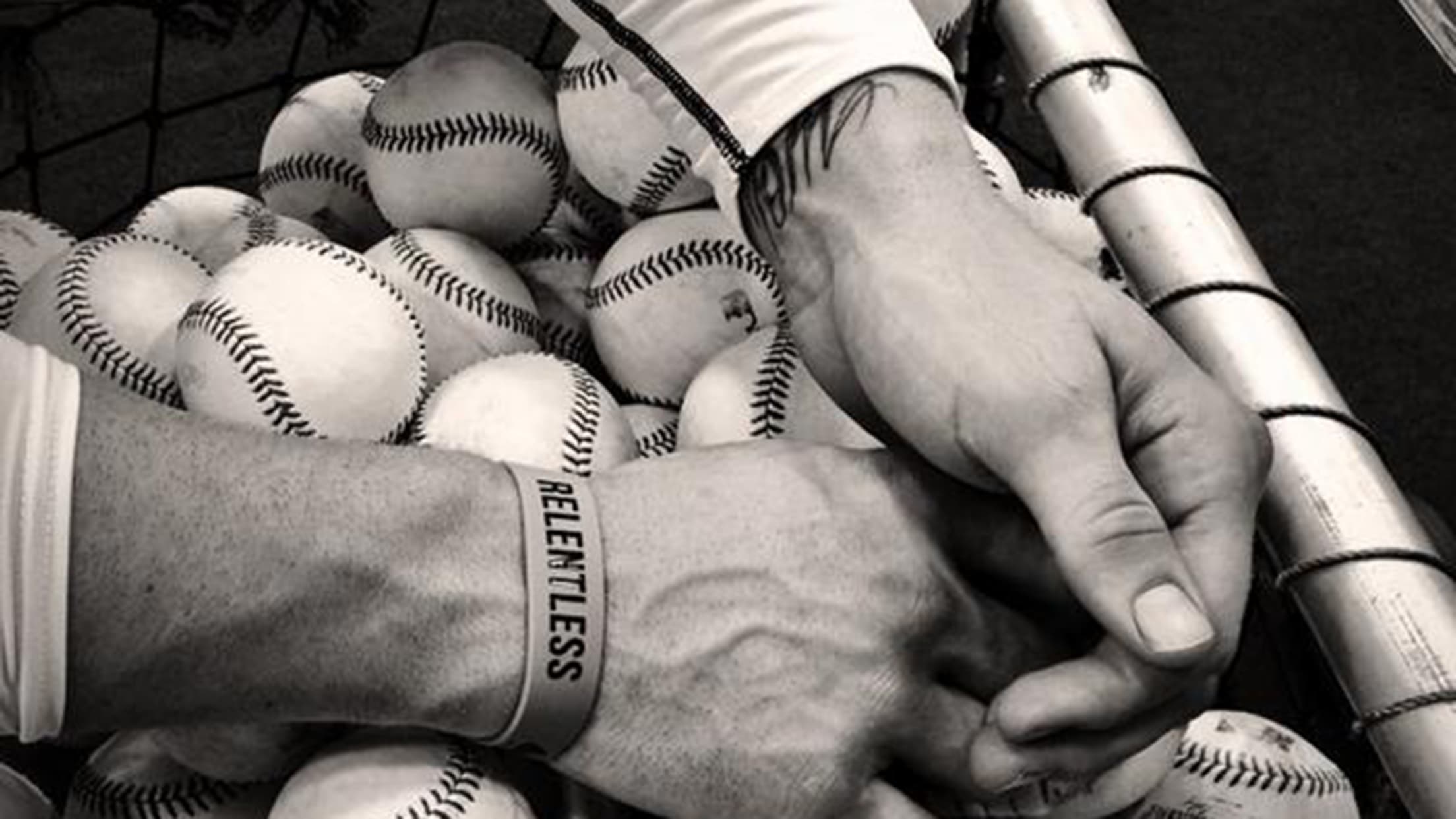 WASHINGTON -- Adam Eaton sat at his locker in Nationals Park's home clubhouse wearing a red tank top with a picture of Bryce Harper on the front, preparing for an August game against the Marlins after a late arrival from a seven-game road trip the night before.Eaton's sleeveless shirt made
WASHINGTON -- Adam Eaton sat at his locker in Nationals Park's home clubhouse wearing a red tank top with a picture of Bryce Harper on the front, preparing for an August game against the Marlins after a late arrival from a seven-game road trip the night before.
Eaton's sleeveless shirt made the black tree that's tattooed from his right elbow to the top of his right shoulder stand out when he was asked how often he sees his children.
"Not enough," Eaton sighed.
When the Nationals acquired Eaton from the White Sox in 2016, Eaton's family moved to Washington. Between a 162-game season and Spring Training, though, Eaton said he sees Brayden, his 2-year-old son, and Maverick, who was born in May, about 13 days every month.
Eaton missed some of Brayden's first words and Maverick rolling over for the first time. The 29-year-old wanted to remind himself of his kids, especially while traveling. So, during Spring Training in West Palm Beach, Fla., this year, Eaton got a tattoo on his right arm of a tree, which symbolizes a family tree.
Eaton is just one of a group of Nationals players who honor their families with tattoos, partly because of how often they're away from their loved ones.
"As a human you may have core values, but we always forget without writing it down or seeing it everyday," Eaton said. "To have a constant reminder everyday that family's important is the main reason why I got it."
Howie Kendrick received his first tattoo about 10 years ago, wanting to recognize his wife, Jody, by having their wedding date: "1/6/2007," on his right arm. Kendrick, who at the time played for the Angels, felt closer to Jody by looking at his arm, so Kendrick wanted more. Kendrick still wasn't satisfied after adding tattoos of his sons' initials, "OK" and "TK," to reminisce on Owen and Tyson.
Hummingbirds often flew around Kendrick's family home in Jackson, Fla., when he was growing up. Kendrick acquired a hummingbird tattoo on his neck and ribs to remember his grandmother, who he lived with.
"It's a form of expression. It's who you are," said Kendrick, who now has ink on almost every inch of his body. "Most guys will say, 'Oh, I got this because of this,' or you'll get them in memory of someone."
Since moving from the Dominican Republic in 2012 to play in Washington's Minor League system, Jefry Rodriguez has talked to his mom Marisa almost everyday over the phone, but the right-hander can't visit her during the season. So, Rodriguez got "Marisa" tattooed on his left wrist. Harper also has wrist tattoos, with his his right wrist stating "Pops" and left reading "Mom" in cursive.

Less than two months after Ryan Madson and his wife Sarah had twin boys in 2006, Madson left for Spring Training with the Phillies in Clearwater, Fla. All Madson could think about that spring was his children, so the right-hander went to a local parlor to get tattoos of his sons' names.
The outside of Madson's right leg reads "Luke Ryan," and the outside of his left leg states "Sean Michael." Both names feature a flower border. Since then, Madson got his third kid's name, "Ella" tattooed on his chest.
"I just wanted them to be with me all the time," Madson said.
Madson and his teammates aren't done with tattoos.
Madson now has two other children, and they nag him about when he's getting tattoos of their names. Kendrick's mother-in-law, who loves sunflowers, was diagnosed with early onset dementia at age 60. So, Kendrick said he's getting a sunflower tattoo on his neck.
Soon, Eaton said he'll have his children's footprints tattooed to the trunk of the tree on his arm.
"We get paid really well," Eaton said. "It's a great gig and everything like that, but we do make a sacrifice for our families."
After the Nationals' win over the Phillies on Wednesday night, Eaton's children visited Washington's clubhouse. When Eaton's kids left with their mother, Brayden yelled for Eaton to join them.
But Eaton had to shower, eat and prep for Thursday's afternoon game before he could return home, where his children would be asleep. Moments like those are when Eaton is grateful he can glance toward his tattoo anytime for comfort.