Sitting out Day 1, Cubs ready for third round
Pitching should be available when No. 104 pick comes up Friday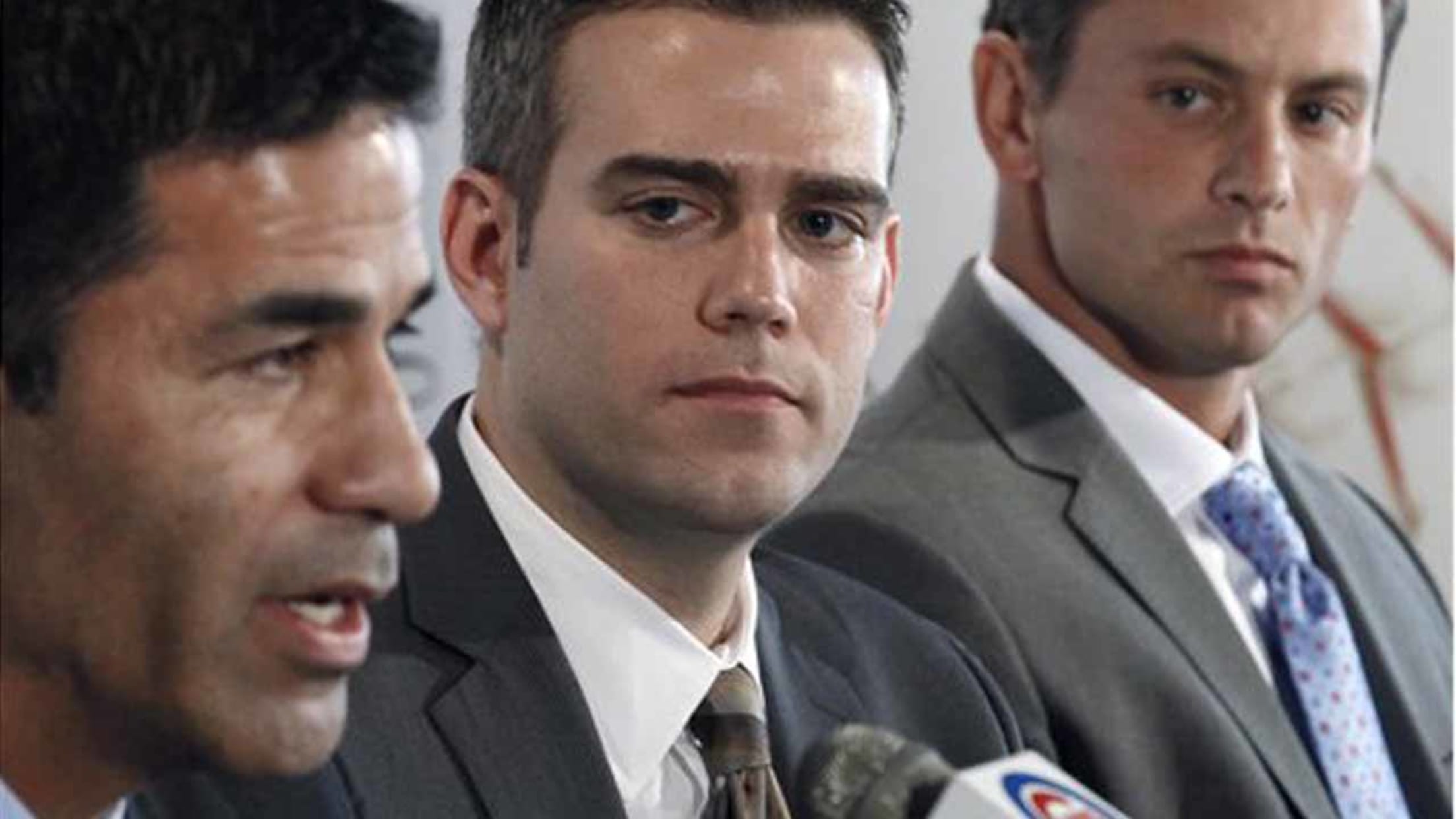 Cubs director of scouting and player development Jason McLeod, left, finally will be on the clock Friday when Chicago makes its first pick of the 2016 MLB Draft at No. 104 overall. (AP Photo) (Charles Rex Arbogast/AP)
The first two rounds of the MLB Draft came and went Thursday evening without a single Cubs selection, the byproduct of two offseason free-agent signings.The scenario in which the Cubs now find themselves -- atop the National League and attracting top free agents -- is a testament to the process
The first two rounds of the MLB Draft came and went Thursday evening without a single Cubs selection, the byproduct of two offseason free-agent signings.
The scenario in which the Cubs now find themselves -- atop the National League and attracting top free agents -- is a testament to the process that has gotten them here. And make no mistake: The Draft has played a big role in that.
The Cubs weren't in position this year to draft high-profile impact bats such as Kris Bryant (2013) and Kyle Schwarber (2014) after surrendering their first- and second-round picks with the signings of Jason Heyward and John Lackey, both of whom received qualifying offers from the Cardinals. But that doesn't mean Cubs scouting and player development director Jason McLeod and his staff aren't looking forward to finally seeing their hard work begin to pay off Friday.
:: Complete 2016 Draft coverage ::
The Draft continues on Friday with Rounds 3-10. The MLB.com preview show begins at 11:30 p.m. CT, with exclusive coverage of Rounds 3-10 beginning at noon CT.
"It's still our Super Bowl," McLeod said. "We talk a lot about [ninth-round pick] Jacob deGrom, and those guys are out there. It's our challenge to go get those guys. There's going to be a No. 1 or No. 2 starting pitcher, if not multiple, coming from where we pick through the 10th round. Those guys are there. We have to go out and find who they are and make sure we develop them correctly."
There still will be a wait for McLeod and Co. on Friday. The Cubs' first selection doesn't come until No. 104, the 27th pick of the session. It's hard to predict which players still will be around, but here's a quick look at three intriguing arms that remain on the board:
• RHP Kyle Funkhouser, Louisville (No. 58 per MLB Pipeline)
Funkhouser was projected to be a top 10 pick last year, fell to No. 35 overall and opted to return to Louisville for his senior season. He was 9-3 with a 3.86 ERA in 16 games (15 starts), striking out 95 batters in 93 1/3 innings. He's struggled with command at times (47 walks), but the talent is there and he no longer has college as a fallback option.
• LHP Matt Krook, Oregon (No. 92)
Krook was picked No. 35 overall by the Marlins in 2013, went to Oregon after a disagreement over his physical and needed Tommy John surgery after eight starts as a freshman. He missed all of 2015, and struggled to a 5.03 ERA in 15 appearances (13 starts) this season. But he has the stuff (low-90s fastball and power breaking ball) and frame (6-foot-3, 205 pounds) that could interest many teams.
• RHP Kyle Cody, Kentucky (No. 152)
The 6-foot-7, 245-pound Cody started the Cape Cod League all-star game in 2014 and failed to sign with the Twins last season. His fastball sits 92-95 mph, hitting 98, and he has a solid slider. He was 6-2 with a 3.35 ERA in 15 starts as a senior.
The Cubs find themselves in another unique position this year financially.
Under the Collective Bargaining Agreement, each pick in the top 10 rounds comes with an assigned value, and the total for each team's choices covers what it can spend without penalty in those rounds. Any bonus money in excess of $100,000 given to an individual player selected in rounds 11-40 also counts against a team's bonus pool.
With two picks surrendered, the Cubs have the lowest bonus pool at $2,245,100. The assigned value for the Cubs' 104th pick is $573,900.
It's yet another wrinkle in an interesting 2016 Draft that McLeod and the Cubs finally get to participate in Friday.
"It's a challenge for us this year because we have the lowest pool money," McLeod said. "It's our mindset, it makes it fun, it makes it challenging. Believe me, we're ultra-competitive. We want to beat every team rounds three through 10, that's how we look at this."