For Gray, new season is fresh start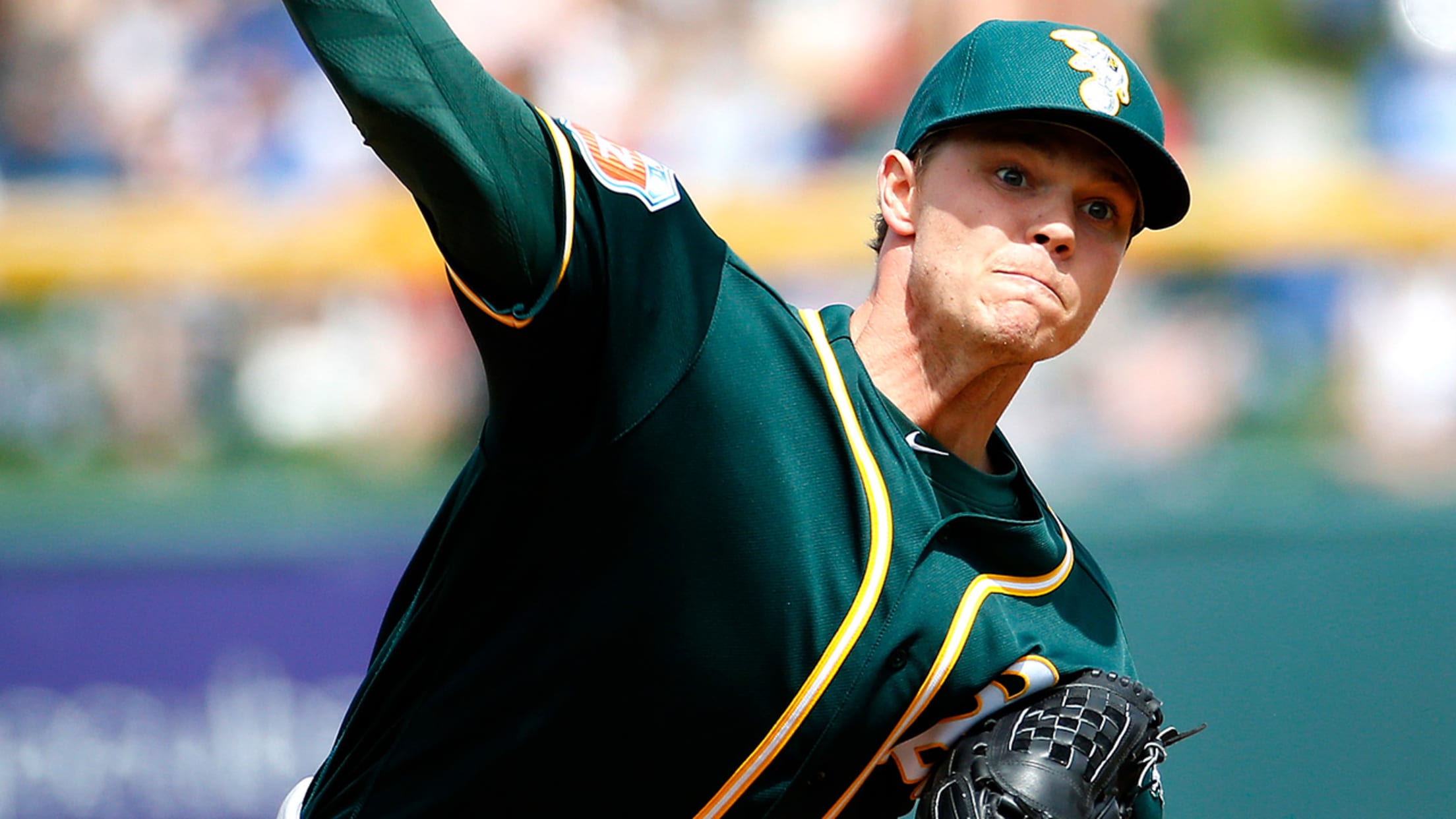 Sonny Gray pitched two scoreless innings and struck out four Wednesday vs. S.D. (AP)
PEORIA, Ariz. -- A healthy Sonny Gray took the mound against the Padres in a Cactus League game Wednesday afternoon and unleashed strikes with ease.Oakland's ace counted off 19, to be exact, in 27 tries, and looked very comfortable on the mound, striking out four over two scoreless innings in
PEORIA, Ariz. -- A healthy Sonny Gray took the mound against the Padres in a Cactus League game Wednesday afternoon and unleashed strikes with ease.
Oakland's ace counted off 19, to be exact, in 27 tries, and looked very comfortable on the mound, striking out four over two scoreless innings in a 5-0 San Diego win. Typically, this wouldn't draw the type of attention it necessitated, except Gray's 2016 season was anything but typical.
Gray, who in 2014 finished third in American League Cy Young Award voting, stumbled to a 5.69 ERA in 22 starts and also succumbed to two disabled list trips last year -- the well-documented woes adding intrigue to an otherwise ho-hum Spring Training game.
"He's come here on a mission this year," A's manager Bob Melvin said. "I think for a lot of reasons there were some issues last year, but a healthy Sonny Gray is going to pitch well. [Today is] the type of stuff that we're used to seeing."
The right-hander was touched for a hard-hit leadoff double off the bat of Travis Jankowski before setting down each of his final six batters while showcasing the kind of compact delivery he's been striving for since losing grasp of his mechanics ever so slightly last season.
"You're putting yourself in a little bit of a hole early, first hitter of the game," said Gray, who last year was often bit by the big inning that got away from him. "But to be able to settle back in and stay under control, stay calm, stay collected, keep the game slow, that was the plan coming in, and walking away, I felt we executed it pretty well."
Batterymate Bruce Maxwell had caught Gray just one other time in a game setting -- last Sept. 28, when Gray was limited to one inning in his return from the disabled list -- and came away greatly impressed by the pitcher's game handling.
"The leadoff double, we were going in there, just left the ball a little up," Maxwell said. "So we battled it out after that and then got together at the end of that inning, and he reiterated where he actually wanted that pitch and where my target was, and the next inning we threw the exact same pitch in the same sequence and it was down and we got a strikeout."
"Just being able to talk to him and know what he wants to do … it's good to have a pitcher on the mound who is really honed in to what he does best."
Gray saved his slider for a later date but threw all of his other pitches, flashing an especially sharp curveball and with good movement on his fastball to induce a slew of silly swings.
"To get in the game, it's a different feeling," Gray said. "Being able to take the work we started last year while I was on the DL … it's been a long process. But I'm excited to feel good and be back out there and compete."
Gray was originally committed to play for Team USA in the second round of the World Baseball Classic, until it was revealed last week he was denied insurance coverage because of his DL time last year.
"It's a very unfortunate thing," Gray said, "and as much as I would've loved to participate in that, I'm very happy to be here and take the mound for the A's."
"Seeing him going back out there and dominate like the old Sonny," Maxwell said, "I felt like everybody was rallied up a little around that, including himself."
Jane Lee has covered the A's for MLB.com since 2010. Follow her on Twitter @JaneMLB.