Gonsalves, Giolito among top prospect performers Wednesday
Twins' No. 4 fires six scoreless; Nationals' top prospect fans 10 in strong outing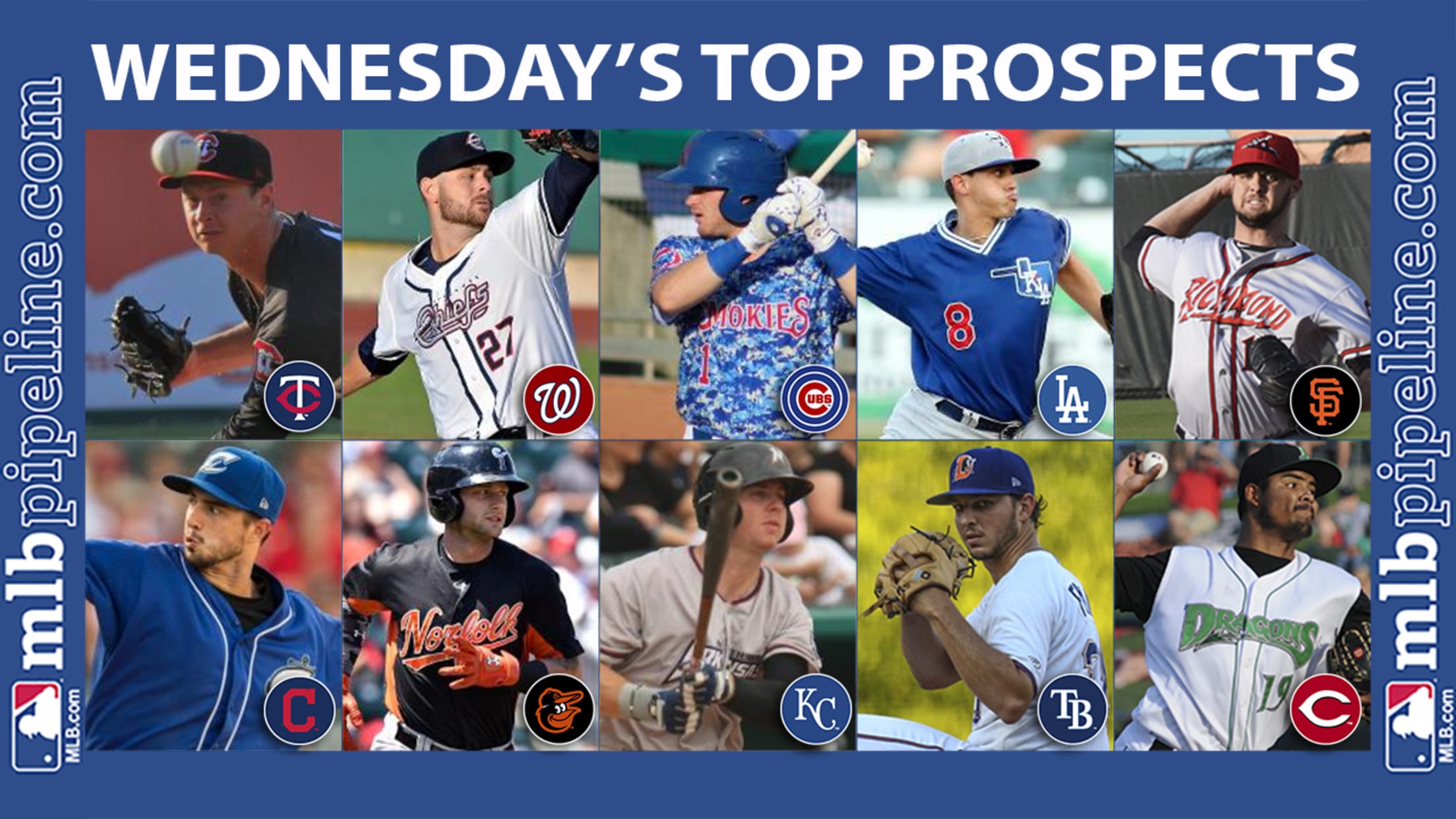 (Paul Sancya/AP)
Everything is going right when Stephen Gonsalves takes the ball these days.The Twins' No. 4 prospect extended his scoreless streak to 21 innings with six near-perfect frames for Double-A Chattanooga on Wednesday."I felt pretty good," Gonsalves told MiLB.com. "I felt like I lacked a little bit in control early, the
Everything is going right when Stephen Gonsalves takes the ball these days.
The Twins' No. 4 prospect extended his scoreless streak to 21 innings with six near-perfect frames for Double-A Chattanooga on Wednesday.
"I felt pretty good," Gonsalves told MiLB.com. "I felt like I lacked a little bit in control early, the fastball wasn't where it normally is. I felt real comfortable throwing my slider. I threw it 22 times tonight, that was a pretty big pitch I relied on most of the night."
Gonsalves, MLB Pipeline's No. 97 overall prospect, left the game with a no-hitter intact but had also thrown a season-high 105 pitches (66 strikes) and has thrown over 100 pitches in each of his past two starts, including a complete game in his last outing.
Part of the reason for Gonsalves' elevated pitch count is the plethora of strikeouts. The lefty fanned the first batter he faced, struck out six of seven at one point and finished the night emphatically with a pair of strikeouts.
"A lot of the strikeouts tonight were 3-2," Gonsalves said. "I got 0-2 early and ended up throwing some strikeout pitches that were out of the zone and the hitters were able to lay off. Going out into the last inning, I walked out there with 84 pitches and the first batter [Jake DePew] was a 12-pitch at-bat which turned into an error. They had some really good at-bats."
When it was all over, the 22-year-old had struck out nine and lowered his ERA to 1.81 in 10 Double-A starts.
The rest of the best performances from top prospects Wednesday:
• Once again Lucas Giolito (Nationals' No. 1, No. 4 overall) showed why he's the best pitching prospect in all of baseball. The 22-year-old twirled another gem for Triple-A Syracuse, giving up one run in seven innings. Giolito also struck out 10, his second double-digit strikeout game of the year.
MILB Video - Title: Watch: MiLB Video - Url: http://www.milb.com/r/video?content_id=1063983883
• Ian Happ (Cubs' No. 1, No. 26 overall) had a perfect day at the plate, going 3-for-3 with Double-A Tennessee. Happ, the Cubs' first-round selection in 2015, has a modest four-game hitting streak and is batting .276 in 49 games since his promotion to Double-A.
MILB Video - Title: Watch: Happ gets third hit - Url: http://www.milb.com/r/video?content_id=1065131483
• Dodgers' No. 2 prospect Jose De Leon (No. 39 overall) got off to an immaculate start and finished strong for Triple-A Oklahoma City. The 24-year-old struck out the side on nine pitches in the first inning and finished his seven innings with 10 total strikeouts, his third triple-digit strikeout game of the year. De Leon gave up two earned runs on six hits.
MILB Video - Title: Watch: MiLB Video - Url: http://www.milb.com/r/video?content_id=1063687183
• Tyler Beede (Giants' No. 2) continues to prove tough for the opposition. Beede has given up one earned run or fewer in four consecutive starts, including his latest gem. The 23-year-old struck out nine and gave up one run in 6 1/3 innings for Double-A Richmond. Beede now has a 2.91 ERA through 21 starts.
• Ryan Merritt (Indians' No. 30) extended his scoreless streak to 15 innings with six scoreless for Triple-A Columbus. The left-hander threw 54 of his 84 pitches for strikes, but struck out just two. Merritt surrendered just two hits and has held the opposition scoreless in three of his past four starts.
• Christian Walker (Orioles' No. 11) trotted around the bases a couple of times in his third career two-homer game. The 25-year-old hit a pair of solo homers for Triple-A Norfolk and finished the game 2-for-5. Orioles' No. 5 prospect Trey Mancini also went deep for Norfolk.
MILB Video - Title: Watch: Walker goes yard - Url: http://www.milb.com/r/video?content_id=1065129683
• Pirates' No. 11 prospectNick Kingham had a strong showing for Class A Advanced Bradenton as he continues to work his way back from Tommy John surgery. Kingham gave up three hits and fired 43 of his 58 pitches for strikes over five scoreless innings in his seventh start of the year.
• Jacob Faria (Rays' No. 5) spun another quality start for Triple-A Durham, scattering three hits across seven innings of two-run ball. The 23-year-old is just 3-4 since his promotion to Triple-A, but he has held opponents to two earned runs or fewer in seven of 10 starts with Durham.
• Reds' No. 7 prospectRookie Davis put together his best start since his promotion to Triple-A Louisville on Aug. 5. Davis struck out five in six scoreless frames, but he was still unable to pick up his first Triple-A win as the game went into extra innings.
• Antonio Santillan (Reds' No. 13) notched double-digit strikeouts for the second time this season, fanning 10 with Class A Dayton. The 19-year-old walked three but gave up just one hit across 5 2/3 scoreless innings.
MILB Video - Title: Watch: MiLB Video - Url: http://www.milb.com/r/video?content_id=1063634983
"Going into the game, I knew that the changeup would be huge if I could get it in the zone and get them to see it and swing at it," Santillan told MiLB.com. "The changeup was very effective tonight to get a lot of swings and misses, and then I was able to use the fastball a lot better with them swinging and missing at changeups."
• Red Sox No. 12 prospect Mauricio Dubon took advantage of Double-A Portland's doubleheader by going 3-for-6 with four RBIs. The 22-year-old hit his third homer of the season in the second half of the twin bill and is batting .319 through 45 games with Portland.
MILB Video - Title: Watch: Dubon drives in run - Url: http://www.milb.com/r/video?content_id=1065137483
• Yency Almonte's (Rockies' No. 20) second start with Double-A Hartford resulted in his first career shutout. Almonte, a 22-year-old right-hander, fired seven scoreless frames, allowed four hits and struck out four. Almonte earned his promotion to Double-A with a dominant July in which he posted a 2.25 ERA in six starts at the Class A Advanced level.
• Ryan O'Hearn (Royals' No. 8) had quite the game for Double-A Northwest Arkansas. O'Hearn hit a pair of homers and collected six RBIs for the second time in his career, going 3-for-4 on the day. The 23-year-old has 20 home runs across two levels this season, including three in his past two games.
MILB Video - Title: Watch: MiLB Video - Url: http://www.milb.com/r/video?content_id=1063911183
"When you're working on something and things start to click and you have a good night at the plate, it's good," O'Hearn told MiLB.com. "It feels like you're getting somewhere, making progress. I'm just trying to slow it down and be on time for the fastball, and anytime I see a mistake pitch, not try to pull it or get too big, stay inside and hit it to the middle of the field."
• Tigers' No. 27 prospect Arvicent Perez bumped his average up to .300 with a 3-for-5 game for Class A West Michigan. The 22-year-old catcher has played in 60 games this season and has collected three or more hits six times. Perez also doubled and drove in his 23rd run.