Tuesday's top prospect performers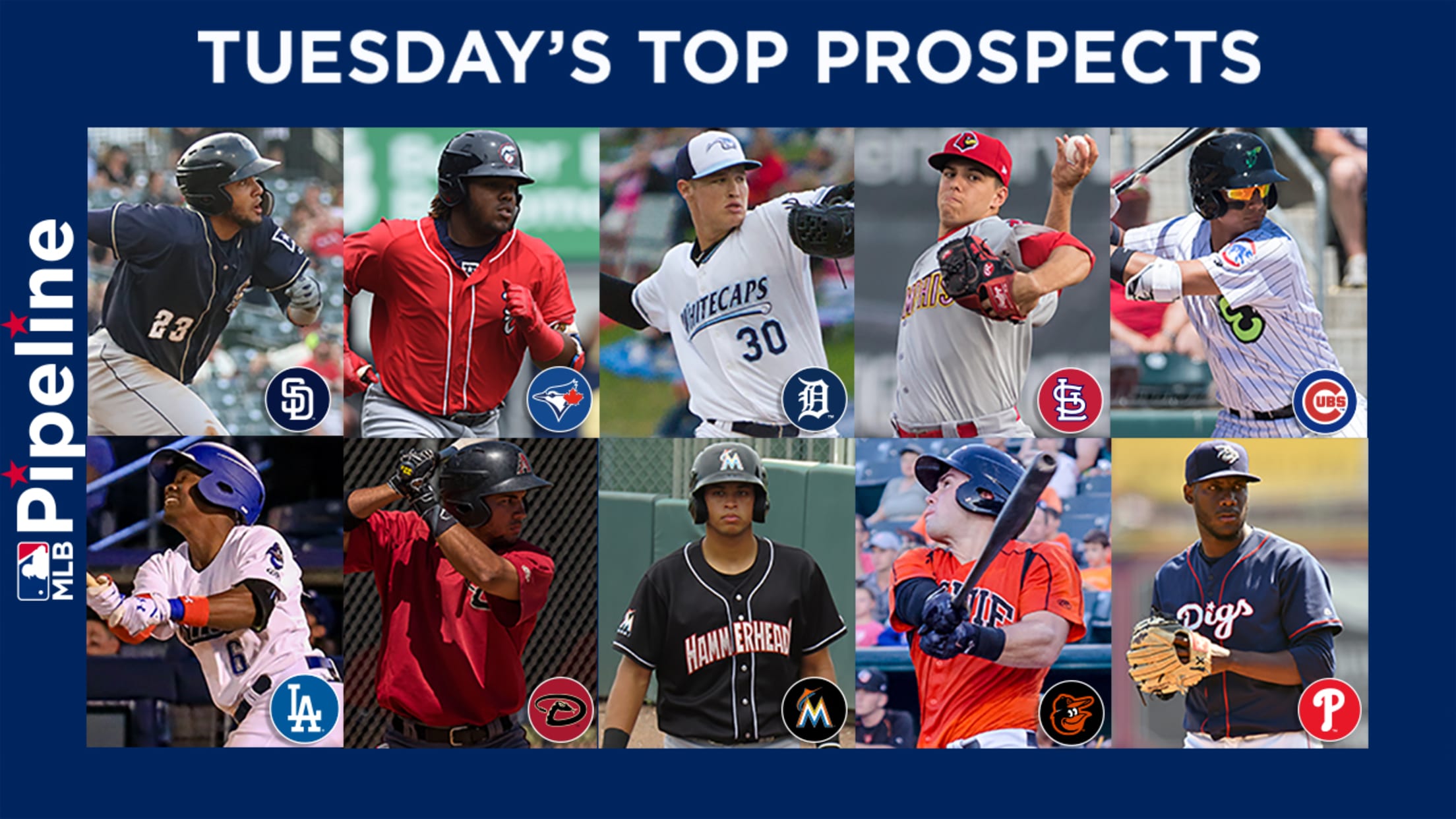 Here's MLB Pipeline's roundup of the top prospect performances in the Minor Leagues on Tuesday.There's plenty of excitement in the Padres' pipeline surrounding their future middle-infield tandem of Fernando Tatis Jr. (Padres' No. 1 and No. 7 overall) and Luis Urias (Padres' No. 3, No. 32 overall). Their defensive savvy
Here's MLB Pipeline's roundup of the top prospect performances in the Minor Leagues on Tuesday.
There's plenty of excitement in the Padres' pipeline surrounding their future middle-infield tandem of Fernando Tatis Jr. (Padres' No. 1 and No. 7 overall) and Luis Urias (Padres' No. 3, No. 32 overall). Their defensive savvy and offensive production make them among the Minors' most exciting infielders, particularly after each made a promising impression at big league Spring Training.
:: Complete prospect coverage ::
Tatis appears to be emerging from a slump that lasted all of April, as he went 3-for-4 with a homer -- his sixth this month -- and four runs scored in Double-A San Antonio's 9-6 loss to Tulsa on Tuesday. The 19-year-old Tatis is now hitting .333 since his average dropped to .177 at the end of April, and Tuesday's game marked Tatis' second three-hit game in his past five contests. He's now tied with first baseman Josh Naylor (No. 14) for San Antonio's lead with nine homers after crushing an 0-1 offering during the second inning with no one on and two outs.
The rest of the best performances from top prospects on Tuesday
• Vladimir Guerrero Jr. (Blue Jays' No. 1, No. 2 overall) continued his torrid pace toward the next level with a 2-for-4 night for Double-A New Hampshire, which defeated Reading, 7-2. Guerrero is now hitting .423 for the season, which easily leads all of MLB Pipeline's Top 100 prospects. Second-highest in that category is Juan Soto, who was hitting .362 when he was called up by the Nationals over the weekend.
With fellow top prospects making the Major League leap early in the 2018 season -- Braves outfielder Ronald Acuna Jr., Yankees infielder Gleyber Torres, Soto and others -- many have wondered whether Guerrero might be next.
• Matt Manning (Tigers' No. 2, No. 51 overall) struck out nine for Class A West Michigan over six scoreless innings, lowering his ERA by more than a full run to 4.05 in what was arguably his best start of 2018. Manning has now thrown 12 straight scoreless innings at home, with two walks and 17 strikeouts.
MILB Video - Title: Manning's ninth strikeout - Url: http://www.milb.com/r/video?content_id=2072109583
• Ryan Helsley (Cardinals' No. 5) gave up back-to-back hits in the first inning of his outing for Triple-A Memphis, including a two-run single. But he responded by retiring his final 20 batters in what was yet another stellar start. The former fifth-round pick has now gone at least seven innings in each of his last three outings, with 25 strikeouts in that stretch. Scouting reports suggest that Helsley offers the versatility to wind up in the bullpen at the next level, with a fastball-curveball combination that might be well suited for shorter stints.
• Miguel Amaya (Cubs' No. 10) went 3-for-3 for the second time this season for Class A South Bend, with two walks and two runs scored in a 9-1 win. He's now hitting .333 over his last 12 games after starting the year in a two-week funk near the Mendoza line.
• Errol Robinson (Dodgers' No. 20) hit his third and fourth homers of the year to spark Double-A Tulsa's 9-6 comeback win over San Antonio. Robinson led off an eventual five-run eighth inning with a solo shot after belting one in the fourth. He's now on a six-game hitting streak, his longest of the season.
• Eduardo Diaz (D-backs' No. 11) collected a season-high four hits for Class A Kane County in its 8-7 win over Cedar Rapids, raising his batting average 51 points, to .212, in the process. Trailing 6-2 in the bottom of the third inning, Diaz launched a three-run homer -- his first since Sept. 2 -- that helped propel Kane County to a comeback, as part of a five-run frame. Diaz also laced a pair of triples and racked up three RBIs.
MILB Video - Title: Diaz goes yard - Url: http://www.milb.com/r/video?content_id=2072318983
• Joe Dunand (Marlins' No. 16) went 3-for-4 with a go-ahead homer in the eighth inning of Class A Advanced Jupiter's game against Daytona, the seventh of the season for the infielder, who is now hitting .295 with an .820 OPS this year.
• Austin Wynns (Orioles' No. 22) homered for the second straight night as part of a 4-for-5 game in Triple-A Norfolk's 9-3 win over Charlotte. The 27-year-old tied a career high in hits, the fourth time he's notched at least four in a single game, while bringing his batting average up to .279 and his OPS to .777.
MILB Video - Title: Wynns hits a homer - Url: http://www.milb.com/r/video?content_id=2072947583
• Enyel De Los Santos (Phillies' No. 12) turned in yet another stellar start in what has been a consistent trend in 2018, going seven innings, while giving up just one earned run for Triple-A Lehigh Valley and lowering his ERA to an International League-best 1.39. He is arguably off to the best start of his career.
• Austin Franklin (Rays' No. 13) gave up just one earned run over seven innings while tying a career high with nine strikeouts for Class A Bowling Green in its eventual 3-2 loss to Great Lakes.
• Scott Moss (Reds' No. 21) tossed seven scoreless innings for Class A Advanced Daytona in a win over Jupiter, marking just the second time in his career he's gone that deep into a start. He also struck out four and gave up just four hits in what was his best and most encouraging start of the season as he's 4-2 with a 5.12 ERA.