Cubs considering options prior to Deadline
Following rough stretch before All-Star Game, club could upgrade with trade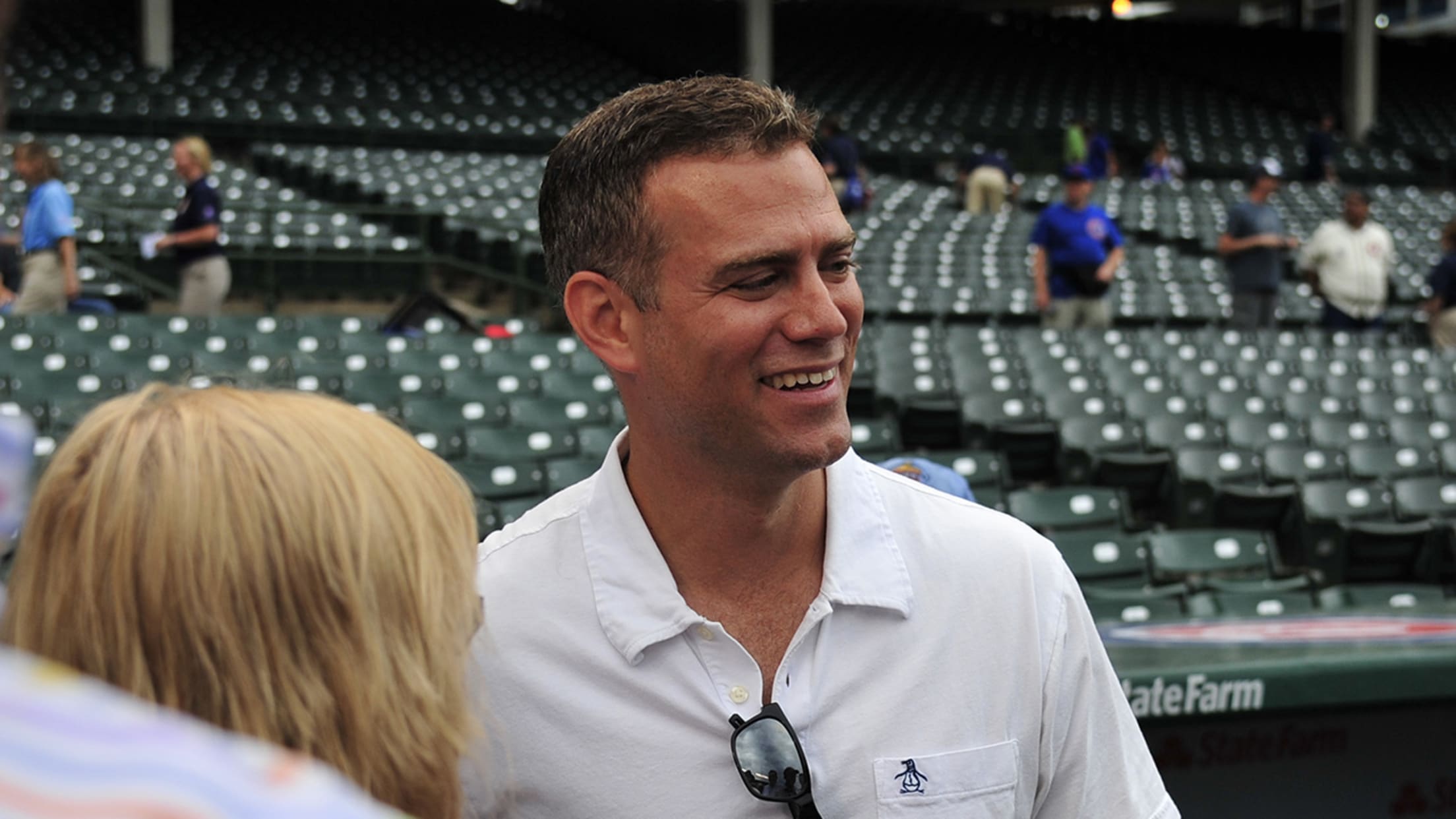 Theo Epstein could make a move to upgrade the Cubs before the Aug. 1 Trade Deadline. (David Banks/AP) (David Banks/AP)
CHICAGO -- The Cubs, happy to have a seven-game lead at the All-Star break after a tough 24-game stretch leading up to it, are looking at ways to improve the team, president of baseball operations Theo Epstein said Friday. The players also would like to get back to their winning
CHICAGO -- The Cubs, happy to have a seven-game lead at the All-Star break after a tough 24-game stretch leading up to it, are looking at ways to improve the team, president of baseball operations Theo Epstein said Friday. The players also would like to get back to their winning ways at the start of the season.
With the non-waiver Trade Deadline on Aug. 1, Epstein and the front office spent part of the break exploring options.
"This time of year, it's important to stay focused primarily on this year's club and living in the now," Epstein said. "You can't think too far in advance in baseball, especially if you have a contending club and a chance to do something special."
But for the Cubs, who lost 15 of their past 21 games to trim a 12 1/2-game lead in the National League Central to seven, it was a reality check.
"We played poorly the last three weeks or so and kind of showed our vulnerability and humanity as a team," Epstein said. "In the long run, it might be a good thing. It means we know how hard we have to work and have to play to get to where we want to go.
"When we were at our best in building up that lead, we were really focused, really locked in, really disciplined. And we're certainly going to need to play that way to get to where we want to go. We've showed that we are human. There's the team that can accomplish anything and played outstanding baseball and stayed locked in, and there's the team that has some vulnerabilities, and it took us a while to right the ship. Both extremes are possible. It's up to us to earn the path we want."
The Cubs have scuffled without leadoff man Dexter Fowler, who is nursing a strained right hamstring and is not expected to return until the end of next week. Chicago took advantage of its cushion in the standings and inserted Adam Warren into the rotation to give the other starters a breather. But Epstein and Co. are on the lookout for more pitching and help on the bench.
All-Star first baseman Anthony Rizzo said the players aren't worried about their lead in the division shrinking.
"Honestly, I think the only people who are panicking are the media -- no offense to you guys," Rizzo said. "We feel great, we're back together and ready to go."
Manager Joe Maddon, who took advantage of the break to catch up on his sleep, said he can understand fans' reactions after the recent stretch.
"Believe me, it's every fan's right to be concerned, to panic, however you want to phrase it," Maddon said, calling it great barroom conversation. "At the end of the day, regardless of how we got to a 7- [or 7 1/2-game lead], I'll take it. I really believe we'll have another nice run in the second half."
Maddon talked to the players on Friday, reminding them of how they began the season and the need to focus on today's game.
"What's most important is how you respond," Epstein said. "That's what defines a baseball team is how it responds to the adversity that crops up during the baseball season."