Theo: Internal growth more vital than FA splash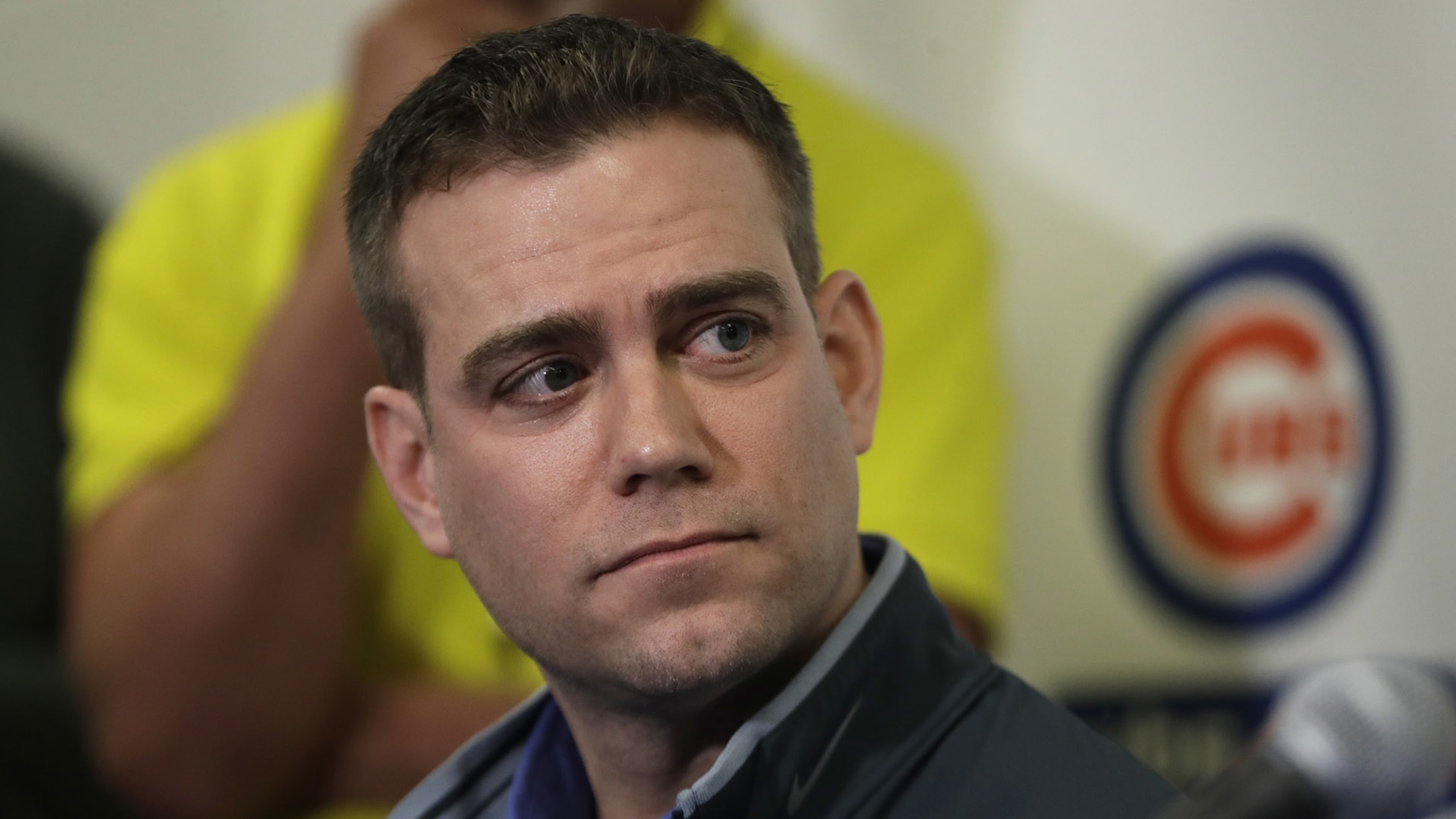 Chicago Cubs President of Baseball Operations Theo Epstein seen during a media availability at the team's spring training baseball facility Tuesday, Feb. 13, 2018, in Mesa, Az. (AP Photo/Carlos Osorio) (Carlos Osorio/AP)
CHICAGO -- The view from the third floor of the Cubs' offices off Waveland Ave. offers a look over the left-field wall of Wrigley Field. On Thursday afternoon, the famous ballpark sat cold, empty and under renovation in the midst of a winter that arrived far earlier than the team
CHICAGO -- The view from the third floor of the Cubs' offices off Waveland Ave. offers a look over the left-field wall of Wrigley Field. On Thursday afternoon, the famous ballpark sat cold, empty and under renovation in the midst of a winter that arrived far earlier than the team had hoped.
"The end of the season is not something that we should avert our eyes from," said Theo Epstein, the Cubs' president of baseball operations. "It can be a great teaching tool for next year."
During a gathering with reporters, that was the prevailing theme throughout a half-hour interview session in advance of next week's Winter Meetings. The Cubs are facing sky-high expectations from a fan base craving another World Series triumph, but also face the realities of an escalating payroll that comes with a maturing core and past free-agent blockbusters.
While there is an outpouring of public cries for the Cubs to toss luxury tax threshold concerns aside in favor or going all in for prized free-agent Bryce Harper, the club's primary focus is on how to get the players in place to improve. Epstein and Co. should never be counted out when it comes to making eye-popping offseason splashes, but the message right now is that such a move would require creativity.
"We're not ruling anything in. We're not ruling anything out," said Epstein, repeating his comments from last month's GM Meetings. "It's just it's still the status that we have is we'd have to get really creative to add dollars of real significance. That's still the case. Things would have to be sequenced in a certain way."
Translation: Unless Chicago can trade some hefty contracts, do not expect a marquee free-agent signing this offseason.
Epstein rattled off a handful of key bullet points during the back-and-forth with the media. The Cubs won 95 games in a season deemed a disappointment. The team has produced more wins than any other Major League team over the past four years combined. The players who were young, emerging stars during the run to the 2016 World Series are entering their prime years. The Cubs are four years into their seven-year window with the core group.
There is no doubt that there are needs to be addressed this offseason, but Epstein believes the biggest need of all is to get more out of what the Cubs already have locked in. In order to bounce back from the 86 wRC+ posted by the lineup over the final two months of last season, the Cubs need a healthy Kristopher Bryant and bounceback showings from the likes of Willson Contreras, Albert Almora Jr., Addison Russell and Ian Happ, among others.
"I understand the desire for a big name every winter," Epstein said. "And there will be winters when we do acquire big names and there's going to be winters when we don't acquire a big name. I don't know what category this winter will fall into yet, but there's a chance that it's going to be a winter where we don't acquire a big name from outside the organization. That does not represent failure.
"We should be judged on the product on the field and we should be judged on the games we win and we should be judged on whether we make the playoffs and we should be judged on how we perform in October. And we have a highly-motivated group based on nothing else than how last season ended."
All of that said, Epstein noted that he had engaged multiple teams in a variety of trade discussions. He said some trade talks could "transform" the Cubs' roster in sweeping fashion. Other talks are more complementary in nature. If there are no headline-stealing moves, the fact remains that Chicago needs bullpen help to go along with a utility infielder, possibly a backup catcher and perhaps a role-playing outfielder.
At the moment, the Cubs' payroll projects to be right around the first luxury tax threshold of $206 million when factoring in projected arbitration salaries, pre-arbitration players, guaranteed deals and other financial components. So, Chicago's maneuverability may be limited unless it can complete the daunting task of trading contracts like the ones belonging to Jason Heyward ($106 million remaining through 2023) or Tyler Chatwood ($25.5 million through '20).
Epstein is also prioritizing injecting some veteran leadership into a clubhouse that may have grown so accustomed to success in recent years that it became detrimental last season.
"There was a bit of a sense of inevitability of success," Epstein said. "With our players, there was a sense that things would be fine in the end. With the length of the season and our talent, it would take care of itself. We're the Cubs. We'll be there. I think in a lot of ways that was a lesson learned."
With or without a big free-agent signing like Harper, Epstein stressed the importance of the players taking that lesson to heart.
"This year is really a reckoning in a lot of ways," he said. "We do have a lot to prove. It sounds funny coming off 95 wins, but I feel like we underperformed. And I think you're going to see a really highly-motivated group of players out there. Whether we have a big offseason or a more nuanced offseason, you should judge us on how we play next year."