Tigers' bats slump to finish out homestand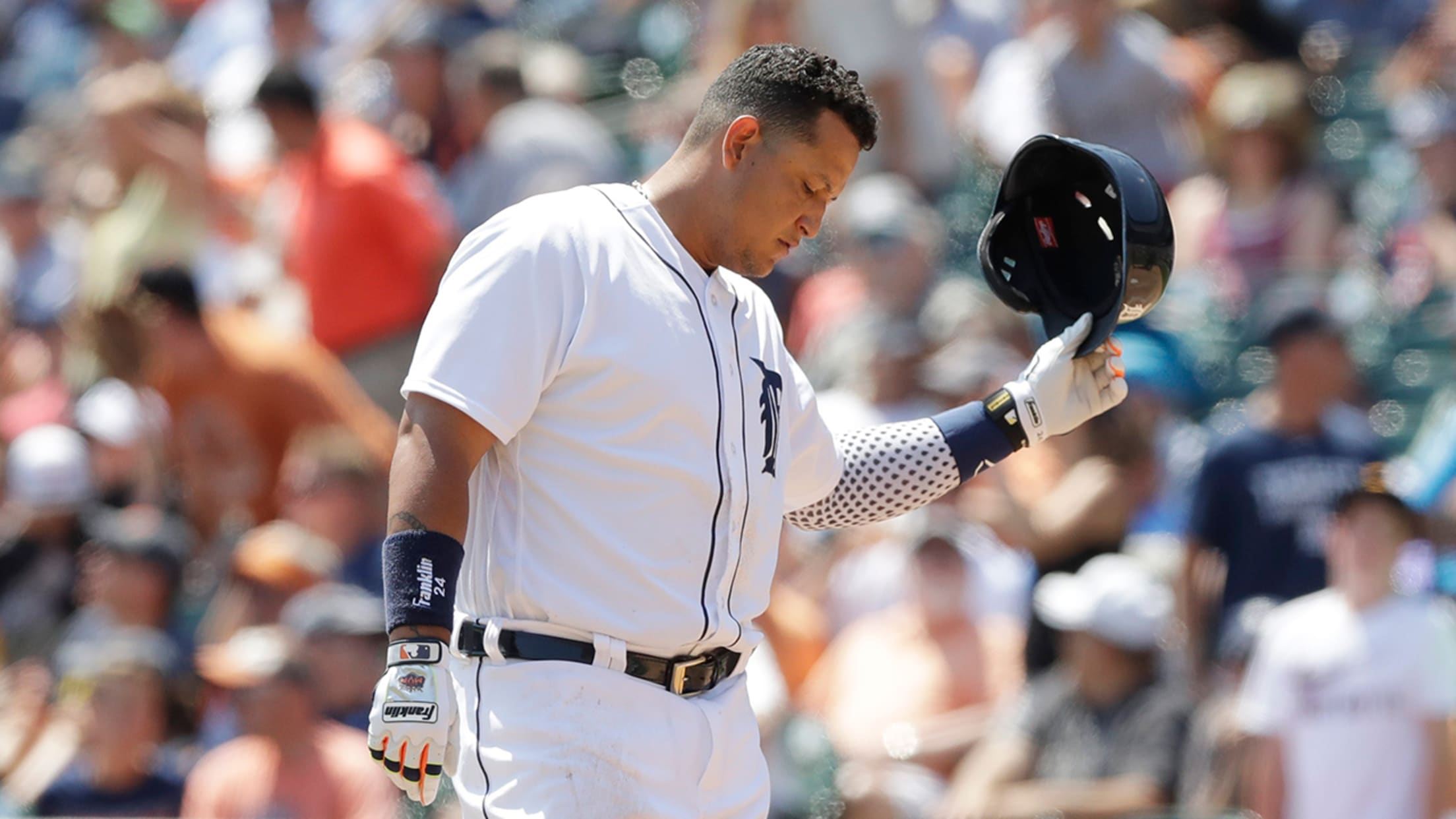 Miguel Cabrera had two hits Wednesday to finish the homestand 5-for-21 (.238). (AP)
DETROIT -- The first sign that Tigers manager Brad Ausmus was trying different ideas to get his team out of its offensive slump came before his players got to the park Wednesday. Ausmus let them sleep in a bit before their getaway-day game against the Twins, arriving by noon for
DETROIT -- The first sign that Tigers manager Brad Ausmus was trying different ideas to get his team out of its offensive slump came before his players got to the park Wednesday. Ausmus let them sleep in a bit before their getaway-day game against the Twins, arriving by noon for the 1:10 p.m. ET start.
"Just kind of 'show and go,'" Ausmus said, "but didn't have much of an effect."
The last sign came in the ninth inning, the Tigers on their way to a 4-1 loss but rallying, and James McCann due up against Minnesota closer Brandon Kintzler. On Tuesday, Ausmus cited the right-handed Kintzler's reverse splits, making him statistically tougher against left-handed batters, as a reason he let McCann face him. On Wednesday, in a similar situation, Ausmus called on switch-hitting Jarrod Saltalamacchia to pinch-hit with two on and the potential tying run at the plate.
"It's one at-bat, but Kintzler struck Mac out the night before," said Ausmus, noting the small sample size he usually avoids. "I just said we'll throw the numbers to the wind and see if Salty can get a hold of one."
That didn't have much impact, either. Kintzler struck out Saltalamacchia on a called third strike. And after Kintzler retired Andrew Romine on a fly ball to left, the Twins had taken two out of three at Comerica Park, holding the Tigers' offense to four runs in three games.
"We lost the series, two out of three. As simple as that," said Victor Martinez, whose eighth-inning drive to deep left field died around the warning track. "Move on. That's it."
Said Ausmus: "We weren't overlooking them. We're just in a funk offensively, to be honest with you. It started before they arrived."
The Tigers opened the season's second half by taking two out of three from the Royals last weekend, but had a similar pitching duel going in the rubber match Sunday before Saltalamacchia hit a two-run walk-off homer for a 4-2 win. Detroit managed two runs in seven innings off Yordano Ventura before that drive, then struggled to do much this week against Twins starters Ricky Nolasco, Tommy Milone and, on Wednesday, Ervin Santana.
To a large degree, as the big names went, so did the Tigers this homestand.
Miguel Cabrera had a pair of ground-ball singles Wednesday, his first multi-hit game since the All-Star break, to finish 5-for-21 over the six-game stretch. But he hasn't drive in a run since July 6. Martinez's long out to left had him holding his hands to his helmet in astonishment, finishing his homestand 2-for-22.
Nick Castellanos ended an 0-for-8 stretch with a seventh-inning single but finished 4-for-21. Ian Kinsler, who was slumping heading into the break, broke his own 0-for-8 stretch with his leadoff homer for the Tigers' lone run.
"We hit the ball hard," Martinez pointed out.
The flip side, the way Justin Verlander saw it after his eight strong innings Wednesday, was that the Tigers' starting pitching -- a problem for much of the first half -- kept them in games.
"Offense comes and goes," Verlander said. "I think if you pitch consistently over the long term, you're going to win a lot of games. Our offense is going to bounce back."