Goodrum brings 3,000 cases of water to Flint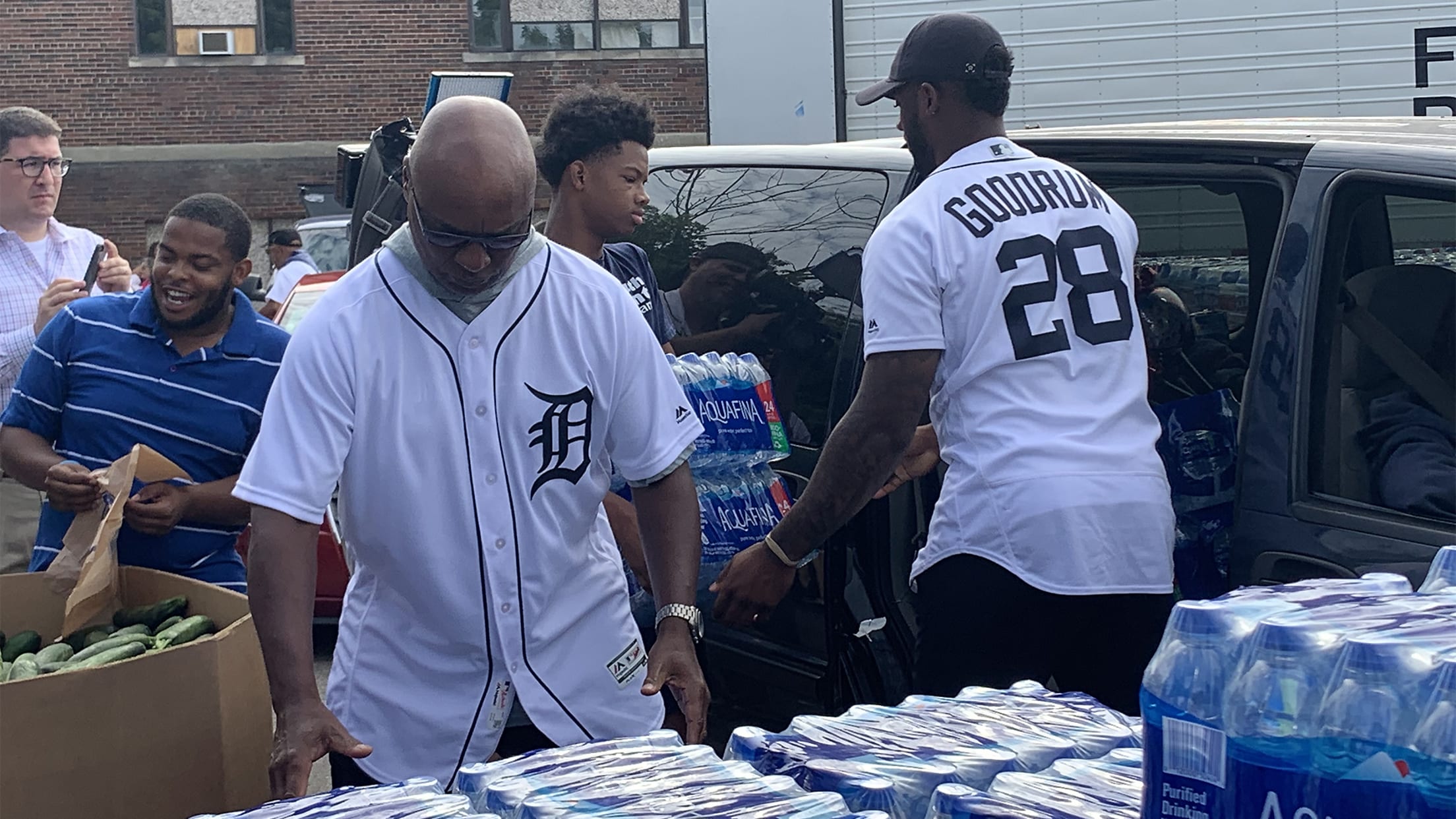 FLINT, Mich. -- Niko Goodrum didn't forget. When the Tigers infielder visited a year ago and donated a truckload of bottled water, he saw the scope of the need, heard from Flint residents and was taken aback. It was greater than he ever imagined from watching documentaries and reading news
FLINT, Mich. -- Niko Goodrum didn't forget.
When the Tigers infielder visited a year ago and donated a truckload of bottled water, he saw the scope of the need, heard from Flint residents and was taken aback. It was greater than he ever imagined from watching documentaries and reading news articles. He said he would be back.
On Tuesday, Goodrum returned with even more water. This time, his teammates chipped in.
When other Tigers heard about the situation still going on in Flint long after the water crisis left the headlines, they wanted to help. Between Goodrum, Miguel Cabrera, Matthew Boyd, Jordy Mercer and Gordon Beckham, the teammates sponsored more than 3,000 cases of water -- about three truckloads.
This morning Niko Goodrum & Dave Clark joined volunteers from @UWGeneseeCo & @foodbankemich to distribute bottled water to Flint residents.

Donations from Niko, @mattboyd48, @gordonbeckham, @jordy_mercer & @MiguelCabrera sponsored over 3,000 cases of water. #BiggerThanBaseball pic.twitter.com/MhJXtSblVu

— Detroit Tigers Foundation (@TigersCommunity) August 13, 2019
"It's the same reaction I had," Goodrum said after an hour of loading water. "I didn't know that it was still a problem. We heard about it years ago, and it's still going on. They had the same reaction I did when I found out about it, and they were on board to do something."
The water will be distributed over three days, Tuesday being the first. Even though it was a game day for the Tigers, Goodrum and third-base coach Dave Clark made the hour-long drive up Interstate 75 to help load the water into cars and see the situation first-hand.
The water was appreciated. So was the memory.
"It's huge for them to come in and donate and give water to the city," said Terry Nix, director of outreach for the Food Bank of Eastern Michigan. "I think it brings morale to the residents of the city. They appreciate someone from the outside coming in and helping out. I think they feel a little bit left alone at times."
The situation remains complicated in Flint. Though the water source has been switched back from the Flint River to the Detroit water system, and lead levels have tested below federal action levels, two issues remain. First is the ongoing replacement of service lines that were damaged by contaminated water. Second is the restoration of confidence among a population that hasn't forgotten assurances they received four years ago that their water was safe.
The former is on schedule to be finished later this year. The latter could take longer.
"I think it's a trust factor," Nix said. "They say the water's clean. They do regular tests on the water. But they feel better drinking bottled water."
The state of Michigan's free bottled water program ended last year. Others have stepped in with donations. Nestle donates 15 palettes of water three days a week. Goodrum and the Detroit Tigers Foundation, an affiliate of Ilitch Charities, partnered with Aquafina to donate more than 3,000 cases, which adds up to more than 72,000 bottles of water.
Tuesday's distribution took place at Asbury United Methodist Church as part of a community help center. Along with water, the distribution line included potatoes, corn and other fresh produce, all of which serves a purpose.
"All the food will help offset any lead poisoning," Nix said. "The potatoes, all the starches, all the greens -- it's really good in fighting that."
The help centers aim to have enough food for 320 families, Nix said. The water serves more than that. The sign of the sustained need was the line of cars that wrapped down the street Tuesday. It started building at 6 a.m., four hours before distribution began.
Some are regulars, others rolling in every so often. Some recognized Goodrum and wanted a photo. A few people asked who were the people in the Tigers jerseys loading water. All of them appreciated the attention.
"I hope it's raising awareness -- not just people here, but outside of Flint and in different states," Goodrum said. "I hope it spreads that it's still a problem, an issue still going on. Some people may take it for granted. Now, hopefully, they don't."