Inbox: How will Cabrera fare in '19?
Beat reporter Jason Beck answers questions from fans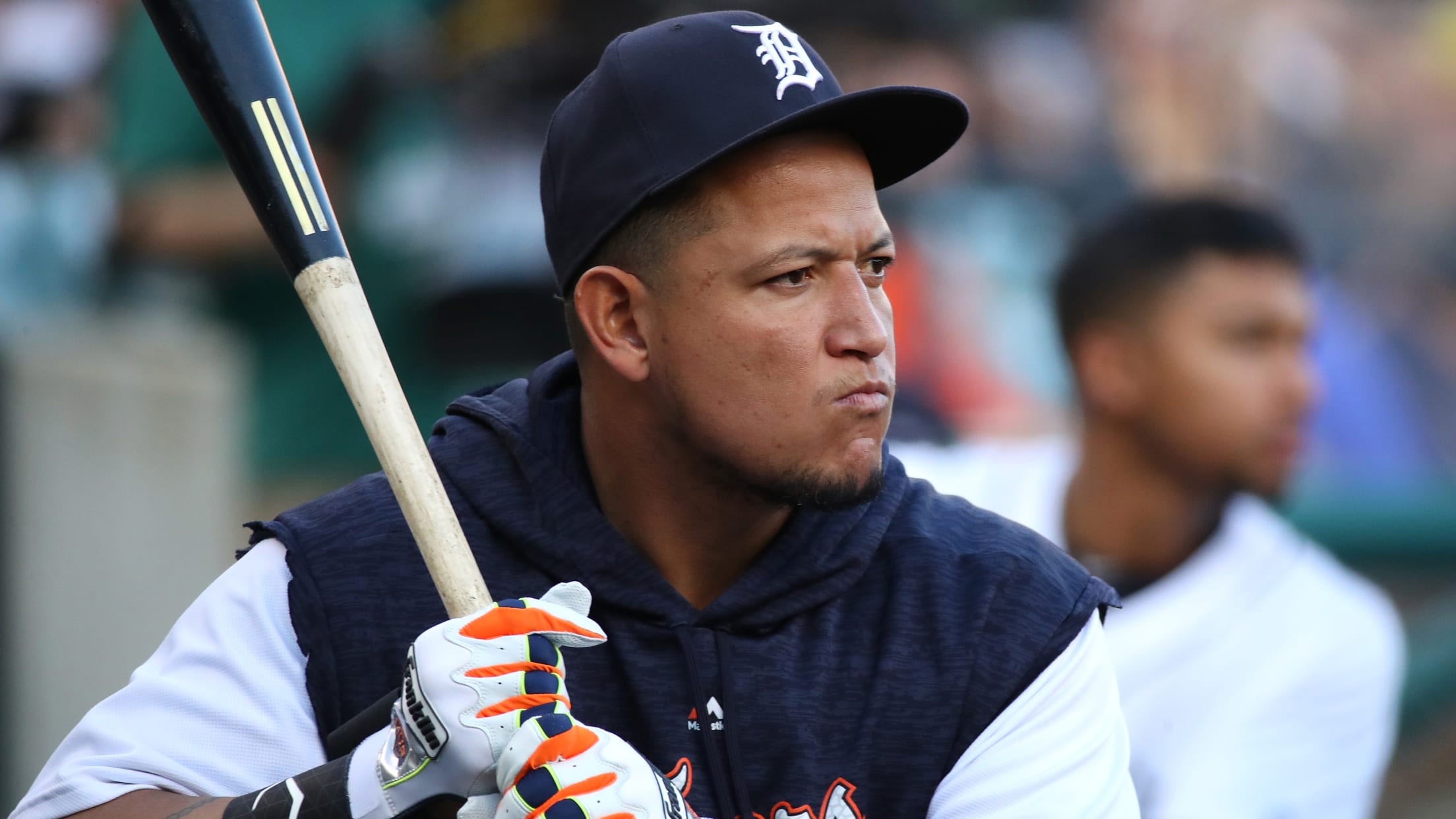 DETROIT, MI - MAY 01: Miguel Cabrera #24 of the Detroit Tigers not playing due to injury takes practice swings in the dugout while playing the Tampa Bay Rays at Comerica Park on May 1, 2018 in Detroit, Michigan. (Photo by Gregory Shamus/Getty Images) (Gregory Shamus/Getty Images)
It's time to clear out the leftover questions in the Tigers' Inbox ahead of Thanksgiving.
It's time to clear out the leftover questions in the Tigers' Inbox ahead of Thanksgiving.
If Cabrera stays healthy all year and gets 500 AB's, what do you realistically expect his AVG, HR's, and RBI #'s to be?

— Lee Harrison (@LeeHarrison93) November 5, 2018
I've always thought that
Jose Cabrera
's ability to hit for average and contact would age better than his power thanks to his ability to hit to the opposite field, similar to how Magglio Ordonez remained a .300 hitter through age 36. The ruptured biceps tendon that ended Cabrera's 2018 campaign as well as the surgery to repair it create some questions as to what his swing will look like in the aftermath.
•
Submit a question to the Tigers Inbox
Cabrera was having a nice bounceback season before the injury, batting .299 with an .843 OPS despite the miserable early-season weather. His average launch angle had dropped from the 12-degree range to 7.3, according to
Statcast™
, but his hard-hit rate jumped to 54.6 percent, his highest since Statcast™ started tracking such things in 2015. His strikeout rate, which rose in 2017 as he struggled to reach fastballs off the plate, returned close to his career norms.
Steamer
projections via Fangraphs predict a .282 average for Cabrera with 25 home runs and 88 RBIs in 649 plate appearances over 150 games next season. The Bill James Handbook projects Cabrera to hit .301 with 21 homers and 78 RBIs in 530 plate appearances. We'll see what
PECOTA
projects from Cabrera later this offseason. I still think Cabrera's capable of hitting .300 with 20-25 homers and an .886 OPS. What he does in terms of run production depends on the lineup around him.
Does Miguel Cabrera have more to offer the @Tigers than Albert Pujols has to offer the @Angels?

— CAwl Jacks (@CAwlJacKs) November 6, 2018
Pujols is three years older, but has been healthier than Cabrera the last couple years. Cabrera has a litany of injury concerns following him, but he has been the more productive player when healthy. I think Cabrera has more to offer based on age and productivity, but with both players, health is such a major factor.
Does anyone anticipate Daniel Woodrow fitting into the Tiger's future? I didn't really know anything about him until he started popping up in AFL reports.

— Andrew 3000 (@AndrewPieschke) November 7, 2018
Woodrow has opened some eyes in the
Arizona Fall League
, both with his hitting (.370 entering Monday) and his speed (11-for-11 in stolen bases, including a steal of home). His lack of power is a detriment, but with his speed and contact, plus the ability to play across the outfield, he could have a chance to compete for a spot on the Tigers' roster down the road. The style of play manager Ron Gardenhire is trying to instill in Detroit favors Woodrow's skill set. For 2019, his future is at Triple-A Toledo.
Do you see Jimenez taking over the closers role at the start of the season and using Greene as a 8th inn/fireman role like 2017?

— Yannis (@YoungGreekOpa) November 5, 2018
First, we have to see if
Shane Greene
remains a Tiger next spring or if he's traded. (My guess is that he stays.) If he stays, I don't see a change in the closer's role at the start of the season. I do think
Joe Jimenez
is the Tigers' closer of the future, but it's not necessarily the immediate future. I also think the Tigers would like to see how Greene is throwing in Spring Training and into the season, for both competitive reasons and for potential trade value.
Seeing how TV ratings were down and we could use a boost, if the cubs wanted to go for Harper and need to move Schwarber, do you think we could trade a guy like Boyd in a trade for Schwarber?

— Justin Klebba (@therealjklebba) November 5, 2018
The Cubs would need to do a lot more than trade
Kyle Schwarber
to create payroll space for
Bryce Harper
. And while I think Schwarber is an exciting player, I don't think trading for him would do nearly as much for fans as winning would.