Jones balances aggressiveness, plate discipline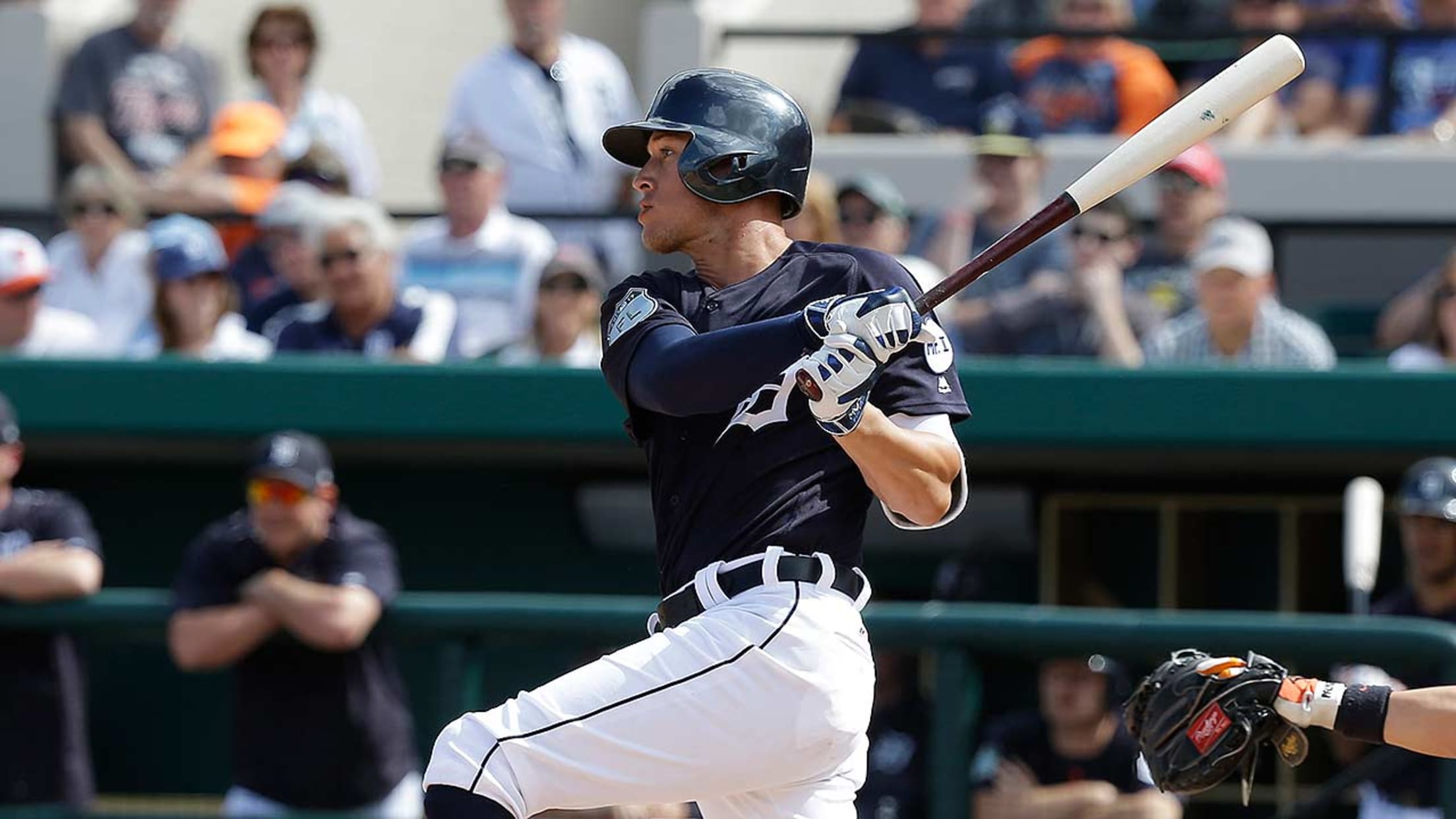 JaCoby Jones sees himself as the Tigers' center fielder of the present, not just the future. (AP)
LAKE BUENA VISTA, Fla. -- Tigers outfielder JaCoby Jones is working on improving his plate discipline and on-base percentage, and he has focused on cutting down his swing and his zone with two strikes. But he doesn't want to lose the aggressiveness at the plate that got him to the
LAKE BUENA VISTA, Fla. -- Tigers outfielder JaCoby Jones is working on improving his plate discipline and on-base percentage, and he has focused on cutting down his swing and his zone with two strikes. But he doesn't want to lose the aggressiveness at the plate that got him to the cusp of a Major League job.
With that in mind, Jones didn't hesitate to jump a first-pitch fastball from Braves pitcher Mike Foltynewicz to begin the second inning in Thursday's 5-3 win. The resulting drive landed well up the left-field berm at Disney's Champion Stadium, providing the Tigers with their first run of the day.
"I still want to be aggressive like I usually am," Jones, Detroit's No. 9 prospect according to MLBPipeline.com, said Thursday morning. "If it's anywhere close the first couple pitches, I'm probably going to hack at it if I can drive it. But the two-strike approach is just bearing down, being more focused and not giving away ABs easily."
Sure enough, Jones was disciplined his next time, taking an 0-2 pitch before lining the ensuing offering into center field for a leadoff single in the fourth. From there, he stole second base.
"I want to use my speed on the bases. Striking out's not going to help that," Jones said. "Bearing down with two strikes is what I've been working on most, and then when I don't get to two strikes, just trying to drive the ball and get on base."
Jones worked his way out of another 1-2 count, fouling off a tough offspeed pitch to stay alive for a walk leading off the sixth, then stole second again before scoring on a James McCann single.
Jones is not giving away opportunities -- not his at-bats, nor the larger opportunity he has in center field. The Tigers have no shortage of short-term candidates in center, from Tyler Collins to Michael Mahtook to Anthony Gose to Andrew Romine. For the long term, though, the answer is Jones, whose hyperathletic combination of power and speed attracted the Tigers ever since they acquired him from Pittsburgh in the Joakim Soria trade two years ago.
"He's still in the mix," Ausmus said. "It's just when it comes down to JaCoby Jones being our best right-handed option in center field, our decision is also going to come down to what's also best for JaCoby Jones."
The belief among Tigers officials since the offseason has been that Jones could be ready this season, and he might be ready defensively right now, something he has reinforced with a couple of highlight running catches this spring. His offensive approach, however, might need time to hone.
"I think it takes experience," manager Brad Ausmus said. "It takes at-bats, it takes failure to recognize what you can and cannot do, what pitches you can't chase because you're unable to hit them well.
"He's still learning. I don't know if I can mark an 'X' on the spectrum, because I don't really know what his ceiling is or what he's going to ultimately be. I guess the potential is there to be very good, but there's been a lot of potential very good players. It's just a matter of how quickly he learns the game or understands his abilities and is able to apply them."
Jones wants to do his best to push the timetable and show that he's ready right now.
"I came into Spring Training, in my mind, knowing that I'm the center fielder of the Detroit Tigers," Jones said. "Every day I wake up and come to the field, I just want to show them that I'm ready to be the Opening Day guy and I want to be there all year. Whenever I get the chance, I just want to do whatever I can to help the team win."