Boyd focused on attacking hitters in Triple-A
Left-hander allows three runs over 6 1/3 during first start of 2017 with Toledo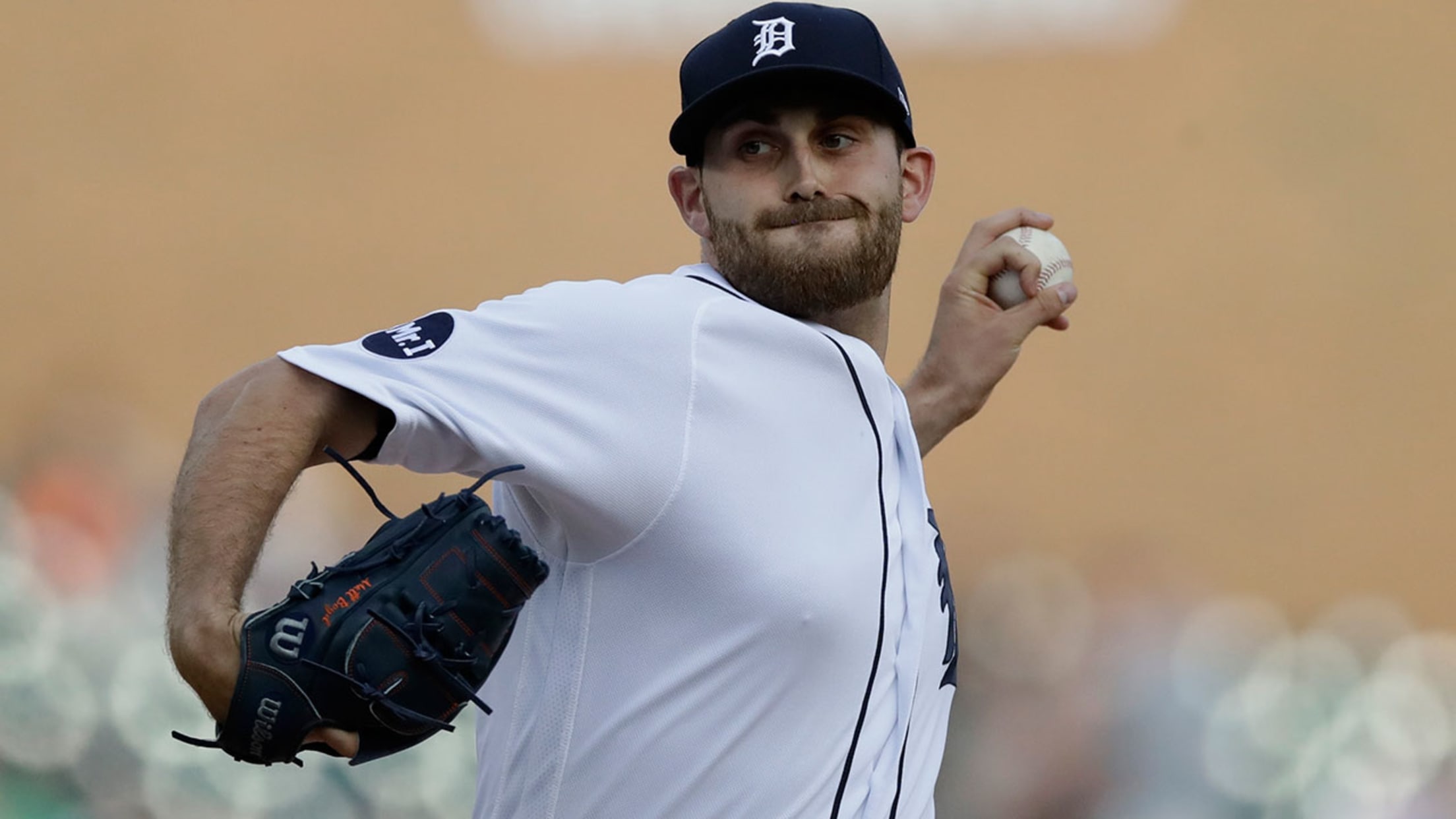 After a string of four shaky outings in May with the Tigers, left-hander Matthew Boyd was sent to Triple-A Toledo. (AP)
TOLEDO, Ohio -- When starting pitcher Matthew Boyd was sent down on Friday, he said manager Brad Ausmus wanted him to attack hitters and regain a "killer instinct." In Boyd's first start with Triple-A Toledo, he tossed a quality start and felt he made the adjustments that had been asked
TOLEDO, Ohio -- When starting pitcher Matthew Boyd was sent down on Friday, he said manager Brad Ausmus wanted him to attack hitters and regain a "killer instinct." In Boyd's first start with Triple-A Toledo, he tossed a quality start and felt he made the adjustments that had been asked of him.
"Got back to attacking guys, stayed in my delivery, using all my pitches," Boyd said. "I got swings and misses on all my pitches today. Slider was good, curveball was good, changeup was good. [Catcher John Holaday] called a great game."
Boyd tossed three 1-2-3 innings and cruised into the seventh against Indianapolis having allowed just one run on two hits. But the Indians rattled off three straight one-out singles to load the bases and chase him from the game. Five pitches later, Mud Hens reliever Dustin Molleken gave up a double that brought two home. Boyd kicked the dugout ledge while watching the play in disappointment with himself.
"If you don't want the inherited guys to score, then you don't leave them out there," Boyd said.
The left-hander allowed three runs on five hits and four walks to go with six strikeouts in 6 1/3 innings.
He had some command issues, at one point allowing five of eight hitters to reach three-ball counts. But he threw first-pitch strikes to 16 of the 26 batters he faced, and his six strikeouts tied his season high in 11 Major League starts this year. His fastball, which has averaged 90-91 mph this year according to Statcast™, topped out at 94 mph on Monday.
Despite running into trouble in the third, giving up a homer over the 365-foot left-center-field wall and dealing back-to-back full-count walks with two outs, Boyd was bailed out when Holaday threw out a runner on a double steal attempt.
Boyd was never dominant this season with the Tigers, but his productive start to the season took a hard turn in mid-May. In his first seven starts, he had a 3.89 ERA and allowed a .255/.335/.409 slash line. Those numbers ballooned to a 10.13 ERA and .444/.477/.654 in his past four starts, which led to the demotion to Triple-A.
Mud Hens manager Mike Rojas said he's unsure of how long Boyd will be in Toledo. The southpaw said he's taking his assignment "day by day."
"I'm just grateful every time I get the ball," Boyd said. "It felt good to get back into my swing of things and throw the ball with confidence."
Worth noting
• Anibal Sanchez, who's on assignment with Toledo working his arm up to once again start games, is on the seven-day disabled list with left hamstring tightness. In Sanchez's last start, he left after 78 pitches, which was within his targeted 75-85 pitch range. Rojas said Sanchez's MRI revealed there was no tear in his hamstring, but the DL placement will cause him to miss one start.
"After missing a start, maybe we'll stay at the [75-85 pitch range]," Rojas said. "Just keep an eye on it. It depends on how he feels. We sure don't want to push it with the hammy tightened up like that."
Jordan Horrobin is a reporter for MLB.com based in Detroit.