Frazier rewarded for design work on Glove Day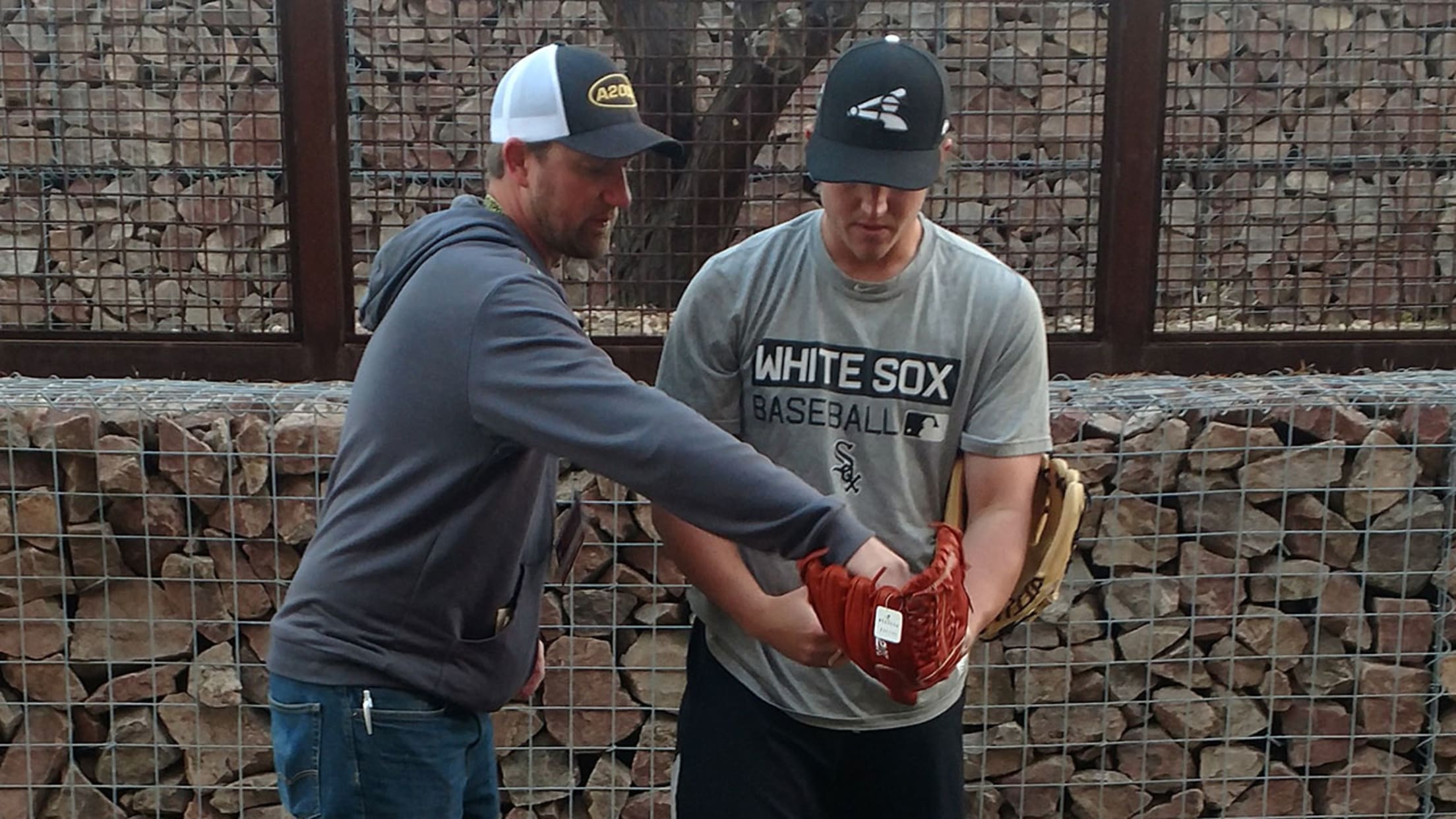 White Sox pitcher Carson Fulmer, right, speaks with a Wilson product line manager. (Scott Merkin)
GLENDALE, Ariz. -- Todd Frazier has two All-Star Game appearances, a Home Run Derby title and 40 home runs in a season to highlight his impressive Major League Baseball resume.The phrase "glove designer" can be added to that list as well.• Spring:Info | Tickets | Schedule | GearFrazier stopped into
GLENDALE, Ariz. -- Todd Frazier has two All-Star Game appearances, a Home Run Derby title and 40 home runs in a season to highlight his impressive Major League Baseball resume.
The phrase "glove designer" can be added to that list as well.
• Spring:Info | Tickets | Schedule | Gear
Frazier stopped into the Wilson headquarters in Chicago during the offseason and worked with Shigeaki Aso, Wilson's glove guru, and Ryan Smith, the product line manager, to come up with the A2000 TDFTHR GM. The name comes from Frazier's nickname, The Toddfather, and his hand-crafted glove design -- along with those of Robinson Cano, Clayton Kershaw, Mookie Betts, Dustin Pedroia and Brandon Phillips -- is available to fans alongside the rest of Wilson's pro stock models.
The planning session took about 90 minutes on a quick Chicago visit, with Frazier picking up the finished product early Friday morning during White Sox Glove Day outside the home clubhouse at Camelback Ranch.
"It's my own now," a smiling Frazier said of his A2000 12¼ with a dual post web. "We have made some designs to kind of get something a little different but this is the one we came up with here. It's pretty cool.
"I got a lot of help from the Wilson staff making my own. As you can see, it came out perfect."
A logo on Frazier's glove features him holding up the mock WWE championship belt after winning the 2015 Gillette Home Run Derby. It still could change, but that idea came straight from Frazier.
Eighteen White Sox players picked up their gloves Friday. Shortstop Tim Anderson elected to have his soon-to-be 1-year-old daughter's first and middle names, Peyton Kensleigh, placed on his glove with his jersey number, 7, next to it.
"That kind of keeps me motivated, putting her name there," Anderson said.
Anderson praised the tight-feeling pocket on the glove, adding that it fits his hand. Highly-touted pitching prospect Carson Fulmer went with the blonde color featuring black accents, giving a collegiate look back to his Vanderbilt days.
"You wear that the most besides your cleats and your uniform," said Fulmer of his glove's importance. "It's definitely special for us. You have to hide the ball. Guys like to go with a little bigger glove or something that is going to hide a little better. You definitely have to feel comfortable."
Fellow pitching prospect Zack Burdi went somewhat simple, adding a personal touch with a cross to the Kershaw model. He picked Wilson because of "how comfortable it was."
"But a glove is a glove," said Burdi with a laugh. "You either can pitch or you can't."
Yoan Moncada's glove still featured Red Sox colors but will be changed for his new locale. Frazier went with the silver-and-black White Sox colors, adding a little red on the logo for the team's Sunday home uniforms.
"Nobody else can say they have this glove. It's for me," a proud Frazier said. "We worked hard, about an hour and a half to figure this out, and it's unique. It's something I'll remember for the rest of my life, and hopefully make more designs."