Kemp called up to take Marisnick's spot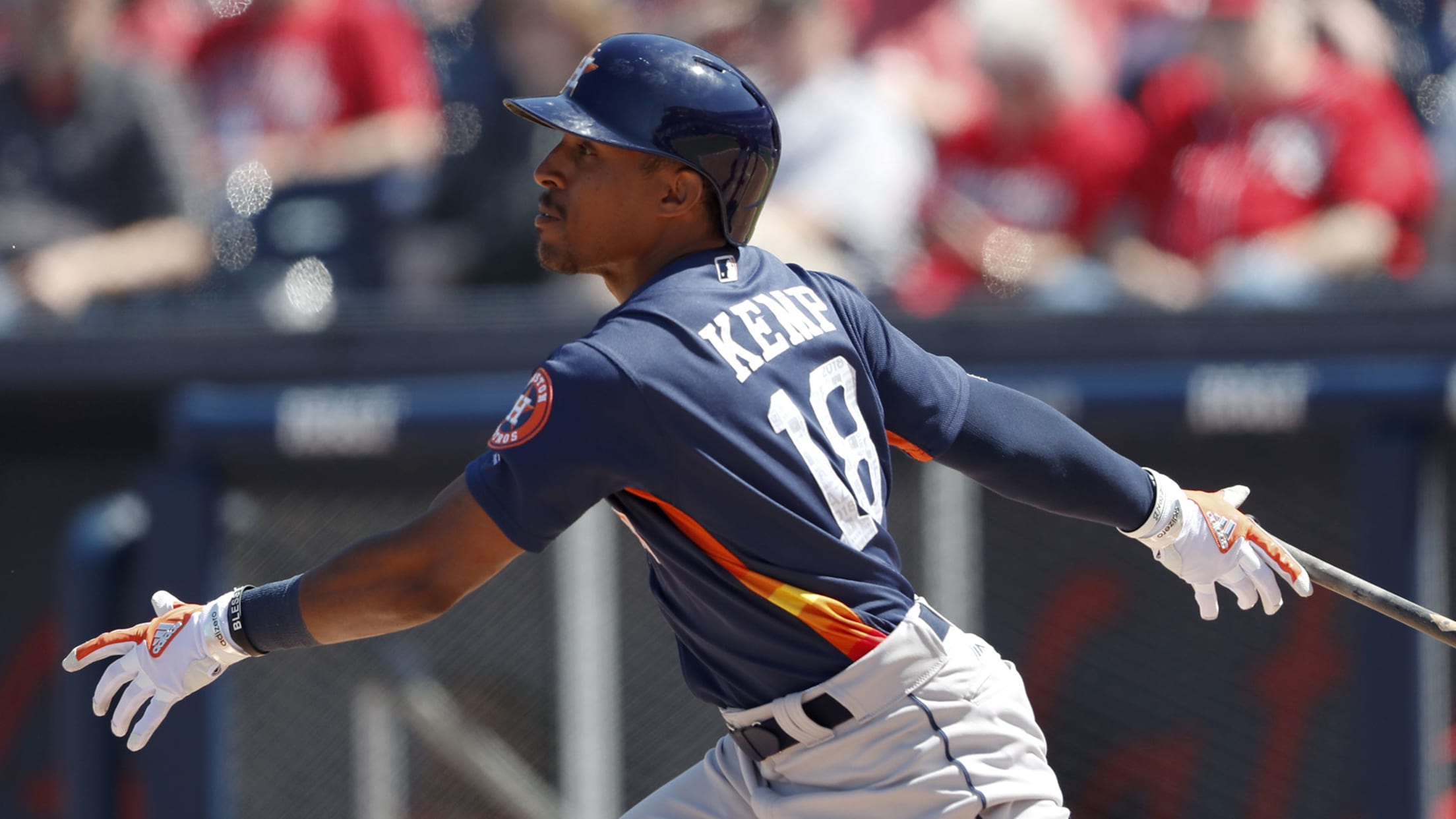 ANAHEIM -- Tony Kemp has been called up by the Astros to replace the slumping Jake Marisnick, who was sent down after Tuesday night's 5-3 win at Angel Stadium.Kemp, who hit .335/.407/.435 over 183 plate appearances in Triple-A Fresno, can play all three outfield positions, but he will primarily play
ANAHEIM -- Tony Kemp has been called up by the Astros to replace the slumping Jake Marisnick, who was sent down after Tuesday night's 5-3 win at Angel Stadium.
Kemp, who hit .335/.407/.435 over 183 plate appearances in Triple-A Fresno, can play all three outfield positions, but he will primarily play left, where he started Wednesday against the Angels, batting ninth.
"We like to keep our flexibility open, so the extra outfielder helps," manager AJ Hinch said. "I know Tony can play second base if needed, but he'll spend most of his time in the outfield. To be honest, he's been needing this opportunity to come up and be in a regular rotation of playing time, along with Fish [Derek Fisher] and Marwin [Gonzalez] in left field, we're trying to find somebody to put up good at-bats and contribute -- and he's done that all season.
"He's been the most consistent performer down there, from an at-bat standpoint. He offers some speed that we're losing by sending Jake down, and hopefully he can get some playing time and give us a spark."
Earlier in the Minor League season, Kemp had a 24-game hitting streak. His secret?
"Take the balls and swing at the strikes," Kemp said.
Marisnick hit a career-high 16 home runs in 106 games in 2017 before a broken thumb effectively ended his season. In contrast, he's produced a .141/.151/.282 slash line this season.
Hinch hopes that the shakeup lights a fire under the team's relatively stagnant offense, especially at the bottom of the order.
"There's at-bats to be won here," Hinch said. "When you start mixing guys up, and putting in new guys, it'll put pressure on other guys, too, to have some better at-bats than another guy in the mix."
Astros set rotation for Tribe series
The starting rotation will remain as anticipated, with Charlie Morton going on Friday in the opener of the Astros' three-game series gainst the Indians at home, followed by Dallas Keuchel on Saturday and Lance McCullers on Sunday.
After an off-day on Monday, Gerrit Cole will start Tuesday in the opener of a two-game series against the Giants, with Justin Verlander going the next day.
Hinch has expressed concern about pitching Cole and Verlander in back-to-back gmes against the same opponent, because of their similar styles, but said he won't split them up this time around.
"Honestly, when they're pitching, I don't care who we're facing," Hinch said.
Hinch impressed with Davis
J.D. Davis, who made the Opening Day roster but was sent down after nine games when Yuli Gurriel's suspension was over, has made an impression on Hinch with his stint at Fresno, where he is hitting .407/.460/.610 with three homers and 31 RBIs over 137 plate appearances.
"I've heard he's unconscious. I've heard he's dominating the league," Hinch said. "I've heard he is hitting every pitch to every part of the field and doing everything he can to be productive.
"I think he's probably had the best run in the Minors that he's had in his career, so I know he's certainly available if we need him."
Avery Yang is a reporter for MLB.com.