Here are the Top 10 fantasy prospects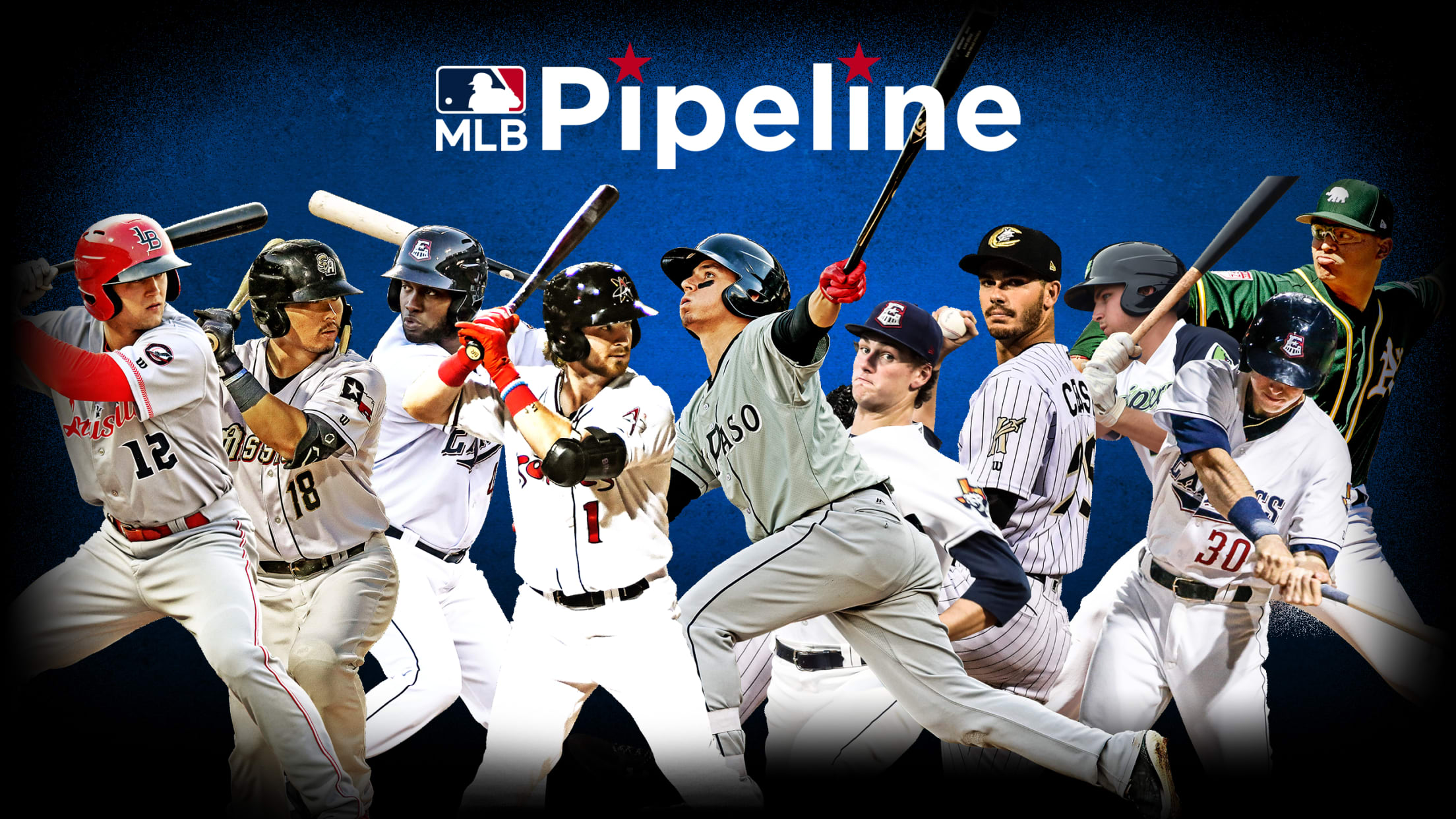 Given the number of prospects that either begin the season in or on the cusp of the Major Leagues, it should come as no surprise that the second installment of MLB Pipeline's list of the Top 10 fantasy prospects for 2019 has a much different look than the preseason edition.
Given the number of prospects that either begin the season in or on the cusp of the Major Leagues, it should come as no surprise that the second installment of MLB Pipeline's list of the Top 10 fantasy prospects for 2019 has a much different look than the preseason edition.
At the top of that list was Vladimir Guerrero Jr., who made his highly anticipated big league debut with the Blue Jays on April 26. While he hasn't quite torn the cover off the ball during his week in the Majors, the 20-year-old phenom's upside is still off the charts, making him a must-own asset in every fantasy format.
The same goes for Eloy Jimenez (Preseason: No. 2), who, after cracking the White Sox Opening Day roster, homered three times over his first 21 games in the big leagues before landing on the 10-day injured list with a right ankle injury on April 28.
Victor Robles, No. 4 on the preseason list, has provided the Nationals and fantasy owners alike with a valuable combination of speed and power, the latter a bit surprising. Fernando Tatis Jr. (No. 5) had compiled a .300/.360/.550 line with six homers and six steals in 27 games before a hamstring injury recently forced him to the 10-day IL.
Pete Alonso (No. 10) is an early ROY favorite thanks a torrid start to the season that's seen him slash .291/.383/.627 while leading all MLB rookies in home runs (9) and RBIs (26).
Meanwhile, the recent promotions of Top 100 prospects such as 21-year-old Carter Kieboom (No. 24 overall), right-hander Griffin Canning (No. 60) and slugger Michael Chavis (No. 75) highlight how fantasy owners can find valuable prospects outside of the obvious big names.
Keep in mind that the rankings below are based solely on projected fantasy value for the upcoming season, where as MLB Pipeline's Top 100 prospect rankings reflect long-term all-around value.
1. Nick Senzel, 3B/2B/OF, Reds' No. 1 prospect (No. 5 overall) (Preseason: 3)
Senzel is set to make his big league debut Friday, batting second and playing center field against the Giants. The Reds' first-round Draft pick from 2016, he surely would have been a fixture in the Cincinnati's everyday lineup already if not for the rash of injuries in recent years that have impacted his climb through the Minors. A minor ankle injury delayed the start of his 2019 campaign, but he made a healthy return to Triple-A Louisville on April 23 and promptly hit safely in seven of eight games.
A natural infielder capable of playing both second or third base, the 23-year-old added the outfield to his defensive resume during the spring and then played center field exclusively in Triple-A ahead of his promotion. With the upside of a .300-plus hitter who offers double-digit homers and stolen bases, Senzel's improved defensive versatility only enhances his value from a fantasy standpoint.
OFFICIAL: #Reds top prospect (#MLB No. 5 overall) Nick Senzel will make his #MLB debut tonight vs. the #SFGiants -- starting in center field and batting second. Here's @JonathanMayo with 7 reasons to be excited about @LilSenzii: https://t.co/umqDH9nl9k pic.twitter.com/8xuiv1p34e

— MLB Pipeline (@MLBPipeline) May 3, 2019
2. Keston Hiura, 2B, Brewers' No. 1 (No. 19 overall) (Preseason: No. 9)
Assigned to Triple-A out of the gate even though he had only a half-season of Double-A experience under his belt, Hiura has done exactly what fantasy owners want to see from him in the hitter-friendly Pacific Coast League, where he's hit .309/.346/.680 with eight homers and 10 doubles over 27 games.
An offensive force with his gorgeous right-handed swing, preternatural feel for finding the barrel and knack for driving in runs, the 22-year-old second baseman could soon be hitting in the middle of Milwaukee's lineup.
3. Yordan Alvarez, OF/1B, Astros' No. 3 (No. 41 overall) (Preseason: NR)
Perhaps no hitter has been as hot so far this season as the 21-year-old Alvarez, who ranks among the Minor League leaders in just about every notable offensive category with an obscene .402/.490/.931 line, 12 home runs, 36 RBIs and 26 runs scored over his first 24 games with Triple-A Round Rock. Yes, it's the Pacific Coast League, but the 6-foot-5, 225-pounder also is just that good, possessing a combination of plus hitting ability and game power from the left side of the plate.
Ding Dong! 🔔 Yordan Alvarez 😱

The #Astros' No. 3 prospect is now 6-for-8 with a HR, 2 2B & 6 RBIs today in @RRExpress' doubleheader. His homer is his 12th of the year, tied for most in @MiLB.

Where should Alvarez rank among #MLB's Top 100 prospects? https://t.co/GHKO6yYsIe pic.twitter.com/KcepfN8sUE

— MLB Pipeline (@MLBPipeline) May 1, 2019
4. Brendan Rodgers, IF, Rockies' No. 1 (No. 9 overall) (Preseason: NR)
Rodgers is torching Triple-A pitching right now, with seven multihit efforts and 10 extra-base hits in his last 10 games. He's controlling the strike zone and whiffing less, too, all while continuing to hit for average and power. The Rockies have received minimal production this season from both Ryan McMahon (.216 AVG, .650 OPS) and Garrett Hampson (.177, .461) this season, and it doesn't take much to envision Rodgers, who has seen the bulk of his time this season at the keystone, supplanting the aforementioned tandem sooner than later.
5. Luis Urias, INF, Padres' No. 3 (No. 22 overall) (Preseason: NR)
Urias, 21, didn't fare well during his 11-game stay with the Padres last month, collecting two hits in 24 at-bats, but he's been crushing the ball since back in Triple-A, even homering five times in a 24-hour span last week. With his ability to play either middle-infield position, Urias appears poised to return to the Majors in the near future -- especially if Tatis remains sidelined for longer than initially expected.
What happens in Vegas, happens in Vegas again, and again ...

Here's a look at the 3⃣ homers that #Padres No. 3 prospect Luis Urias hit for the @epchihuahuas today.

More: https://t.co/7wlOl1ulbT pic.twitter.com/ZWBcXy1K7S

— MLB Pipeline (@MLBPipeline) April 29, 2019
6. Forrest Whitley, RHP, Astros' No. 1 (No. 6 overall) (Preseason: No. 6)
The Astros have handled Whitley with care in Triple-A, limiting him to an average of roughly 60 pitches across his first four starts. While it doesn't point to an early-season promotion for the 21-year-old righty, it should help to keep him fresh ahead of an inevitable second-half callup. Once he finally arrives, Whitley's top-tier combination of stuff -- each of his four pitches grade out as plus or better, and many consider his fastball-changeup pairing to be plus-plus -- feel and pitchability will make him a multi-category force as a starter.
7. Dylan Cease, RHP, White Sox No. 3 (No. 20 overall) (Preseason: NR)
Cease, 23, recorded his first double-digit strikeout performance of the season on April 30, fanning 11 over six innings for Triple-A Charlotte. He's been throwing strikes, too, issuing two or fewer walks in four his five turns. The White Sox are not going to rush the right-hander to the Major Leagues until they believe he's completely ready, but with the team's rotation struggling mightily and Carlos Rodon facing a potentially lengthy absence, it's clear that Cease will get his chance in 2019.
#WhiteSox No. 3 prospect Dylan Cease is getting it done for @KnightsBaseball tonight 👀

6 IP
5 H
2 R
1 BB
11 K (season high)

Here's how all @WhiteSox prospects are faring tonight: https://t.co/uBQmd4kUxN pic.twitter.com/ZEFj2pjFbi

— MLB Pipeline (@MLBPipeline) May 1, 2019
8. Austin Riley, 3B/1B, Braves' No. 5 (No. 35 overall) (Preseason: NR)
Riley's carrying tool, both in fantasy and real life, is his right-handed power, and he's showing a lot of it this season in Triple-A. He's hit five of his seven home runs over his last seven games, and he kicked off the start of May with a two-homer performance that included a mammoth 492-foot blast. He has little left to prove in the Minors
9. Kyle Tucker, OF, Astros' No. 2 (No. 7 overall) (Preseason: NR)
While a disappointing performance with the Astros in 2018 followed by a relatively slow start this season has impacted Tucker's prospect stock, it would be foolish to write off one of the more accomplished hitters in the Minors. The 22-year-old is beginning to heat up in Triple-A, with home runs in four of his last seven games, though his average and on-base skills both leave much to be desired.
10. Jesus Luzardo, LHP, A's No. 1 (No. 11 overall) (Preseason: 8)
Luzardo's season began inauspiciously when the 21-year-old southpaw was shut down for four to six weeks in late March after being diagnosed with a strained left rotator cuff. The good news is that he's progressing with his rehab program without issue and could be ready to make his season debut in the Minors by the end of the month. While unfortunate, Luzardo's injury may ultimately allow the A's to better manage his workload over the course of the season, thus setting him up to become a significant fantasy contributor during the second half.
On the bubble: Bo Bichette, SS, Blue Jays' No. 2 (No. 10 overall); Ryan Mountcastle, 1B, Orioles' No. 2 (No. 67 overall); Mitch Keller, RHP, Pirates' No. 2 (No. 18 overall); Casey Mize, RHP, Tigers' No. 1 (No. 16 overall)