Prospect highlights, news from camp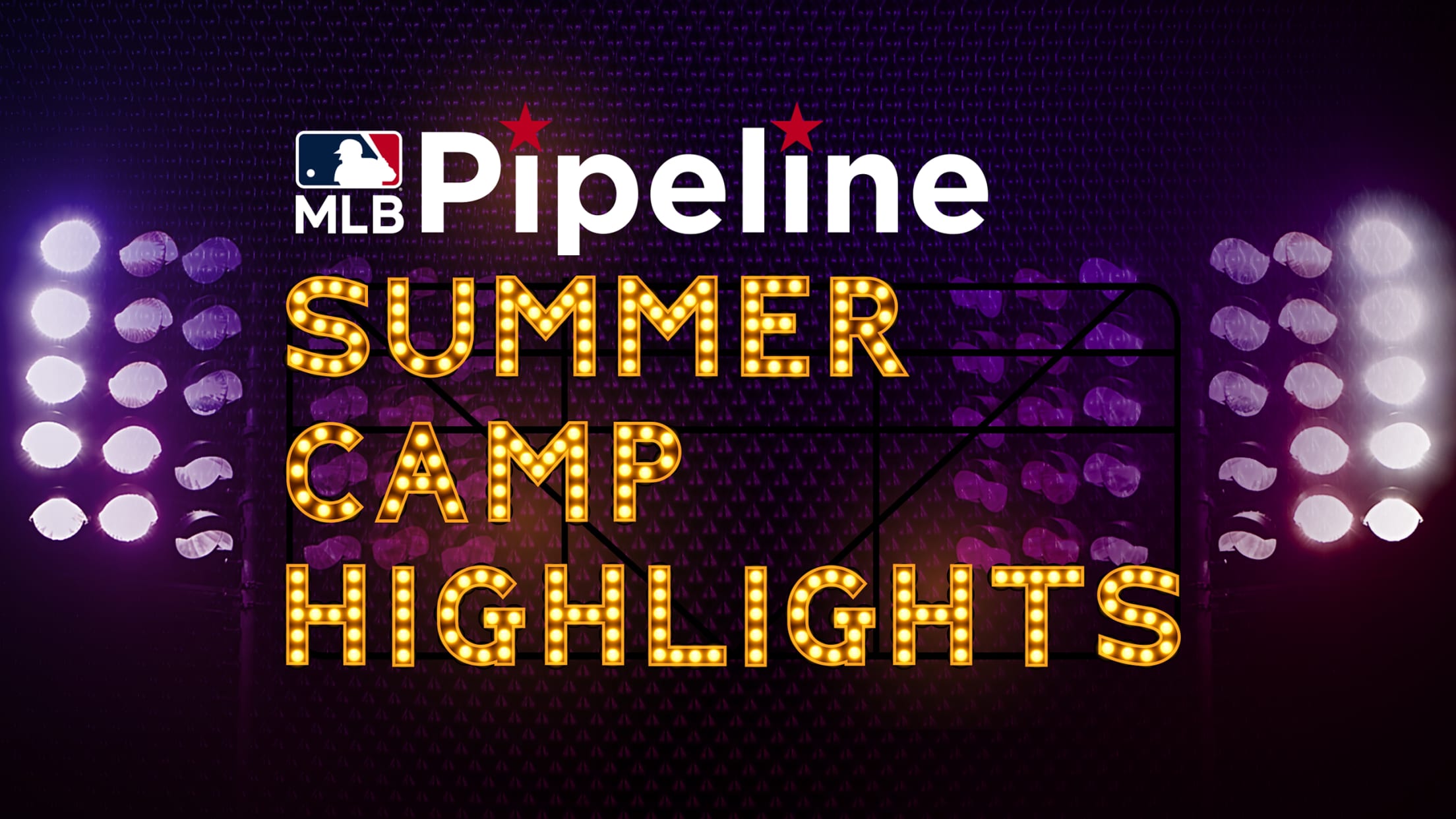 Whether they are battling for roster spots or simply gaining valuable experience to further their development, several of baseball's top prospects are participating in Summer Camp. While teams have different approaches as far as how they are running their camps and utilizing prospects, there's no shortage of prospect-related content. In
Whether they are battling for roster spots or simply gaining valuable experience to further their development, several of baseball's top prospects are participating in Summer Camp. While teams have different approaches as far as how they are running their camps and utilizing prospects, there's no shortage of prospect-related content. In addition to all the content on MLB.com/Pipeline, we've compiled the best of the best, all right here in one spot.
July 22: Sheffield stars in Summer Camp finale
Justus Sheffield looks ready for the regular season to begin as he had everything working in his final outing of Summer Camp. The Mariners' No. 13 prospect carved his way through a lineup of Mariners' reserves in intrasquad action Wednesday. Sheffield made his Major League debut in 2018 with the Yankees and appeared in eight games with the Mariners last season.
July 21: White, Lewis homer
Evan White, the Mariners' No. 4 prospect, sure looks ready for the season to start as he crushed a line-drive homer in Tuesday's intrasquad scrimmage. White, who the Mariners signed to a six-year, $24 million deal last November, is expected to make his Major League debut on Opening Day and serve as Seattle's everyday first baseman. White wasn't the only Mariners' prospect to homer as Kyle Lewis also continued to impress. Lewis, the Seattle's No. 10 prospect, went the other way for his team-leading fourth homer.
OPPO 🌮🌮🌮@KLew_5 | #SummerCamp pic.twitter.com/qxvURZtUPP

— Seattle Mariners (@Mariners) July 22, 2020
July 21: Witt Jr. does it all
There's a reason the Royals took Bobby Witt Jr. with the second overall pick in the 2019 Draft, and the club's top prospect showed everyone why on Tuesday. The 20-year-old infielder did a bit of everything against the Astros as he went 2-for-3 with a double and an RBI, stole a base and made a nice diving play in the field.
The kid flashing the leather at the hot corner 🔥#Royals top prospect Bobby Witt Jr. getting some time with the big leaguers and showing part of the reason he was the No. 2 overall #MLBDraft pick in 2019.

Here's a closer look at #MLB's No. 10 prospect: https://t.co/8ZKBqCXj6S pic.twitter.com/RfRNzZDATf

— MLB Pipeline (@MLBPipeline) July 21, 2020
July 20: Hess brings the heat
Zack Hess, the Tigers' No. 29 prospect, was added to the club's 60-man player pool over the weekend and is already making a name for himself. The hard-throwing right-hander, a seventh-round pick from last year's Draft, struck out two in a clean frame Monday and is coming off a 2019 season in which he posted a 2.60 ERA over 27 2/3 innings.
Just added to the #Tigers' 60-man player pool, 2019 7th-round #MLBDraft pick Zack Hess got this year's No. 1 overall, Spencer Torkelson, to bounce out before getting Ks on a slider and high 🧀 in a clean frame.

Here's a look at the @LSUbaseball product: https://t.co/lVb4aVaf67 pic.twitter.com/yNfz4V3UKh

— MLB Pipeline (@MLBPipeline) July 20, 2020
July 18: Robert launches pair of homers
The No. 3 prospect in the game delivered two mammoth home runs during intrasquad action at Guaranteed Rate Field on Saturday. The first was a moonshot to dead-center field that landed well beyond the 400-foot marker on the fence, and the second, off sidearmer Steve Cishek, was crushed beyond the seats in left field and onto the concourse.
We're running out of clever things to say about this guy.

Luis Robert with another long homer in @whitesox intrasquad action.pic.twitter.com/cvjHriLjeb

— MLB Pipeline (@MLBPipeline) July 19, 2020
July 17: May K's 5 for L.A.
Opportunities are seemingly ahead for Dustin May, the Dodgers' top pitching prospect, now that the two veterans the club acquired to fill the rotation voids left by Rich Hill, Kenta Maeda and Hyun-Jin Ryu -- Jimmy Nelson and David Price -- won't pitch in 2020. May went four innings and struck out five of his teammates during the Dodgers' intrasquad scrimmage on Friday night, and flashed some high-powered sinkers that got noticed on Twitter.
July 17: Bart clears the fences
There's a door open for San Francisco's top prospect, Joey Bart, after All-Star catcher Buster Posey elected not to play in 2020, and Bart has been the club's most impressive catcher in camp while drawing rave reviews from veterans like Evan Longoria and Wilmer Flores. Though the Giants have repeatedly said they are not inclined to rush Bart to the Majors, homers like the one he jacked Friday off Andrew Suárez will make it even harder to impede the 23-year-old's rapid rise.
July 17: Twins' Alex Kiriloff and Brent Rooker launch 'bombas'
Kiriloff, the Twins' No. 2 prospect unfurled a beautiful swing to notch an opposite-field home run off Twins starter Michael Pineda during Minnesota's intrasquad scrimmage on Friday at Target Field. But, not to be outdone, No. 12 prospect Brent Rooker launched his own shot to straightaway center field for the opposing squad. Kiriloff and Rooker combined for 23 homers in the Minors last year.
Kirilloff has some competition, because Brent Rooker has a pretty good swing, too.

The #MNTwins' No. 12 prospect went deep to straightaway center in today's intrasquad contest. pic.twitter.com/wKe0WJfjLJ

— MLB Pipeline (@MLBPipeline) July 17, 2020
July 16: Mariners' Rodriguez fractures left wrist
Julio Rodriguez, the No. 18 prospect in baseball, has a hairline fracture in his left wrist after diving for a ball during a postgame drill at T-Mobile Park on Wednesday. The 19-year-old got his first intrasquad hit earlier in the day with a double off the center-field wall off Kendall Graveman in a three-inning scrimmage, but he then was injured while the Mariners were doing some extra work after the game.
July 15: Tigers' prospects steal the show
The Tigers selected Riley Greene in the first round of the 2019 Draft in large part because of his advanced bat. However, it's the 19-year-old's defense that's stealing the show so far in Summer Camp. Greene robbed a homer with a catch at the wall on July 13 and then followed that up with a nice diving grab Wednesday. The catch was impressive, but Greene wasn't done and alter added a solo homer. Derek Hill, the Tigers' No. 30 prospect, also contributed to the highlight reel with a nice diving catch in center field.
Death, taxes, @Greene21Riley making a spectacular play. pic.twitter.com/YfllmYrbOs

— Detroit Tigers Player Development (@RoadtoDetroit) July 15, 2020
Reminder: @Greene21Riley is 19 years old. pic.twitter.com/gbqscSyzdh

— Detroit Tigers (@tigers) July 16, 2020
We promise this is a new @derekhill27 highlight. pic.twitter.com/krd8BICWrg

— Detroit Tigers Player Development (@RoadtoDetroit) July 16, 2020
July 15: White Sox prospects on a roll
Wednesday was a big day for White Sox prospects in intrasquad action. Top prospect Luis Robert kept raking with a double to score No. 4 prospect Nick Madrigal -- who ripped a couple of hits himself, and also threw out a runner at the plate from second base. And Zack Collins, the team's No. 10 prospect, crushed a home run while catching and batting fifth for the opposing side.
Luis Robert continues to impress. #MLB' No. 3 prospect doubles home fellow #WhiteSox prospect Nick Madrigal here.

Robert is one of a dozen Top 100 prospects who are locks for #OpeningDay roster spots. Complete breakdown: https://t.co/6bw2rLJMmcpic.twitter.com/xCnPgEH5pz

— MLB Pipeline (@MLBPipeline) July 15, 2020
July 14: McGuire hits grand slam
Blue Jays' No. 20 prospect Reese McGuire has seven homers over 44 Major League games and flexed a bit of that power Tuesday with a grand slam out to right in intrasquad action.
Reese makes it a 5-run inning! #BlueJaysOnSN pic.twitter.com/obIbIfxErp

— Toronto Blue Jays (@BlueJays) July 14, 2020
July 14: White goes deep
Evan White, the Mariners' No. 4 prospect, is the latest Seattle youngster to impress in intrasquad action. White, who is projected to be the club's starting first baseman on Opening Day, homered in the first inning Tuesday. The 24-year-old has yet to make his Major League debut, but the Mariners showed their belief in the 2017 first-round pick with a six-year, $24 million deal last November.
Evan White is the latest #Mariners' prospect to show off at Summer Camp, going yard today in the first inning.

Keep track of all the best highlights from prospects around #MLB right here:: https://t.co/sgRnY1luLl pic.twitter.com/ekz4nSYbzl

— MLB Pipeline (@MLBPipeline) July 14, 2020
July 13: Kelenic homers twice
Jarred Kelenic, the Mariners' No. 1 prospect, has lived up to his lofty prospect status so far in Summer Camp and went deep twice Monday. The 20-year-old, whom the Mariners acquired via a 2018 trade with the Mets, hit .291 with 23 homers over 117 games last season. Kelenic won't crack the Opening Day roster, but Mariners fans can dream of the future as Kelenic puts together impressive highlight clips. More »
Here's the video of Kelenic's second homer. pic.twitter.com/0imfFbNzmD

— MLB Pipeline (@MLBPipeline) July 14, 2020
July 13: Kirk flexes muscle
Alejandro Kirk, Toronto's No. 5 prospect, went deep to left in the Blue Jays' intrasquad game on Monday. Kirk, who is expected to be more of a hit-over-power guy as he continues to develop, hit seven homers in 92 games over two levels of Class A ball last season.
#BlueJays' Alejandro Kirk is one of only 25 players on a team Top 30 Prospects list to own a hit tool grade of 60 or above.

More on the @BlueJays' No. 5 prospect: https://t.co/gBfMHGqnTtpic.twitter.com/0VMOVtcyv5

— MLB Pipeline (@MLBPipeline) July 13, 2020
July 13: Tigers prospects put on a show
Tigers outfield prospects are putting together quite the defensive highlight reel in Summer Camp. On Monday, No. 30 prospect Derek Hill started things off with a great diving play in center, following up on the Wilie Mays-esque circus catch he made last week. But the real web gem of the day was No. 3 prospect Riley Greene channeling the Mets' Endy Chavez with an amazing home run robbery over the left-field wall. More »
July 12: Mariners prospects star offensively
Some of the Mariners' top prospects appear to be in mid-season form with the bat as Jarred Kelenic and Kyle Lewis both added to their highlight reels Sunday. Kelenic, the Mariners' No. 1 prospect, roped a double down the right-field line and Lewis (No. 10 on the Mariners' Top 30) continued his power surge with another homer. In five plate appearances, Lewis is 3-for-3 with three homers and a pair of walks. More »
Jarred Kelenic with a double that nearly took Evan White's head off on the hop over first base. pic.twitter.com/NaQfotHIqZ

— Greg Johns (@GregJohnsMLB) July 12, 2020
Kyle Lewis does it again. First inning two-run HR off Marco Gonzales ... his third HR in 4 ABs in intrasquad play. pic.twitter.com/M6IPfOI3E3

— Greg Johns (@GregJohnsMLB) July 12, 2020
July 12: McClanahan, Baz impress in simulated game
Rays prospects Shane McClanahan and Shane Baz gave the team an intriguing glimpse into the future as they combined to throw three innings in a simulated game. McClanahan, a lefty, gave up one hit and threw 10 of his 15 pitches for strikes, while Baz threw 11 of his 17 pitches for strikes and picked up a strikeout. More »
Shane & Shane, LLP @Sugar_ShaneM // @thewizardofbaz pic.twitter.com/j7yQ1fLW1X

— Tampa Bay Rays (@RaysBaseball) July 12, 2020
July 11: Off-balance Robert goes deep for White Sox
Luis Robert, Chicago's No. 1 prospect (No. 3 overall), clubbed a long home run while falling over after his swing. Coming off of a 30-30 season in the Minors, there's no doubt that "La Pantera" will make plenty of highlight-reel plays once he makes his big league debut.
Luis Robert hits bombs even when he's falling. 😂 pic.twitter.com/GVRkj42FZd

— Chicago White Sox (@whitesox) July 11, 2020
July 11: Blue Jays' Pearson throws more heat
Nate Pearson, the Blue Jays' top prospect and the No. 8 overall prospect in baseball, is no stranger to lighting up the radar gun. The season hasn't started and there's no guarantee that Pearson will be on the Blue Jays' Opening Day roster, but either way he looks ready to go. More »
What does 💯 MPH sound like?

Ask @big_nate5 🔥 pic.twitter.com/sbmYJnFioE

— Toronto Blue Jays (@BlueJays) July 11, 2020
July 11: Mariners' Lewis stays hot in Summer Camp
Kyle Lewis was impressive in his MLB debut last season, and Seattle's No. 10 prospect is back at it again. The outfielder homered in his first three games last season and isn't showing any signs of slowing down. More »
don't say it
don't say it
don't say it
don't say it
don't say it
don't say it
don't say it
don't say it
don't say it @Klew_5 is in midseason form. #SummerCamp pic.twitter.com/DDHmuAeotq

— Seattle Mariners (@Mariners) July 11, 2020
July 10: Adell homers in Angels' intrasquad game
Jo Adell, the No. 6 prospect in baseball, didn't take any shortcuts on this homer, a line drive out to right-center field. The Angels' top prospect is battling for a spot with the big league team after impressing in an abbreviated (due to injury) 2019 season for Double-A Mobile and Triple-A Salt Lake.